Get Inspired With These Examples of Innovative Brand Communication
In the marketing world, B2B marketers and campaigns struggle to be fun or creative. B2C has cool social media challenges, viral videos and celebrity endorsements, while B2B has products that are often just not sexy. Thankfully, more and more organizations are willing to inject quirky, humorous attitudes into their B2B marketing efforts. If you want to be truly competitive in today's landscape, you need to spice up your presentation too.
But it's not just a matter of making messages more light-hearted and colorful. The entire B2B campaign playbook is being re-written. Consider that 46 percent of all B2B researchers and buyers are now from the Millennial generation. Millennials and other digital natives have very different expectations of the companies they interact with.
This demographic connects with brands that use technology to create continuous customer experiences; experiences that span both real-world interactions and the digital realm. 50 percent of all B2B search queries are conducted via mobile devices or smartphones. That number was expected to grow to 70 percent by 2020 (the latest stats available in 2022.) You will need to place a high emphasis on all things mobile communication and creating genuinely engaging, memorable content.
Wondering how to get started? To help you get inspired, we're going to examine some recent marketing campaigns that pushed the envelope:
"The entire B2B marketing campaign playbook is being re-written. @TheCXApp"
CLICK TO TWEET
1. Upwork's "Hey World" Campaign
Upwork ran a campaign of amusing short videos highlighting how different institutions and personalities might benefit from their service. Their campaign merged bold colors with some of the cheekiest call-outs ever managed. Highlights include messages to NASA, the President of the United States, Elon Musk, and even Dwayne "The Rock" Johnson.
In addition to running online ads, they launched physical content as well, such as billboards, signage and more.
Why It Worked: In a world where most B2B campaigns play it safe, Upwork dared to stand out. The videos were short and entertaining, and the tone colorful and humorous. Collectively, these things made the campaign memorable and the brand came across as friendly and human.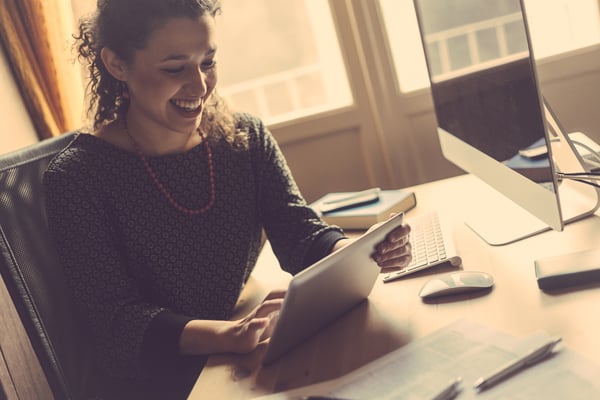 2. Oracle's "Freedom" Campaign
Oracle needed to bolster its support from small to midsize business owners. In response, they launched their "Freedom to Transform" campaign. The primary goal was to generate awareness and correct the major misconception that Oracle's services are too complex and costly for the little guy.
The campaign included short, simple videos, on-theme landing pages and other marketing assets like blog posts. The company promises to provide tools, services and support to help any business adapt in the face of new challenges.
Why It Worked: This campaign's primary message is simple and easy to understand. The language used is straightforward, and more importantly, all of these elements are relevant to the target audience. It's clear that the Oracle team focused on the elements of communication and customer experience.
3. IBM's "Industrious" Campaign
IBM publishes a quarterly magazine that helps to establish the brand as a thought leader. It's filled with high-quality content and updates, many relating to the current state of the technology world. What makes it so compelling is that it provides real value to its audience.
Why It Worked: IBM's magazine is interactive, in the sense that it's more than just text. It's a beautifully-designed combination of content including text, images and embedded videos. In a landscape of dry updates from industry giants, such a creative initiative deserves attention.
4. GE's "Insta Walk" Campaign
GE invited fans and influencers to an aviation facility in Peebles, Ohio and encouraged them to create content of their own — mostly through photos. They took a page directly from the B2C marketing book, which encourages fans to take photos and selfies and post them to social media. GE repurposed the strategy to successfully bring the company's brand and history to life.
Why It Worked: This campaign was "experiential", meaning it combined physical spaces (the aviation facility) with digital elements (social media) to create a unique event experience. GE leveraged customer-generated content, which is more credible and emotionally impactful. Also, by adopting a strategy that is usually exclusive to B2C marketing, the company presented itself as trendy and modern.
5. Google's 2018 "Year in Search" Campaign
When looking at it from a brand perspective, Google's campaign is brilliant. It stitches together events that happened over the course of the year and relates them back to Google user searches. It's a way of anchoring the company in the context of the larger world.
In fact, the "Year in Search" series has become so popular that the company's audience expects an update every year.
Why It Worked: The ad is short and attention-grabbing, and it shines a positive light on Google's services and mission. It doesn't matter whether you represent a business or not, you can't help but be touched. The real genius is that the messaging unites Google users, highlighting the daily activity of web searches to bring together a global online community.
The Common Thread
Looking at the B2B campaigns presented here, there are several common elements that contribute to the success of these brands:
Each campaign is creative in a way that makes it memorable
None of the mechanics or messages used in these campaigns are difficult to understand
Each campaign relates directly to the company's brand identity
The marketing assets used are attention-grabbing and direct
All of these campaigns use interactive, experiential and even in-person event elements
Does that mean your campaign must have all of these things? No, but it does reveal some interesting insights as to what works best.
You can certainly use these characteristics as a sort of grading scale against your own plans and efforts. At the very least, you can discern what a future campaign might be lacking. Most importantly, don't be afraid to have some fun!