Indoor intelligence is always in flux – enterprises are constantly exploring, implementing and experimenting with new ways to elevate the indoor experiences of their employees, customers and stakeholders. 2021 was no exception to this – from the emergence of COVID-19 variants to a paradigm shift in employee expectations for their employers, there were several key trends which had an impact on the use of indoor intelligence technologies within companies. This year's State of Indoor Intelligence report revealed several insights on how these trends have affected companies and where the state of indoor intelligence may be headed next.
However, before we dive into seven key insights we've gleaned from the State of Indoor Intelligence 2022 report, let's go over what it is and who the participants were.
What is the State of Indoor Intelligence Report?
Every year, Inpixon conducts a survey that asks respondents from enterprises to touch upon their goals, aspirations and challenges around indoor intelligence. It offers a rare glimpse into how shifts in the business landscape are impacting perspectives and preferences on indoor intelligence technologies and how enterprises are using them to adjust to new opportunities and barriers for their organization.
Who Was Surveyed for the 2022 Report?
Our most recent report features data collected from 229 respondents across 6 continents and more than a dozen different industries. 67% of respondents were from companies with 500 employees and more. In addition, among our respondents, 102 were senior leaders with positions at the director-level and above.
Now that we have a stronger understanding of what the report is about and how the data was gathered, let's explore seven key insights it's offered on the state of indoor intelligence:
1 - Enterprises Appear to be Increasing their Pace of Adoption of Indoor Intelligence Technologies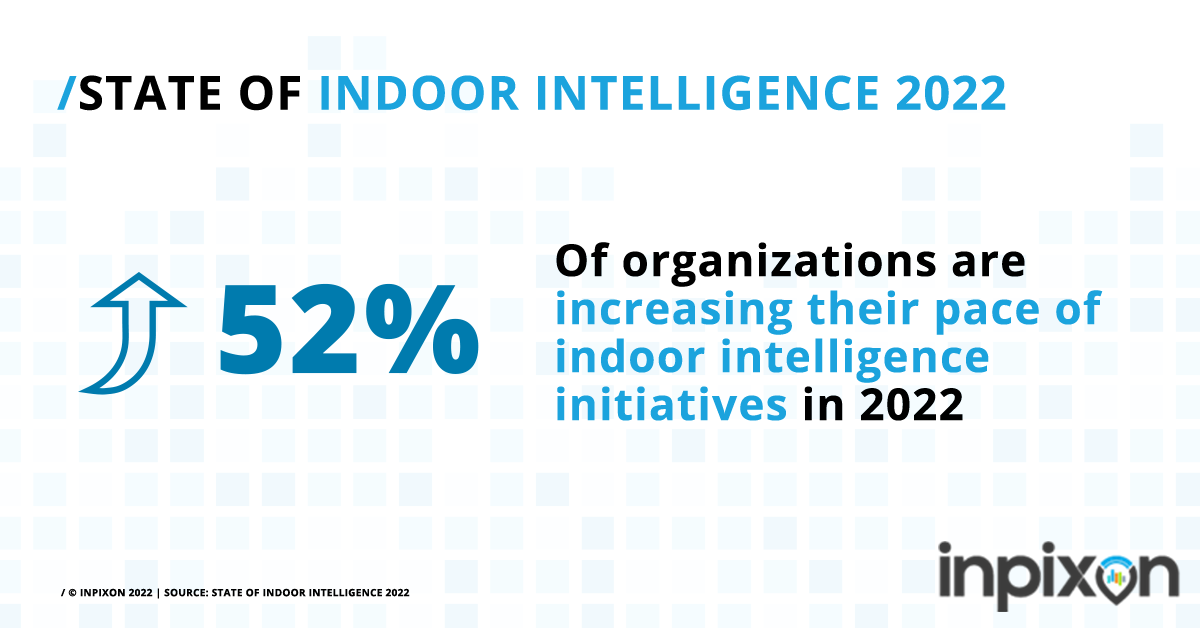 When asked about the status of indoor intelligence at their organizations, 52% reported that they were increasing their pace of adoption this year. Moreover, 77% confirmed that they will be actively investing in indoor intelligence in 2022, with 16% spending 300K to 500K+ on new indoor intelligence technologies.
In addition, when asked which indoor intelligence technologies were most important for long-term growth, the top five tools were asset tracking (48%), indoor analytics (47%), indoor mapping (44%), indoor navigation (40%) and indoor blue dot (38%). As mapping, analytics and tracking form the core foundation of many indoor intelligence technologies, it is likely that many enterprises have prioritized these tools in order to build a strong foundation for future applications and implementations.
2 - Enterprises Report that Indoor Intelligence is Important to Stay Competitive in their Industry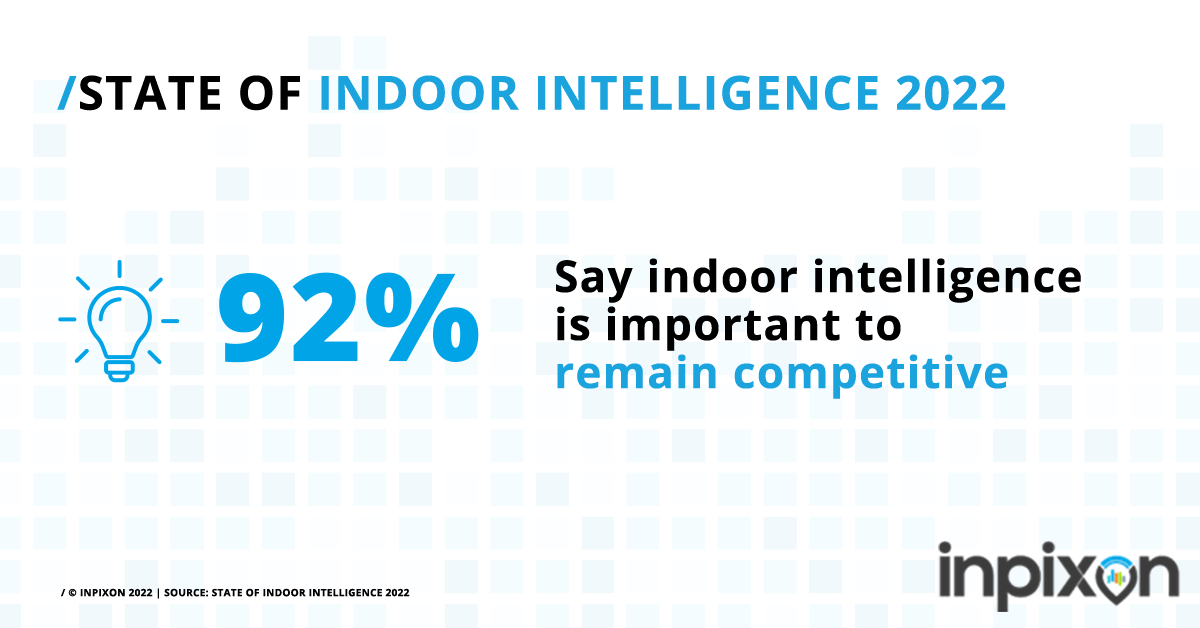 On the role of indoor intelligence in their strategic future, 92% said that indoor intelligence was important to their organization's ability to stay competitive in their industry. This is an 11% year-over-year increase from the State of Indoor Intelligence 2021 report, wherein 81% of respondents said that indoor intelligence was important for their organizations ability to remain competitive.
When asked what the most important factors were when considering the ROI (Return-on-Investment) of indoor intelligence technologies, respondents cited the productivity of their workforce (51%), higher employee satisfaction scores (46%), higher customer satisfaction levels (43%), greater market share (26%) and award & media recognition (19%) as their top five metrics. Employee productivity was also the top feature chosen in terms of the most crucial feature for workplace experience. Thus, these numbers suggest that many enterprises see indoor intelligence as a way to boost the productivity of their workforce, and as a result, perform better than their competitors.
3 - The Majority of Enterprises Respondents View Workplace Experience as an Important Initiative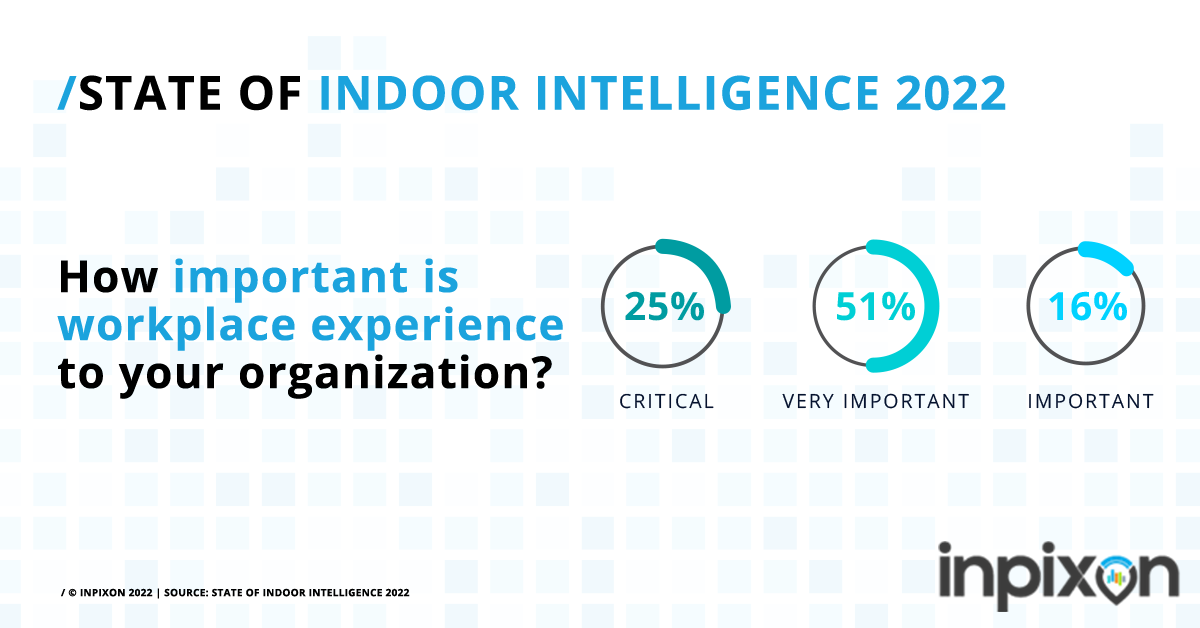 Most of our enterprise respondents (92%) indicated that workplace experience was important to their organizations. On the goals they most wanted to achieve with workplace experience, enterprise respondents selected improving employee productivity (69%), employee retention (57%), how their workspace is being used (41%), their employer brand (40%) and culture and revenue performance (35%) as their top five objectives.
In terms of the workplace experience features enterprises prioritized the most, 63% of respondents selected employee productivity as their top feature. Secondary features include the ability to host hybrid events (46%), support desk and room booking (44%), improve accessibility to technology (43%) and build an online community for their employees (41%). Based on this data, enterprise interest in workplace experience and indoor intelligence, once again, appears to be closely tied to its capacity to boost employee productivity.
In 2022 and beyond, we can likely expect enterprises to utilize indoor intelligence in different ways, such as flexible desk & room booking, employee experience apps, indoor navigation and more, to determine the best way to use indoor intelligence to enhance and expand employee productivity.
4 - 75% of Survey Respondents Indicated that Hybrid Work is the Most Ideal Work Environment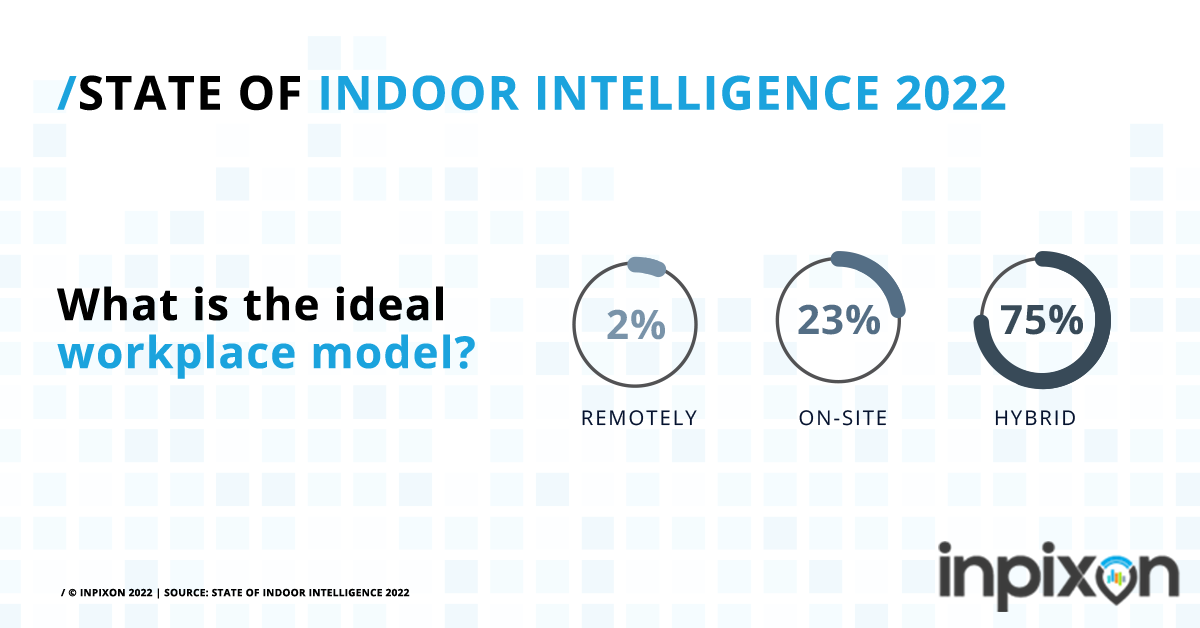 When asked what work model would be most ideal, 75% indicated some form of hybrid work would be the best option for them. Only 23% said they would prefer a fully on-site workplace and 2% a fully remote one.
Of those who selected the hybrid workplace as the best work model (64%), the majority said they would prefer to either split their time equally between their office and home (32%) or spend most of their time in the office (32%). The interesting implication of this data is that employees do want to come back to the office, but with the flexibility to be able to work from home as well. This data is encouraging for companies who have a large real estate footprint and are unsure of whether they should downsize or divest. Instead, the numbers point to the emergence of a happy medium – workplaces that allow employees to work both on-site and virtually, seamlessly.
5 - Operations, HR, IT, Executive Management & Facilities Management Are the Most Involved in Workplace Experience Task Forces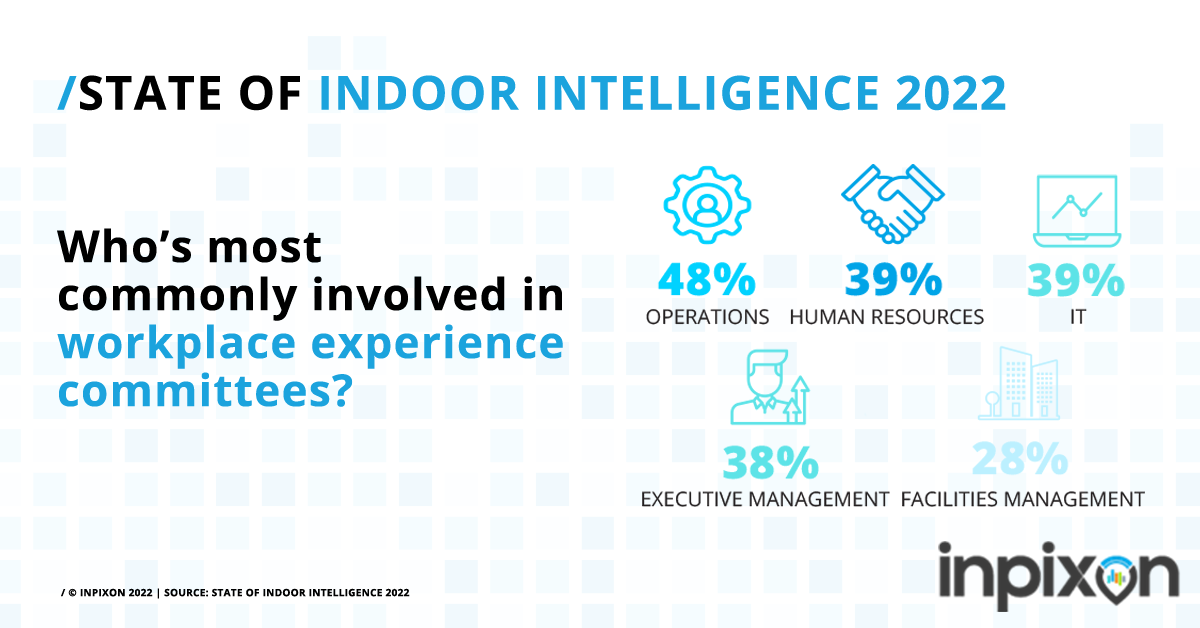 As an emerging industry and relatively new focus for many companies, the key decision makers of an organization's workplace experience task force tend to come from a variety of different departments. This is beneficial for multiple reasons, including the ability to critically examine the employee experience from various angles and harness specific skillsets, such as marketing and legal, to deploy workplace experience initiatives across one or more offices.
Therefore, to understand which departmental functions and leaders could be the best fit for a workplace experience task force, it was important to uncover which departments were the most involved in these initiatives at enterprises. Of 14 departments, enterprise respondents said that operations (48%), HR (39%), IT (39%), executive management (38%) and facilities management (28%) were the top five departments selected to plan and execute workplace experience projects at their organizations.
Here is a breakdown of what each of these departments could offer in terms of workplace experience:
Operations (48%):

Responsible for implementing changes to the workplace in accordance policy.

HR (39%):

Offers employee feedback and perspectives on employee experience as well as strategic help.

IT (39%):

Creates the digital framework and offers technical support on workplace experience initiatives.

Executive Management (38%):

Sets the vision, steers the strategic direction for workplace experience and translates these projects to employees.

Facilities Management (28%):

Ensures that facilities are safe and secure for employees.
It's also encouraging that the number of companies without a workplace experience taskforce went down from 6% to 4%, indicating that more companies are realizing how important it is to improve employee experiences and create a dedicated taskforce to fulfill this goal.
6 - 98% Say that Interoperability and Integrations are Key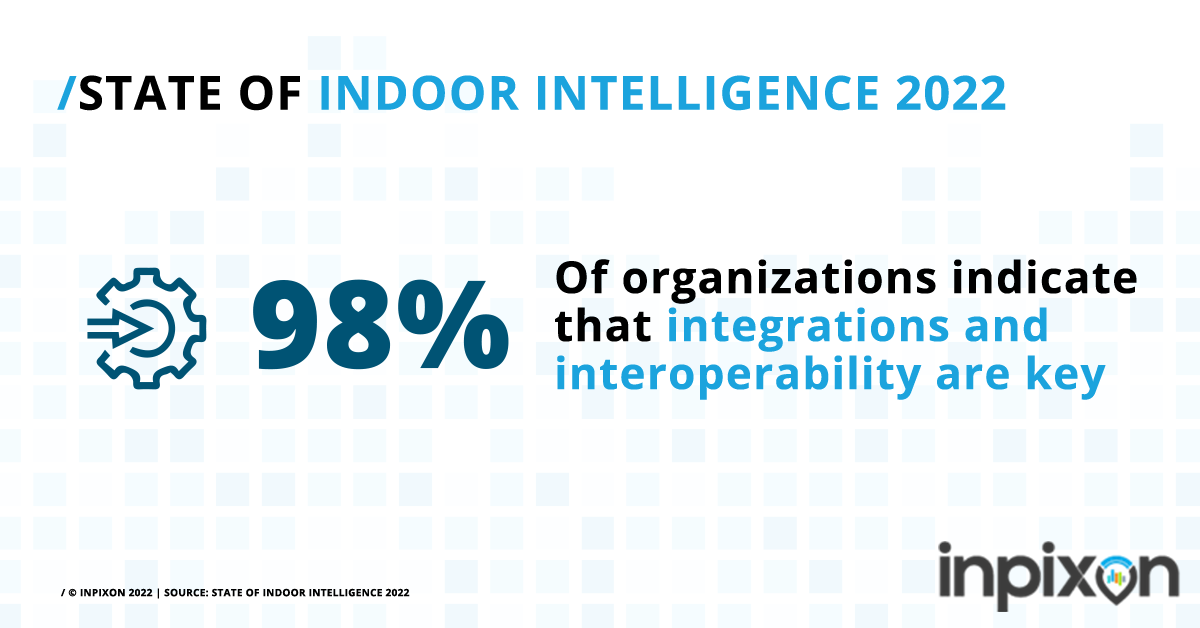 Based on the data, 98% agree that interoperability and integrations are important for indoor intelligence. Given 17 different types of integrations to choose from, enterprise respondents said collaboration (50%), meeting and room booking (47%), security (42%), customer management (42%) and social media tools (35%) were the most important to their organizations. Out of the five, four were tools that are necessary to support the productivity of employees and only one was customer-facing. This points to a reoccurring theme in our data that in terms of indoor intelligence technologies, many enterprises prioritize the ability to use it to improve and boost employee productivity.
7 - Top Emerging Tech - IoT Networks, Augmented Reality & Predictive AI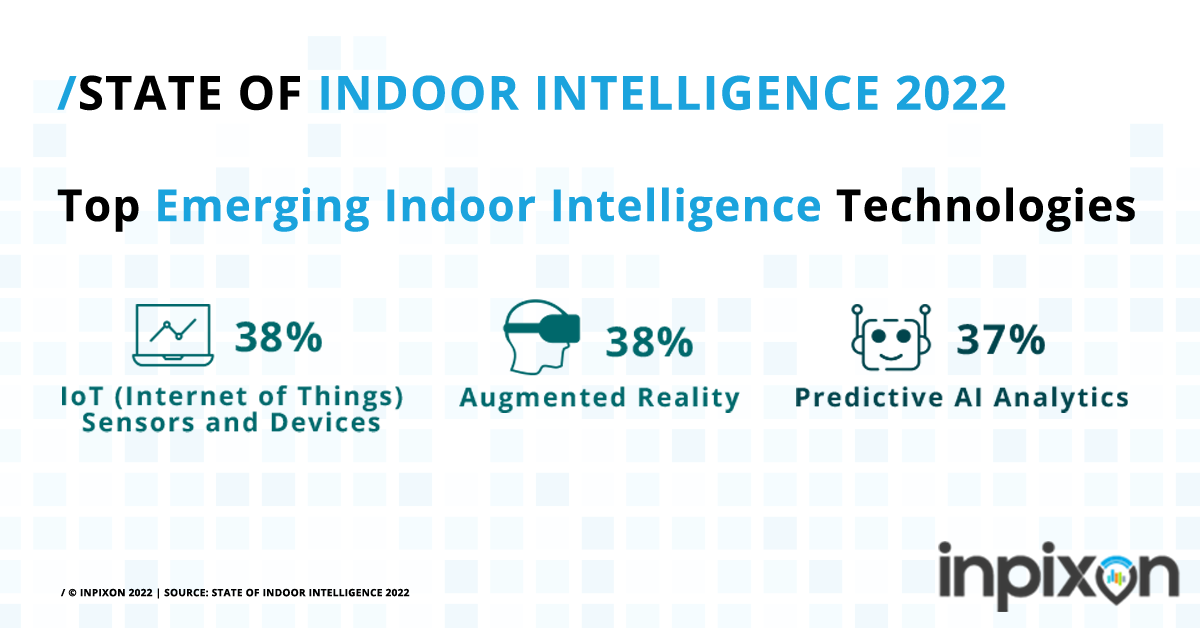 IoT (Internet of Things) networks (38%), augmented reality (38%) and predictive analytics (37%) were the top three emerging technologies companies said were likely to utilize in their future strategy and growth. As indoor intelligence adoption increases, many companies will likely turn to IoT networks and predictive analytics to help make better decisions for their employees and customers. Similarly, augmented reality can be used to improve employee and customer experiences within indoor facilities in areas such as navigation, room booking and more.
Overall, indoor intelligence is steadily growing in its capabilities to offer strategic guidance and support in helping enterprises make better decisions for their business. With the level of investment and interest indoor intelligence is receiving from enterprises this year, based on our data, we estimate it won't be long before these emerging technologies become a regular part of their operational workflows.
These seven key findings are only a part of the full State of Indoor Intelligence 2022 report, which features in-depth data on the state of indoor intelligence. Download the complete report to see all its data points and understand what enterprises are doing with indoor intelligence today and what they're hoping to achieve with it, in 2022 and beyond.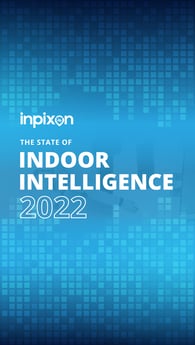 The 2022 State of Indoor Intelligence