It's the modern day ghost town. Our offices... sitting, in some cases, primarily empty for the last 8 months.
As we continue to refine back to work plans and reoccupancy strategies, or in some cases open the doors even wider allowing larger capacities back into the workplace, there certainly are some norms we need to consider.
Our notion of the workplace is so 2019... which is to say that so much has changed, and we're not even in a new year yet. But the time spent at home or on the road or in hotel room, has essentially made all of us re-think what the *next version of the workplace will look like.
As we reshape and redefine what it means to 'go to work' and how people engage, these new norms are rising to the top and should not be taken lightly. They are, for all purposes, foundational elements for good workplace etiquette and changing work environment needs.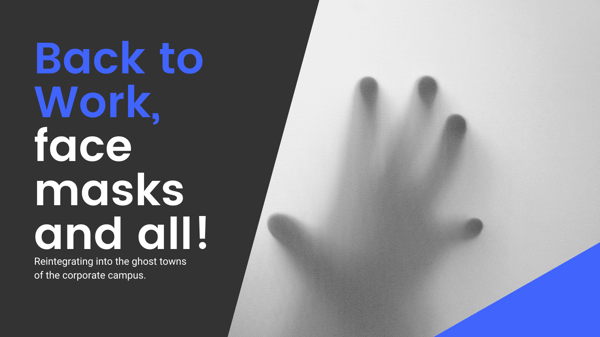 The very first item on everyone's checklist from here on out should be: when in doubt, check it out. Your temperature that is.
Always consider the safety of yourself, your loved ones, your colleagues and their loved ones before you even think about stepping foot into the office. Cleanliness and wellness may very well be the new employee perk!
Some organizations are even requiring mandatory daily health check surveys to be completed by employees in order to gain clearance to come on-site for the day. So, just do your part.
In addition to your daily self-check, here are other things you should put into your new workplace checklist!
Co-Working Considerations
USE APPS TO RESERVE YOUR WORK STATION Growing industry adoption of digital workplace technology requires employees to reserve their work station before coming to the office, which aides in more efficient space planning and occupancy control.
STICK TO THE SCHEDULE In that case, whether it's a desk, an office, or a conference room, be considerate of other's time and show up at or before your scheduled time and leave immediately as your reservation time's out. Space is a premium.
EMBRACE NEIGHBORHOOD GUIDELINES Measure the work environment of where you choose to sit or collaborate. Is it shared, open space for networking, or a quiet zone for dedicated solo work. Understand the neighborhood culture and book your desk accordingly.
ABIDE MASKING POLICIES Every office, every location, and every culture is different, so be sensitive to what it is your organization is asking of you in regards to wearing or not wearing a mask. Rules can change from building building to building and even in different types of work areas, so just have an awareness and be prepared.
BYO SAFETY KIT The new way to have a party, right?! Just consider a few essentials in the event that there are no supplies on site or you misplace something or are running late, consider: backup mask, hand sanitizer, eating utensils, napkins, ear buds etc.
FEEL FREE TO GET UP AND WALK AWAY As we see co-working becoming more popular and assigned desks receding, it may be possible that your new desk or location (or neighbors) aren't conducive to the type of work ethic you've had previously. If you need to eat your lunch or take a customer call, make elevated noise, or even crave spontaneous collaboration, just take a walk and do what you have to do.
Hot-Desking Etiquette
CHOOSE A DESK THAT MEETS YOUR NEEDS Nothing is worse than showing up unprepared. New hot desking and desk hoteling systems are making it easier for you to choose a work station that best matches your needs. Look up desk amenities and location and select accordingly.
LEAVE NOT TRACE Wipe down equipment at the end of each day, just in case. Clean up after yourself and leave things better than or as you found them.
BRING YOUR OWN SUPPLIES Flexible office environments expect people's workday needs will change and will do best in earnest to provide everything you'll need or have supplies ready, but just in case, don't show up empty handed (headphones, charger, pen(s), mouse, ipad stand etc.)
AVOID GHOSTING! If your workday needs do change, be sure to release reserved workstations. This puts the desk back into the inventory pool and helps keep space and office capacities running smoothly.
USE YOUR RESERVED/ALLOWED SPACE Spilling onto other desks is just poor form. Even if your desk neighbor has yet to show up, that doesn't mean you can put your belongings on their space. Flex desks come and go into inventory in real-time, so you never know who may show up (or when).
USE YOUR TIME WISELY Be conscientious with your reservations… too little time reserved and you may go over, too much time reserved and a desk or conference rooms goes into the wasteland.
UPSIZE YOUR COLLABORATION Reserve a conference room when your collaboration or team begins to grow in size. Some casual networking and spontaneous collaboration in the right neighborhood is expected, but if it gets too big or too loud, look for an available conference room to migrate to.
And most importantly, DON'T FORGET TO SMILE - we're all in this together!
Want to learn more about smart desking benefits in the workplace?