In April, the Association of Briefing Program Managers (ABPM) held their annual Spring conference, with the theme Briefings: A Global Metamorphosis. For the first time ever, the event was hybrid, hosting briefing professionals in Santa Clara, CA and worldwide. The ABPM leveraged Inpixon's virtual event platform to facilitate the hybrid experience for virtual attendees along with Inpixon's My ABPM mobile app that was utilized for the in-person attendees.
In this post, I'll be providing key insights our team gathered from the event and what the future looks like for briefing programs.
What is the ABPM Spring Conference?
The ABPM is all about connecting and supporting fellow briefing professionals to provide the most memorable and impactful customer experiences that influence sales closure. A big difference about ABPM is the level of sharing from all companies, which is remarkable and decidedly unique compared to any other conference or community.
There's so much to look forward to about the event every year, from a dynamic keynote to rally everyone together in our cause and provide strategies for elevating programs, to sessions with new topics from thought leaders that can share their experiences, challenges and lessons learned. ABPM also provides tours of executive briefing centers to see how they have elevated the customer journey, implemented new technologies and addressed recent challenges.
Darby Mason-Werner, Leon Papkoff and Romina Cervantes at the Inpixon CX Briefings booth during the ABPM Supplier Celebration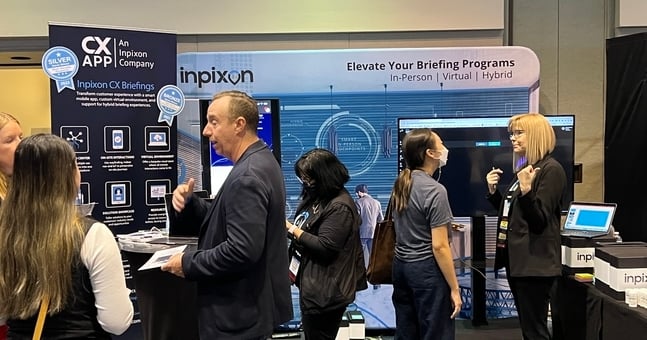 Many networking opportunities are available, to hear how fellow members are being creative and innovative, to meet supplier members who are developing the technology and solutions that enable briefing programs to achieve their goals, and to welcome many new members to ABPM and the briefing world in general. It's exciting to see the briefing profession continue to grow and make an even bigger difference for customers and companies!
2022 Conference Theme - Briefings: A Global Metamorphosis
This year's theme was Briefings: A Metamorphosis - all about our industry's transformation. It was clear that the briefing industry has experienced significant changes over the past 2 years, and many programs are in different places with their overall strategy. While some are back to fully in-person briefings, others have started offering hybrid briefings, and some are managing fully virtual briefings as their company has not returned to the office or may not be allowing visitors on campus yet.
Adaptability was the focus of the keynote and was the perfect way to describe how briefing teams approach their roles each day. Briefing programs have had to be flexible in countless ways, including learning new technologies, adjusting schedules and agendas to address the customer's objectives and adjusting to new dynamics in facilitation.
To make briefings work, many have had to adapt to new collaboration tools, audio and video technologies to ensure 3-way communication, and have needed to be prepared to use this technology virtually or in-person. To keep customers engaged during virtual briefings, agendas had to be shortened to just 2-3 hours covering the most highly prioritized topics, or sometimes split over several days. Some briefing teams have also added new roles, such as moderators to ensure effective communication and participation, or made changes such as briefing managers becoming facilitators when they may not have done so before.
The Making of a Successful Hybrid Event
This was the first ABPM conference or event that has used a hybrid model, and the ABPM prioritized the attendee experience when planning every aspect of the conference. To make the event work, ABPM arranged for AV equipment and Speaker Kits in each session room to ensure remote attendees could participate via Zoom, ask their questions and give their input. In addition, Remote Attendee Advocates were added and worked with session leaders and content coaches to ensure the technology would support content that resonates with all attendees.
Mobile app screens from the MyABPM app show the agenda, and engagement features for their Spring 2022 conference for in-person attendees.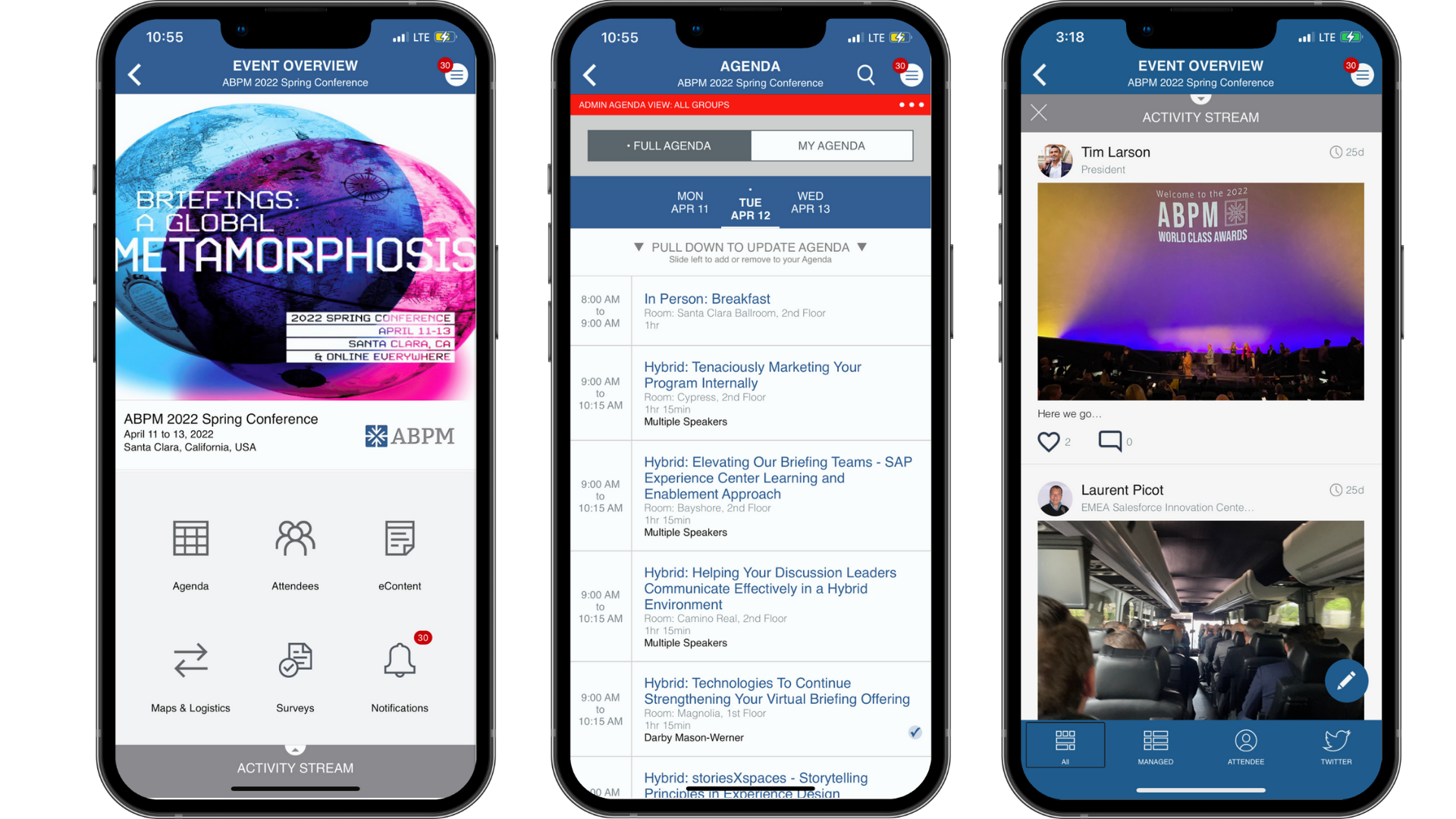 To facilitate the hybrid model, Inpixon was proud to provide our CX Briefings solutions including the My ABPM mobile app and the ABPM.events platform for the conference. Elizabeth Simpson, President of ABPM explained that the event management platform was key for their hybrid event strategy in making the experience for attendees as easy as possible.
The ABPM web-based platform, which gave members access to the 2022 Spring Conference.
With this platform, attendees had access to a range of features, including:
Access to both offerings a week before the conference allowing them to review the agenda, attendees, sponsors/suppliers and even Virtual Center Tours on the platform

Once on site, the in-person attendees could use the app to easily move between sessions, to meals, to the supplier celebration, to tours and the gala awards event

During the conference, remote attendees entered the platform and went to the agenda to join their specific sessions via Zoom

In-person guests could also easily switch to Zoom on the app when they had to step out of a session – and the seamless transition meant not missing any key insights
Highlights from Our Session -

Technologies to Continue Strengthening Your Virtual Briefing Offerings



I was thrilled to co-present our "Technologies to Continue Strengthening Your Virtual Briefing Offerings" session with Bryan Hobbs, Demonstrations and Content Manager, at Google Cloud. The Google Cloud case study provided so many real-life examples of the changes that briefing programs have had to consider and how to go about implementing technology to address the needs of all briefing attendees.
Bryan shared the extensive research that Google Cloud did for months to identify and test new technologies for their spaces, with the main goal of providing equitable experience for all attendees. From new audio and video interoperability for conference rooms to installing a whole new broadcast studio, he addressed challenges of integrations with internal platforms and supply chain issues that delayed some of their testing and timelines.
Key Takeaway: Work directly with your Return to Office teams to be sure of the current requirements for in-person attendance, as this changed a number of times in recent months.
There were so many insights related to the broadcast studio, such as:
The importance of having a dedicated studio engineer

Using the studio to create new content that can't be generated in the physical space

Having a demo guide take in-person visitors through the different demo spaces while still talking to remote attendees using real-time streaming technology

Ensuring the right equipment is employed: confidence monitors, teleprompters, lighting, mix effects, camera controllers, and so much more!
We also discussed the evolution of virtual briefing technologies from collaboration tools to additional tools like whiteboarding or design thinking tools (such as Miro and Mural). New innovations like these are key to increasing interactivity during engagements. We also shared how virtual briefing platforms have expanded to help briefing programs leverage their investment, by integrating with 3D experiences and marketing software tools like Marketo or Eloqua for lead generation and tracking to enable sales teams to further qualify visitors and potentially host more briefings.

Pivotal Learnings from ABPM's 2022 Spring Conference
There were a number of great new insights and technologies at the conference, and here are just a few of the main topics that were discussed at this year's event:
The Rapid Growth of the Metaverse
Many discussions centered around how this highly immersive, virtual world to socialize, work and play can change our lives. With the metaverse poised to become a $300B industry by 2025, 49% of marketers are already thinking about how to incorporate this new technology into their strategic plans. And more importantly for briefing programs, they need to think about how they may engage with customers and their own internal stakeholders in this new way.
Specifically, the ability to create a "digital twin" of their physical centers that exists in the metaverse, and how visitors can interact there. This technology provides a way to "build" experiences that do not even exist but bring to life ways of connecting that may not be possible in the physical realm. Of course, this is not without concerns about whether our briefing audiences will participate, use headsets, create avatars, etc., so there is much more discussion to be had as programs research this possibility.
How to Meaningfully Engage with Your Sales Team
Briefing teams were being encouraged to find new ways to engage with sales teams as we've all struggled with collecting the right level of information about briefings from our sales teams. When we step back and imagine how recent events have drastically changed how sales teams interact with their customers to close business, it has been more than challenging. Nathan Pisik, Global Strategy Senior Advisor and Global Content & Messaging Lead with Dell Technologies, touched on how to rethink our processes when engaging with sales.
Here are a few examples from his session:
Review and update the verbiage within the briefing request forms to be aligned to sales terminology. This reduces the time needed for them to complete the forms and allows them to carry over existing information more easily

Take the time to understand how your sales teams are organized, their customer tier levels and their approach to account management (ABM)

Review your criteria for briefings and the tier levels of support you offer

Be proactive by reaching out to sales organizations as consultants to review specific account plans, and generate a schedule for the most effective times to host briefings
The Rise of Precision Marketing
The idea of "Precision Marketing" to engage customers by collecting and utilizing data was a great new approach for programs to consider. The goal being to bring together data from multiple sources within our corporations and build dashboards that help to identify the best time for engagements with specific customers.
There's a lot of value in working closely with other customer focused programs like customer advocacy and customer advisory boards, to aggregate the data showcases where customers are in their buying lifecycle and can trigger alerts to sales for the best times to invite customers for briefings. Having this data and working proactively with sales teams can then inform the briefing team on how to build more personalized agendas that better address the customers' needs. This topic will also be the focus of an upcoming podcast with Jan Holzer, Senior Distinguished Engineer of Red Hat who presented this session!

Our Final Thoughts About the Event
It was so fulfilling to see so many ABPM members and suppliers in person and all together again! I'm looking forward to staying connected at the upcoming ABPM European Conference and Fall Workshops, and to sharing more of our The CXApp Live! thought leader podcasts via the My ABPM Community App.
Congratulations to the ABPM World Class Award Winners who were honored for their World Class Centers and in new areas such as innovation in virtual briefing centers, virtual briefings and hybrid briefings. And a special shoutout and congratulations to Bonnie Bryce of Dell Technologies for her ABPM President's Service Award and to Ann Benett for receiving the first ABPM Lifetime Service Award.
For more information on Inpixon's CX Briefings platform or virtual event platform, get in touch today! Contact me and our team directly, here.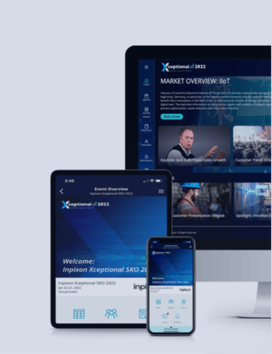 Why ABPM Chose Inpixon's Event Management Platform