Goodbye designated workspaces, hello flexible opportunities and mobile-driven organization opportunities.
What it means to be "at work" is shifting. Not only are employees afforded more opportunities such as remote access and flexible schedules, but their experiences while on company property are innovative as well.
You could even make the argument that work is now essentially not as tedious, and at the risk of sounding too giddy ... quite fun.
These changes can be directly attributed to the growing use of technology in the workplace. Corporate campuses, rightfully dubbed "smart venues", are becoming increasingly interactive and experiential. For the unfamiliar, smart venues are generally augmented through the integration of advanced tech — usually of the IoT variety — which improve convenience and productivity. Some examples include Bluetooth beacons, digital signage and AR/VR platforms.
In addition to improving employee engagement and enhancing employee experiences, smart venues help synchronize entire enterprises by facilitating collaboration and breaking down more conventional siloed structures.
The result is a series of improvements that boost employee productivity, satisfaction, and in turn, company revenue. After all, companies with more engaged employees pull in 2.5-times higher revenue streams compared to their competitors with low engagement levels.
How Smart Technology Is Changing the Workplace
Working in an interactive and location-aware space is a new type of experience. Most importantly, this evolved workplace is mobile-friendly and dynamic. That means operations teams have access to data on office activity and can quickly change the environment to react to real-time needs.
The entire system enhances all aspects of corporate campus life, including planning and the work itself. Offices, workrooms and collaborative spaces are enhanced using the same technologies.
A significant example is workers reserving desks and meeting rooms instantly. This is a huge benefit for modern employees, since many people work remotely or have flexible schedules and only need a workspace at specific times or days of the week.
52 percent of global employees work from home at least two days out of the work week. So that option to repurpose and reserve universal workspaces is downright necessary. Someone might return to work later in the week, for instance, to find their regular space is either reassigned or being used by others. The option to reserve spaces via mobile changes the entire dynamic.
You may be thinking, so what? These are nice perks, but are they really changing the workplace experience as a whole? Well, yes.
Thanks to this new "mobile" mindset, the physical workplace is seen as adaptable depending on employee needs and activity. Data from the mobile system, such as heatmaps, can be used to make decisions on how to transform the space, even from one day to the next.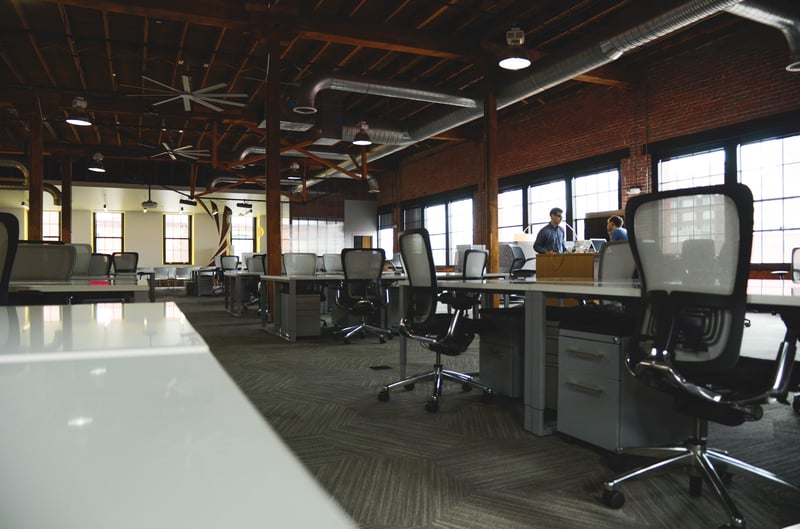 Real-Time and Remote Desk Booking Opportunities
Because the "smart venue" model rests almost entirely on a mobile, always-accessible system, it means that employees can interact with the network using only their smartphone.
Within a smart venue, the opportunity to reserve spaces and rooms using a real-time, connected service is alluring. It changes the entire organizational aspect of the corporate campus and influences how and when the spaces within are used.
Since employees book physical spaces when needed — through a digital system that produces insights for the operations team — the workplace is no longer static. Operations managers can issue changes like removing or converting certain meeting rooms, adding more desks, or designating a space as off limits. Ultimately, it enables leaders to respond to the needs of their entire workforce as they arise.
Thanks to these digital changes, workplaces are now being developed as more modular environments, purposefully built to meet the needs of modern employees. Entire rooms can now be constructed specifically as communal areas for gathering, chatting, eating or leisure. But they can also be converted instantly — and designated — for use as workspaces too. Alternatively, private spaces can be repurposed for intimate meetings, or opened up for social activities.
All of this speaks to the innovative idea that modern office spaces are designed to promote collaboration, synchronicity and support, and the ultimate benefit is that employees are much more satisfied when spending time at work.