We're amidst a very interesting time. Facing the unknown. Unsure of what comes next.
Though the current road and the path forward may be a bit rocky, there's one thing we can commit to: a continuance in delivering customer experience. Even in the face of the unknown.
As events turn to virtual platforms and organizations and communities turn to online tools, what do meeting planners, briefing professionals, sales, and customer experience practitioners do? We've seen many push their focus to other options like virtual briefings as a means to keep business opportunities going and to support our customer lifecycle.
This is a great option!
Customer experience and business kindness should never fade and will always persist, so we applaud our sister organizations and fellow professionals in turning to online tools, software, and programs that facilitate ongoing customer relationship nurturing.
In addition to leveraging these tools for having virtual meetings and online briefings, it's equally important to maintain a healthy customer experience program. But that can be tricky given our 'social distancing' needs, but it shouldn't be.
Here are some quick wins and easy tips for keeping your customer experience engine running in between meetings, live chats, webinars, and video collaboration.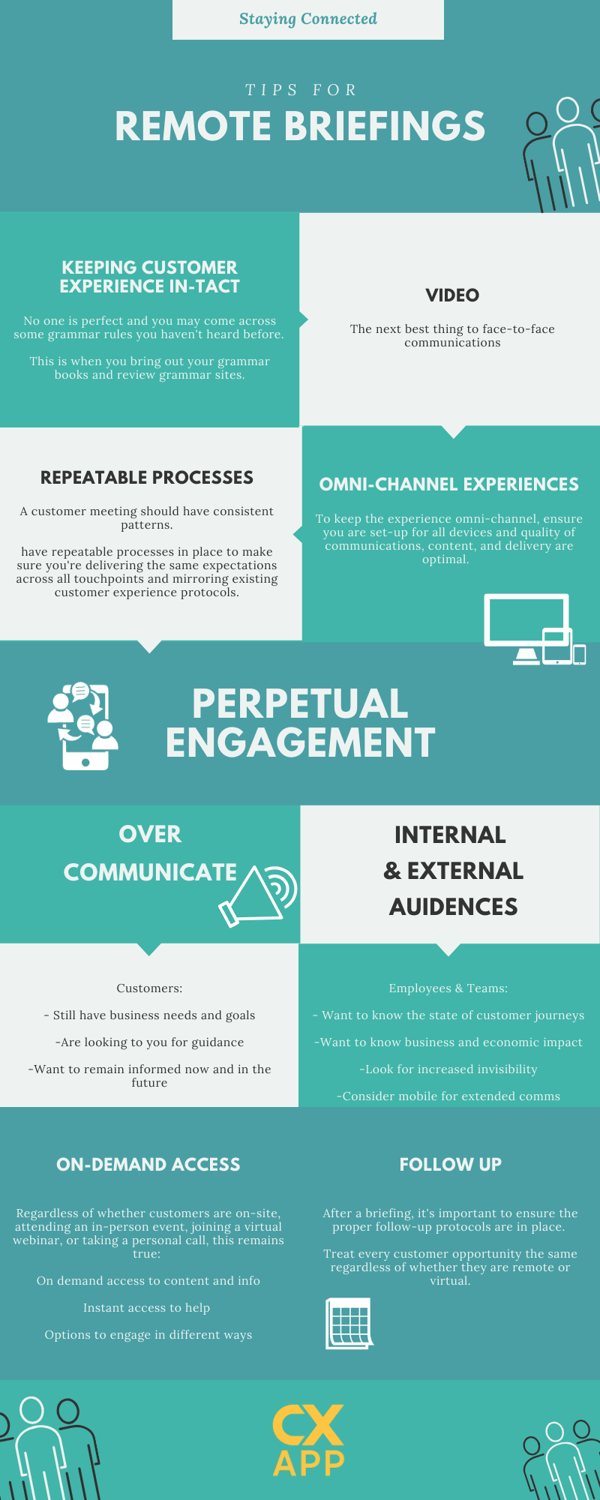 Beyond meetings, there are other ways you can engage with your audiences:
Things you can still do virtually or remote:
Share stories from leadership
Stimulate conversations
Send information assets
Collaborate online
Ask questions, get answers!
Create a fun poll
Initiate a customer survey
It's up to us, as customer experience professionals, to supply you with the tools and tips you need to motivate teams and execute deliverables. It's you as product owners and evangelists to keep up the momentum and re-commit to delivering what matters most.