Bring personalized omni-channel experiences to your customer's doorstep
Executive Briefing Centers are traditionally stationed in the headquarters of a company or for global organizations across half a dozen primary locations, maybe more. They are high sensory, white-gloved spaces that showcase technology and solutions for the company in question. They are the lifeline of a solid business and customer relationship, offering a behind-the-scenes look or experience at the inner workings of a company.
But there is one issue that is often overlooked regarding such centers, especially in today's hyper-digital world. What about the customers that cannot make it to your EBC, or one of your locations? How do you engage and interact with remote customers in the same way?
The short and sweet answer is by creating or adopting an 'EBC on the Go' platform or approach.
What It Means to Be 'On the Go' Compliant
In the early days, being supportive of 'on the go' platforms and mobile devices required nothing more than slapping your brand logo on a mobile-friendly fork of your official site. This essentially allowed mobile customers to engage and interact with your business from any device, any time. Yet, at that time, there were merely a handful of prominent devices, most pertinent of which were desktop computers, and the earliest smartphones.
That same concept is necessary today. In 2016, nearly 62.9 percent of the worldwide population owned a mobile phone. By 2019, the number of smartphone users globally is expected to reach 2.7 billion total.
With such an influential presence, it's clear mobile is necessary. So, naturally, you must honor the "any device, any time" mantra, but there are many more platforms and players in the game today. To name a few, you now have to consider delivering content and experiences for social media, mobile websites, web apps and native apps, email, traditional communication channels, and more.
You have to establish a BYOx environment, which translates to Bring Your Own Everything—substitute the 'x' for any platform you want.
It's not just about delivering one-off experiences across these many channels or platforms. Consumers today, now expect one integral and seamless journey across every channel you offer.
Providers and customers alike will need digital, omni-channel touchpoints to facilitate and essentially trust the same experience, everywhere.
Consistent and concurrent are the vital elements in the equation here. Another way to describe it, especially for consumers, is a personalized experience or journey.
Being 'on the go' compliant, means being able to deliver reliable, personalized omni-channel experiences that go way beyond a mobile-first and or desktop-first approach. You are delivering it all, a completely digitized and modern customer experience journey across the board. Your customers and clients are the ones deciding where they engage, what touchpoints they interact with, and how they use your ecosystem.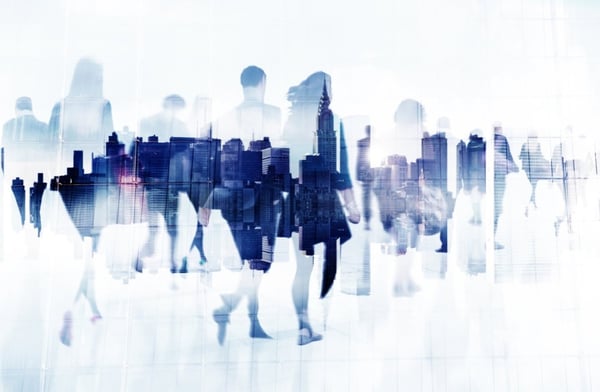 How Does Any of This Apply to an EBC?
The goal is to honor these 'on the go' experiences but in relation to your Executive Briefing Center or Customer Experience Center. You craft the same experiences, the same engagements, and even use the same tools; the only exception is that you're doing it for evergreen, sustained access. That is, you're crafting the experience or journey, and allowing your customers to decide when, where, and how they embark.
Consider this: 70% of customers expect a company website to include a self-service application, while 50% believe it's important they solve a product or service issue themself. These stats are skewed toward web design, but they highlight the incredible need to deliver self-driven, personalized experiences to your audience.
There is something you must understand before we go further, however. It's easy to fall into the trap of thinking you're developing and offering these 'remote' experiences solely for customers who will be telecommuting in some way. That's not necessarily the case. Sometimes even customers who are present locally, prefer to experience the digital journey as opposed to an in-person one. There's also an argument to be made about scheduling and times, which a client may or may not have the option to work with in regards to your traditional customer experience setup at a local center.
Here are some great places to establish an on-the-go EBC experience:
Events: Most companies have 1 major event and 3 to 5 medium-sized events per year. These are great opportunities to offer a mobile EBC experience because you tend to have a lot of high profile team members and customers in one place. It's also much easier to setup an on-the-go experience in bite-sized chunks when you're trying to interface with huge crowds of people, or lots of people through a day.

Remote/Growing Locations: Orgs trying to expand their reach to underserved locations will certainly benefit from a mobile EBC program. It allows you to bring the experience to the customer or client. This also presents the opportunity to discuss topics that might be specific to a region.

Consulting: Enterprises are constantly providing support, services, and consulting to clients as a means to aid with pre, during, and post purchase journeys. These are typically done via mini-briefings or consultations, happening instantaneously across the globe. A briefing program with a mobile-first mindset means you can take advantage of modern business opportunities: anytime and anywhere.
It's Time 'Bring Your Own Experience' Became the Norm, Everywhere
Everything is digital and mobile-friendly, and if you haven't noticed there's a massive emphasis on always-on, connected experiences across the board. Nearly every industry and sector is seeing the adoption of these technologies and platforms, and it's changing the world for the better.
It won't be long before channels and mediums we never expected to evolve, become, well, modernized. Consider the Executive Briefing Center to be one of those channels. It is time that we embrace the sweeping change, and work to provide 'Bring Your Own Experience' strategies everywhere, least of all the EBC.