Up-to-the-minute space usage data
Desk Scheduling Dashboards: Allocate desks on the fly and get real-time occupancy insights
Did you know?

Most U.S. workers want to return to the workplace, but with critical changes. Only 12% want to work from home full-time.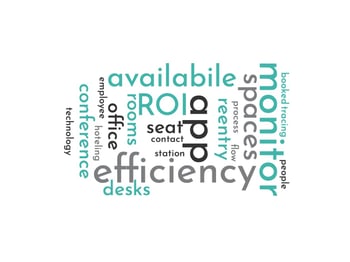 What: Desk scheduling software is the dominating path forward for many organizations looking to welcome the workforce back to the office, thought often in shifts and at metered capacities for large organizations. A desk management dashboard is the main portal for registering, allocating, and monitoring shared workstations in real-time, giving operations a more holistic view of what spaces are being used and by whom.
Why: Desk management tools give employees greater flexibility to choose a place/seat to work that best matches their needs which may change on a daily basis. As such, companies need a central repository for activating and deactivating which workstations are available for use. Once in use, the dashboard offers real-time data as to live on-site capacities showing which desks are in use across multiple locations worldwide. This is a huge value for workplace reentry, and these types of space management dashboards provide immeasurable value for keeping workers safe through physical distancing, contact tracing, and color-coded seating availability map capabilities.
Use Case Scenario For Desk Management Dashboards
Izzy Scaling, Director of Operations at Rapid North is in charge of the company's back to work strategy and execution. Many factors are going into reopening the 500 person office building including grab n go lunch boxes for meals, outdoor workout classes, daily health and wellness checks, and worker shifts to help control the flow of people entering and exiting the building during high traffic times (among many other things).
The shifts are currently allocated to specific floors in their main campus building, with the hope of minimizing traffic through elevators and dedicating elevator banks to specific groups of workers. In addition to worker shifts, Rapid North has also removed 10% of the desks on each floor to accommodate more physical distancing in the main rooms. Instead of assigning desks to each person, employees will use the desk scheduling software to reserve a workstation each day.
Izzy is responsible for activating available desks when they are ready for inventory and deactivating desks as needed to accommodate different office capacities and queued cleaning of each workstation.
This month, Rapid North is starting with allowing 25% of the total office capacity available through reservable workstations. They plan on moving that to 40% by the end of the month if all things go well in during their reentry phase. Izzy uses the desks manager dashboard to activate/deactivate desks as the office nears occupancy thresholds. When desks are deactivated in order to be cleaned, he can activate several other desks to go back into the inventory pool.
Using the dashboard, Izzy can also see a count of all available desks, all desks in the inventory, and all desks waiting to be cleaned, giving him a much clearer view of how and when their office spaces are being used. Next month, when they up their office capacity, Izzy can green-light 15% more of the shared workspaces and even assign them by floor, department, or neighborhood.
It's this level of insights and customization that make Izzy's job and his team's duties more manageable. That's the kind of welcome back he was looking for!
Ready to get more meaningful in-office occupancy data?