Event Tech to Sharpen Your Competitive Edge
There are two major reasons why people come to an event. The first is to learn something or grow their experience and knowledge. The second is to network and connect with peers.
Naturally, this means as long as you are meeting those two needs via your event management program you're doing just fine.
Yet, "just fine" isn't necessarily an achievement per se. What you really want is a group of customers who are invested in and loyal to your brand. In order to keep them coming back in this way, investing in personal resources — or even becoming a brand champion — you must focus on the little touches of your event experience. The moments and interactions that make a true difference in the average customer experience.
The more convenient, enjoyable and unique you make an experience or activity, the more likely it is your audience will gain a memorable impression of your brand. That's why mobile event apps — once nothing more than a "nice" opportunity — are now a requirement. In fact, 75 percent of event professionals who don't already use event apps intend to adopt them. Furthermore, 60 percent of smartphone users actively use their device during social gathering and events.
But we've known this for a while. Mobile is essentially the engine block of social gatherings and events, particularly when it comes to driving continuous engagement. Let's take a closer look under the hood, just to see what — beyond the basic functionality — really makes a mobile event app stand out. What is it that makes these apps worth your while and up the ante?
"60 percent of smartphone users actively use their device during social gathering and events. #MobileFirst"
CLICK TO TWEET
Top Five Mobile App Features
The beauty of mobile as it pertains to major events and conferences is that it provides a modern, events-as-a-service platform via unique customer experience features.
To break this concept down, mobile inherently has a variety of features and functionality that are not accessible elsewhere. This includes things like push and text notifications, real-time monitoring and location services, value-added content feeds, and the like.
Not to mention, almost everyone has their mobile device or smartphone on them, no matter where they are. You can rest assured that any deliverable mobile experience or notification will be seen — as opposed to being left on a table or tossed in a garbage bin like most promotional materials.
You can also heavily augment a conventional experience via mobile using one of many different features. Here are our top five bonus features mobile apps should deliver to future-proof your events and take them to the next level.
Location Services:
Just being somewhere is never enough, you must also be present and investing attention or dedication. Part of this, especially for wide-scale events spread over large properties or centers, is knowing where you are situated. More importantly, it also helps to know where a large portion of your audience or customers is, as well.
Modern location services can help facilitate this, by providing and enhancing both situational and contextual awareness about the surrounding event facilities.
Some of the best examples of this technology in action are:
Wayfinding to and from specific rooms within a venue with turn by turn directions

Monitoring assets related to the event that is critical to execution or enhance satisfaction

Identifying and sharing hotspots where users should definitely spend some of their time and focus

Finding contacts or influencers who are attending the event, and keeping tracking of where they are or where they're going

Plan meetups and or luncheons with fellow professionals for enhanced networking
Location services can be leveraged in many different ways — as evidenced by the list above. Most of the use cases, however, involve tracking or monitoring specific touchpoints at an event, be it an actual experience or another attendee and returning that information in real-time to users.
66 percent of event attendees believe the option to personalize their schedule during an event is very important, and access to precise and reliable location service support ties directly into that.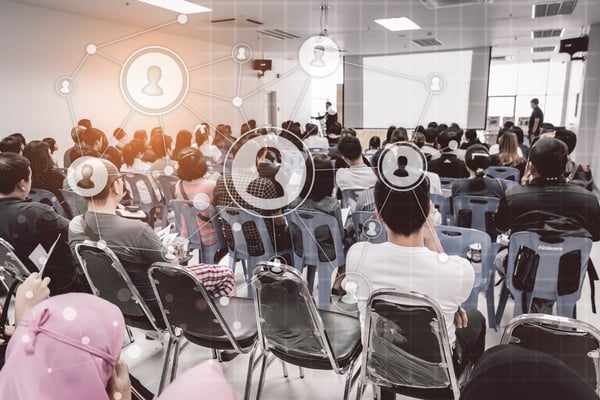 Complex Agenda Capabilities:
For event planners and booth managers, events can be incredibly complex and involved. There may be multiple tracks or sessions happening at once. Plus, you need to focus on a variety of attendees, while tailoring each experience or engagement on a more personal level. There's just a lot to keep track of and a lot of involvement for staying organized.
Mobile event apps can help with this specifically, by allowing for things like custom audience segments, targeted group invitations, and simplified session management tools. It's as close to a comprehensive management solution as you're going to get.
From the user perspective, users gain access to valuable features like the ability to create custom tracks and personalized agendas that keep them informed and on time to the sessions that matter most to them. They can manage and organize their own schedules using real-time information about what's happening at the venue.
88 percent of event attendees say that access to meeting or event schedules within the main app is extremely important.
Multiple Use Cases:
Sadly, it's common in the event industry for managers and planners to create and deploy single event solutions that only work once or for a timed exclusivity period. This may sound familiar, do you engage or work with a new event planning company each year for your sales kick-off or other events? Each time are they telling you to create a new app or to switch over to a new technology provider? This is terrible for productivity and efficiency because you're forced to start from scratch, over and over again with each event or conference.
With master apps, however, you can download and setup everything you need once and then adapt it to meet the needs of subsequent activations from event to event and year after year. This provides a much higher ROI and provides a more useful solution that can be leveraged several times — if not more. By keeping your strategic marketing initiatives streamlined with a comprehensive mobile platform solution that doesn't 'expire', you can track, measure, and optimize customer experiences before, during, and after each event.
Global Support:
Small organizations may not quite need this feature, but in the corporate world, larger organizations, and globally active teams know what it's like trying to manage a handful of technologies for each region or event that takes place — of which there may be dozens throughout the year. This may extend to single events with multiple iterations across the globe like regional activations in APAC, EMEAR, or even LATAM.
For this, it helps considerably to have a consistent set of tools and mobile app partner that can cater to global support and experiences, while keeping event content localized and central to your internal team, yet globally available to a widespread audience.
Real-time Engagements:
Finally, you need to plan for real-time audience engagement or interaction. You see, during live events, marketing is all about customer satisfaction and interest. Events must stay fresh, organized, and moving forward in a smooth, consistent manner. This allows your audience and attendees to be engaged, in real-time with the various movements of your team. That's why there's an 80 to 90 percent increase in attendance for events that utilize live response tools.
You can do things like:
Create audience and user polls that are a short form to gain quick insight into an experience or event

Distribute user surveys that are more detailed and personalized for a more accurate representation of how a customer feels

Promote social campaigns and initiatives that highlight people, places, and even the venue

Send notifications for current activities, reminders, and follow-ups
The Top Features Are Top Differentiators
What you'll notice about many of these top features is that they also happen to be the top differentiators for how mobile experiences and apps stand out from alternate solutions. Many of these opportunities you won't be able to find elsewhere.
Furthermore, they help take the event experience from a level of "good" to "exceptional," offering improved convenience, engagements, and productivity.
Even through all of that, consider what's important to you and your business, your stakeholders, and last but certainly not least your customers. Will these features — and everything else mobile has to offer — give back to those parties that matter so much to your success?