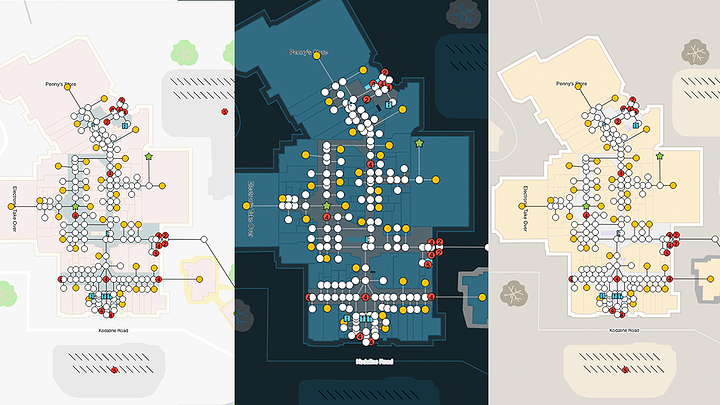 While wayfinding is rapidly evolving into a complex ecosystem of futuristic technologies – location-aware sensors, the IoT, Bluetooth LE beacons, wearable tech, and more – indoor maps still lie at the heart of indoor navigation.
Today, creating a map for an interactive wayfinding application is still a relatively manual process that generally consists of converting CAD files (architectural drawings) and Lease Plans to a format suitable for users to work with in a content management system (CMS). Oftentimes, the original maps are out of date, inaccurate, missing information, or containing irrelevant information. This means that mapping specialists must work closely with customers to update missing information and remove irrelevant layers. To further ensure maps are geospatially accurate, designers use a geographic coordinate reference system.
While the map conversion process is still manual, once complete, the new map is uploaded into a wayfinding application wherein users can plot routes and points of interest – waypoints, kiosk locations, people movers, amenities, and building floors – using standard content and data management tools.
In more advanced indoor mapping and positioning platforms, users have access to features including workflow, role management, business rules, and dynamic content and data management. In this environment, updates to map data, branding, and styling can be automated through APIs and standardized integrations with space management tools, third party applications, and other systems in the ecosystem.
In the future, we envisage a world where map conversion and, ultimately, map creation are completely automated. There are already some exciting advances on the horizon; companies such as Vecna Technologies have begun making innovative leaps using robots to map indoor space. This sort of innovation will result in a more accurate and efficient map creation process in the near future.
With role management features, some items on a map may only be visible to a specific role. For example, a health care worker is able to see medical equipment on their map such as ventilators, surgical trolleys, crash carts etc. Firemen could, for example, have access to the location of electrical panels and water mains, information that would not necessarily be available to the general user. Details such as these have not only the potential to increase efficiency and safety, but to save lives.
Details of objects and equipment are not the only information that can be differentiated based on the individual's role. Through advanced navigation technology, the most convenient or efficient routes can be measured and determined. While visitors, customers or patients will be directed to convenient routes using elevators or escalators, staff and emergency services can access routes based on safety and speed, or move through areas where the general public is not allowed.
Taking it a step further, the business rules engine can interface with supported applications and devices allowing closures to certain routes to be triggered by a rule. For instance, when an elevator goes out of service, a signal is sent to the application triggering a business rule that dynamically adjusts the routing provided to users of the application.
Whether you are using a simple indoor blue-dot navigation application, a combination of wayfinding tools and services, or an advanced Enterprise Wayfinding Platform, accurate maps are the foundation for creating an exceptional experience of your space and ultimately your brand.


Updated January 1, 2019: This post was originally published on May 9th, 2015 and has been updated to provide more information.