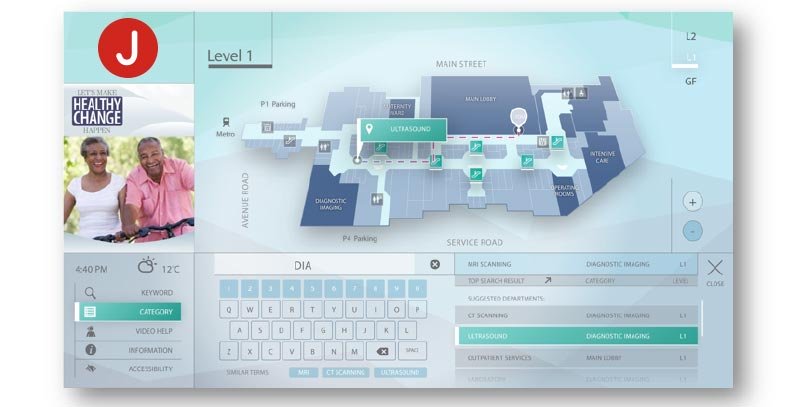 Accessibility is a hot topic and we all need to do our part to help ensure that we get things right. At Inpixon, we have developed 5 best practices to ensure we factor in all aspects of accessibility and end up with a solution that allows ease of access and benefits all.
1. Human factor design
We start by thinking about the end user. Who will be using the display, how, in what manner, and what can we do to help ensure ease of access? All of Inpixon's interfaces are designed to be compliant with ADA (Americans with Disabilities Act) standards from the start.
Compliant design is good design; as they make the interface easier for everyone using the displays.
2. Consider the height of interactive elements
When we design our interfaces, we determine the best height at which the interactive elements reside in the physical space. The ADA requires that interface elements be placed between 15" and 48" from the ground. It is therefore important to account for the physical height of the display so that the interface can be adjusted accordingly.
3. Use high contrast colors
The ADA suggests either light on dark, or dark on light elements when it comes to color contrast, which we also take into account for our designs. At Inpixon, we ensure that we keep a contrast level of 70% between the background and foreground for all interface elements.
4. Size of text & interface elements
Nobody wants to have to squint or lean in to read what's on a display. On top of that, if the user can't easily select something in the interface, and instead has to "pixel hunt" in order to press a button; it will often lead to a very frustrated user experience. We ensure that we address this need in all our interactive displays. Specifically, the ADA requires the use of large text (4.8 mm in physical space). When it comes to interface elements we insure that items are of sufficient size (20mm x 20mm at minimum) with adequate spacing (6.35 mm -> 12.7 mm) between each element.
5. Limit physical barriers & compliant kiosk design
The ADA has a number of complex restrictions in regards to the barriers that surround the physical space around the kiosk and how it affects the design of the kiosk itself. To keep things simple and accessible for everybody, it is best to limit the amount of physical barriers that prevent users from reaching and viewing the display, and to ensure we design and conform to all ADA specifications.
For more information and to see how Inpixon creates digital experiences in physical spaces through human factor design, contact us directly.