Autumn is an exciting time in the world of property technology. In October, CoreNet Global's North American summit will bring together thousands of corporate real estate industry professionals. The aim of the summit is to connect and explore the latest technology and trends in corporate real estate, and the ways in which people live and work. This year, the summit's theme is "Experience Matters, It's Not Just Business, It's Personal," and we couldn't agree more.
This increasing appreciation for the Experience of Place is indicative of adoption levels of indoor location technology, which have been building over the last decade as buildings are becoming smarter. Indeed, the way we live, work, and play indoors is beginning to feel the reverberations of change as our expectations for frictionless navigation and personalization extend into our offices and public spaces. This change is taking place first and foremost where enterprises are leading the charge for digital transformation, subtly shifting the way our buildings are managed and maintained.
If we look at corporate campuses for example, many enterprises have started laying the groundwork for buildings to become more intelligent and efficient. Teams are undeniably more productive when workplaces are operating smoothly. At the most basic level, having a functioning office is integral to your employees' ability to get their work done. Beyond facilitating space functionality, facilities technology also has the power to create powerful, personalized experiences. These experiences are driven by interoperable location-aware technology, and have the ability to drive retention, efficiency, and cost savings.
When we think about creating operational efficiencies and optimizing workflows for savings, most of the conversation takes place around production processes and output. However, many workplaces overlook how much more productive they are when their offices equip their teams to succeed. In this capacity, facilities management teams may just be the unsung heroes of corporate campuses around the world. After all, facilities management has a very real impact on an enterprise organization's bottom line - both directly and indirectly - and facility energy efficiency can have real savings outcomes for corporate campuses.
Empowering Facilities Management Teams with Location-Aware Technology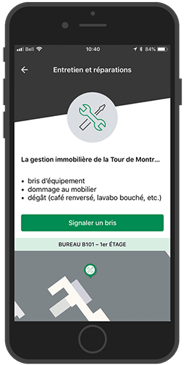 By integrating dynamic indoor maps with facilities management systems, organizations can create applications that empower and support facilities management teams to work more efficiently. By leveraging an indoor mapping platform like Inpixon and its flexible Software Development Kits (SDKs) and APIs, these applications can address pain points around work order management, internal navigation, and much more.
For example, when Desjardins' VPAD team moved into Montréal's Olympic Stadium, one of the exciting features they built into their employee app was the ability to report facilities issues directly in real time. If an employee entered an office to find that the projector wasn't working, they could take a picture of the issue within their mobile app, and report it directly to facilities management. The maintenance team would be notified with a message including a picture, description, and a map with a pin showing the location of the maintenance request.
Enabling Facilities Management Automation
With a full integration between your facilities work order management system and your indoor mapping platform, these tasks could be automatically assigned to the nearest member of the facilities team, complete with turn-by-turn navigation to the issue. This is a prime example of how facilities management and maintenance can be simplified for your team with indoor mapping technologies, especially if you are leveraging machine learning.
The same technology can be used to optimize other maintenance operational workflows such as maintenance schedules and building energy efficiency. Indoor maps can be used to visualize data from various systems to help identify and prioritize where work should be done first. Essentially, facilities teams are empowered to easily identify and categorize complex and disparate infrastructure data on a map using Inpixon's indoor mapping and location platform to reveal insights based on location.
For example, if a maintenance manager could see where all the highest value assets that need servicing are, they can optimize a maintenance plan that meets the business needs best. Furthermore, by integrating disparate facilities management data, like lighting usage, equipment status, and energy metering, and bringing them together through our REST APIs, an organization could leverage machine learning to divert energy expenditures from floors of a building that are unoccupied.
If the theme this year is "Experience Matters, It's Not Just Business, It's Personal," it is of the utmost importance to make sure that the technological foundations you're laying in your buildings support both the 'business' and the 'personal' components. By embedding location-aware maps into custom mobile and web-based facilities management apps, you can ensure that your facility personalization efforts benefit your bottom line as well.