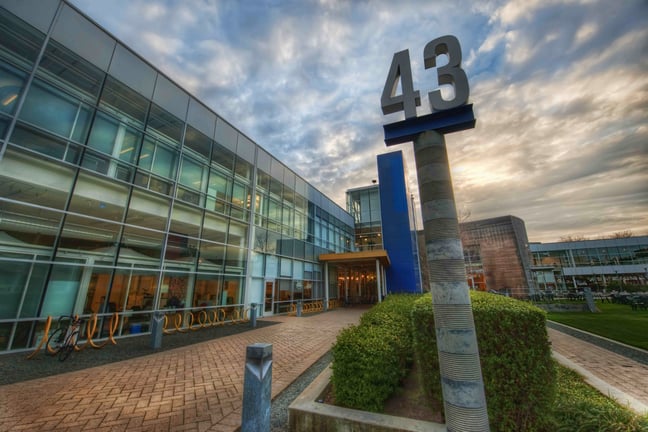 Corporate environments are fast-paced and need to enable employees to be as productive and efficient as possible. Improved productivity is achieved through many methods centered around moving friction from the employee's daily functions. This includes accounting for the ability to easily navigate the building(s), find meeting rooms, and locate stakeholders and colleagues in dynamic, agile environments.
It is key that employees have ready access to these types of information through various mediums such as mobile apps and kiosks. Just as important is the ability for administrators to keep this information up-to-date through integrations to core systems such as Active Directory and calendars, among other commonly used systems. To achieve these objectives, a simple wayfinding system that shows users how to go from A to B is not good enough - an intelligent wayfinding platform is needed.
How can an intelligent wayfinding platform make your corporate campus more productive?
By providing effective navigation routes between buildings and rooms that are accurate.

By accessing scheduling systems that can further assist with locating open meeting rooms.

By quickly and effectively locating available hot desks and people.
During a typical experience with an intelligent wayfinding platform, an individual will be able to locate and reserve boardrooms and other meeting rooms, find and secure convenient parking, and send notifications to meeting delegates in real-time.
Intelligent wayfinding technologies allow corporate campuses to provide an engaging and modern mobile application that give users the information that they need on demand, with information that keeps them and their colleagues productive. This is especially key for corporate campuses where there is an influx of new hires that may not be familiar with the buildings and meeting rooms. (A great example can be seen in Desjardins' move to Montreal's Olympic Stadium with over a thousand employees unfamiliar with the space, watch the webinar here.)
In some cases, we see businesses with up to 80 new hires a month that have no idea of how to get around. Imagine the time that would be saved if they could navigate themselves everywhere they need to go on day one? This also plays a big factor in their experience, reducing the anxiety related to familiarizing themselves with the organization. A seemingly simple thing, like knowing where the restrooms are, is pretty important to someone who has just started a new job.
Even staff who have been on the job for several months are sometimes unsure of how to navigate the campus and find meeting rooms. We have heard from clients themselves that if they can't book the room they know the location of, they will simply reschedule the meeting until they can get the room they are familiar with. What impact does this have on productivity and scheduling?
How to Take Advantage of Location-Aware Technologies
Wayfinding software platforms make use of various location-aware technologies such as BLE Beacons. These devices transmit signals to mobile phones by means of BLE (Bluetooth Low Energy). An individual's location can be ascertained on an indoor map by their proximity to beacon devices. These beacons are designed to refresh regularly and more quickly than Wi-Fi systems, bringing enhanced accuracy to indoor navigation.
Those who have the application installed on their mobile device need to access it once they enter the premises. The wayfinding system then registers an individual's arrival and presents a map with directions to the correct location by means of step-by-step wayfinding.
The system works similarly to vehicle navigation systems, except it offers a wealth of additional features and functions. In addition to the enhanced wayfinding experience, there is also an opportunity to push messages to people based on their location, gather traffic-flow analytics, and connect people to information about resources/tools that are within their proximity (i.e. where is the closest printer to me?)
Corporate campuses looking for a more cost-effective and efficient way to assist visitors and employees to reach their destinations quickly, and without having to ask for directions, can truly benefit from the functionality of wayfinding technology. Designed to draw information from mapping and data and systems provided by various other vendors and service providers, the technology opens up the channels of communication, increasing productivity and creating memorable experiences.
Updated January 1, 2019: This post was originally published on December 9th, 2014 and has been updated to provide more information.