Educational Institutions Are Upgrading Their Tech Offerings to Mirror That of the Average Corporate Campus
The world has changed thanks to major tech innovations, and with it, the typical work environment has been transformed as well. For instance, the nature of entry-level jobs isn't what it once was. New hires and even interns are brought into a company with the expectation that they are tech savvy and able to jump right in. It means they often have a lot more responsibility, far surpassing what you'd expect with new employees.
Grads with immediately applicable, hands-on experience are far more desirable hires, i.e. someone that knows how to develop mobile apps, modify websites even on a basic level and collaborate with a team using software. It's up to higher education institutions to embrace technology, and help prepare their students for the new, digital-centric world ahead of them.
A Smart Campus for A Better Transition
In addition to improving the general student on-campus experience, colleges can begin preparing their students for the enterprise world of today. The solution is to simply imitate the same models and systems that major companies employ to improve the workplace experience.
For example, many notable modern companies offer a proprietary mobile app that is used to deliver announcements, sync up various employees and improve property navigation. Tech-savvy college campuses should offer something similar if they want grads to be ready for the kinds of tools they'll be using out in the real world.
The question is, of course, what technologies are actually used on a smart campus? Are corporate campuses truly that different from college campuses?
"Students that graduate from or experience an environment where smart technologies are regularly used — emulating corporate solutions — enter the workforce with a leg up over their competition. @TheCXApp"
CLICK TO TWEET
Mobile
Mobile is here to stay. For 78 percent of teens, smartphones are included in the top five screens they use. Across ethnicities, 13 to 17 year olds receive their first smartphone at an earlier age than any of the other generations that have come before. You probably already know the fact that mobile web traffic has far surpassed that of desktop, and that there are a near endless number of mobile users the world over.
Mobile devices are being used regularly and at earlier ages, which means just about everyone is used to balancing a mobile and real-world experience. Today's students are included, with many of them preferring to use mobile as a primary communication channel.
A mobile-enabled smart campus works to send alerts, notifications and enhance in-person experiences with the help of mobile devices like smartphones. Think mobile alerts about upcoming events, wayfinding or navigation suggestions and much more.
Collaboration
A great deal of the student learning experience involves team projects, which seek to mimic the teamwork required in the workplace.
Collaboration aided by technology is an essential element of the modern workplace, especially when it comes to teams where some of the members are remote. The reality is that on a sprawling corporate campus, employees are very rarely all in the same room, working simultaneously on the same project. People log in at different times and use technology to keep them on track and stay connected to each other.
Obviously, this is a soft skill, but that doesn't mean it's not crucial. Students who get trained in this kind of process will have a competitive edge going forward. Tech-savvy universities introduce learners to project management software, online content systems, chat app options and other digital tools that facilitate collaboration.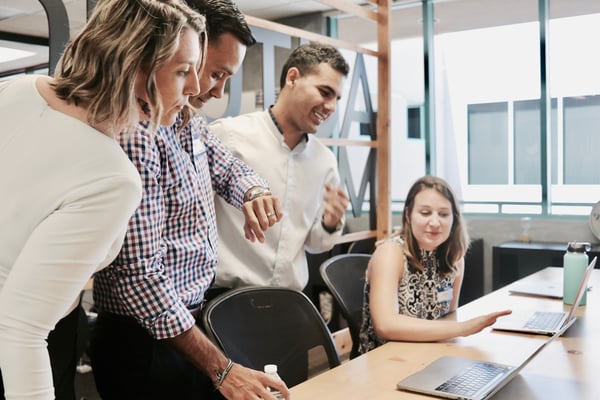 Digital Resources
Everyone on campus is immediately part of an interconnected network that can be used to distribute information, updates and more. This is true of the average corporate campus and it's true of university and college campuses too.
Smart solutions that deliver these resources — mobile apps being a prime example — can distribute content to the breadth of a population, seamlessly. Not only does this open up discussion, but it also keeps everyone informed and clued-in as to current events.
Through these systems, content and help are always accessible in one central hub or location. Just the same, employees benefit from having access to all relevant data and resources in one place instead of having to search through multiple pages or an Intranet.
Personalization
Every student has his or her own unique goals and learning styles, which parallels the corporate environment, as each employee must be engaged differently. Smart campus technologies and mobile solutions can be leveraged to deliver the kind of personalization required — in both environments — so everyone stays engaged. More importantly, updates can factor in a user's exact location and context to create a relevant stream of experiences.
This means that whether you're talking about students or employees, both learn to follow an individualized path through a complex environment. They also learn to respond to communications from their home institution despite endless streams of communications, information and noise.
Engagement
Student engagement is instrumental to the success of a college or university, and that's exactly how it is in a corporate environment. Without proper engagement a brand or company will sink, as it fails to provide the kind of experiences to its clientele it needs to stay afloat.
A mobile hub of communications embedded within a smart campus can help grab the attention of students while also providing details and information about onsite events such as school clubs, student government, career fairs, volunteer projects, sports rallies, etc. Similarly, a company's culture is developed by connecting employees through engaging activities and collaborative projects.
Universities Must Prepare Their Students
Students that graduate from or experience an environment where smart technologies are regularly used — emulating corporate solutions — enter the workforce with a leg up over their competition. Not only does this make them much more desirable to potential employers, but it also helps prepare them for the kinds of responsibilities they'll have in the modern world.
Every task from paying utility and personal bills to job training uses some form of modern technology, be it mobile or desktop-oriented. A lot of the smart campus solutions that exist will help ready students, providing them the resources they need to thrive in today's digital world.