One of the most important aspects of briefing center programs is providing memorable experiences for customers - so how can you include interactivity in your programs?
Top Considerations for Implementing Interactive Experiences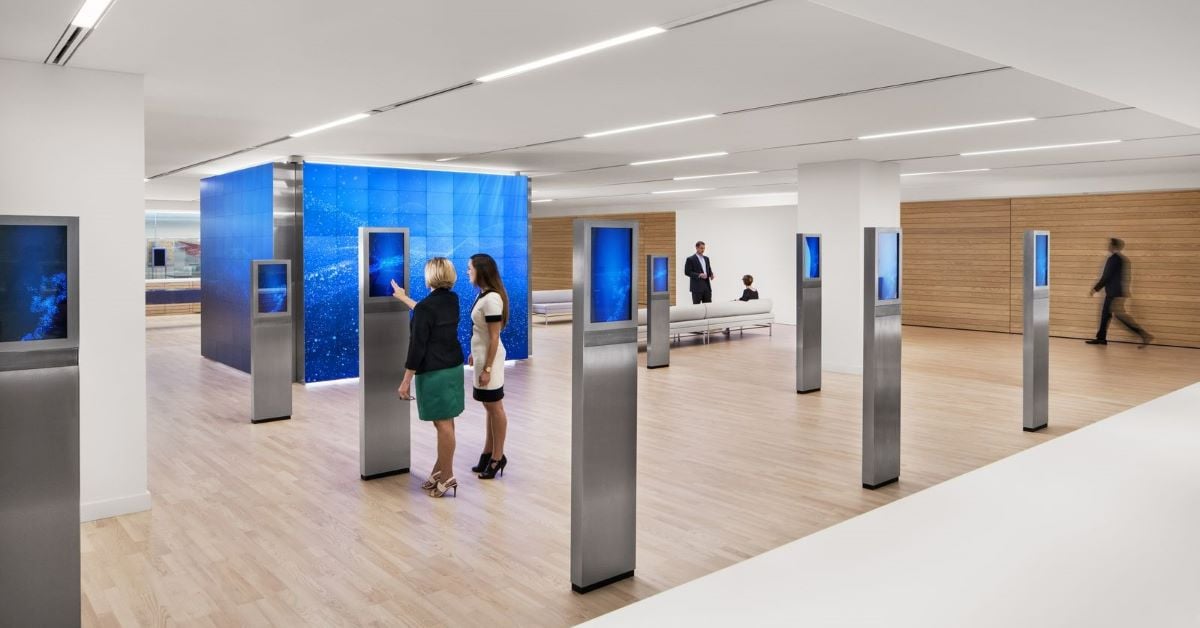 Source: ABPM - AT&T Executive Briefing Center in Dallas, TX
Briefing programs need to consider several elements when evaluating how to make the customer experience more interactive. Before redesigning your briefing program to include interactivity, consider the following:
Technology Options:

Explore what offerings are currently available within and outside the industry, such as additional equipment needed to support interactive experiences. Be sure to find out if other teams or departments are using existing solutions. For example, the Events team often use gamification solutions, which a briefing program can utilize for their engagements.

The Role of Creativity:

Creativity is achieving your goal with the resources you have and within the constraints of your environment, look at ways to make it happen with what you have. Briefing programs should also keep in mind that successful programs offer a unique experience for each guest, which makes it all the more memorable.
Examples of Successful Interactive Experiences
Successful interactive experiences capture your attention as soon as you engage. They add a sense of curiosity, often allow self-exploration, provide memorable moments and offer something to take away.
Key examples include briefing programs that use:
Mobile Apps
By allowing guests to download a mobile app to engage with the briefing center, it enables a range of benefits, namely increased interactivity, such as:
Sending notifications that greet customers as soon as they arrive, providing information on exactly where to go next

Helping visitors navigate the center to meeting rooms, cafes, immersive experiences, history walls, and museum pieces

Allowing guests to generate content to share on digital displays to feel part of the experience

Encouraging them to unlock content from key areas they visited within your space

Take self-guided tours – selecting their own flow based on their interest level in the available areas
Virtual Platforms

Briefing platforms offer an immersive experience for customers by:
Integrating with 3D spaces that invite your guests to dive deeper into customer success stories that illustrate benefits and value

Replicating similar experiences to those found in physical centers, such as theaters and demonstrations

Showcasing a breadth of your overall offerings that may not be available in each physical location

Providing all briefing agenda and attendees details to feel connected before engaging on the day of the briefing

Centralizing briefing materials and content to share prior to or following briefings - easy access is key!
How to Create an Interactive Experience at Your Briefing Center
Source

: ABPM - VMware Discovery Center in Palo Alto, CA

1. Map your entire customer journey
Begin by mapping the entire customer journey before, during, and after your engagements. Then, identify gaps and opportunities to improve the process and offer intriguing ways to experience your solutions. This process can include collecting feedback through polls and surveys before the briefing or making the arrival process easy for guests by sharing travel and logistics information in advance.
2. Define why you want to build more interactivity into the experience
Clearly define the goals you want to achieve by adding interactivity to your briefings. Here are five questions to consider:
Do you want to collect information from your guests?

Do you want to create physical or digital pay-offs to encourage ongoing interaction?

Do your products or solutions lend themselves to natural interactivity?

Is there a takeaway for guests?

Will it be their own experience or a shared experience?
3. Visit other centers to "experience" different types of interactivity
Visit other centers, especially ones outside your sector or industry. You never know what new methods or best practices you may uncover. Visiting other centers is also an excellent opportunity to learn about new partners and vendors.
Create Interactive Experiences with Inpixon
Inpixon provides solutions that elevate the customer experience with mobile-led interactions and a centralized virtual briefing platform that provides access to valuable resources throughout the entire customer journey, creating meaningful and long-lasting relationships. If you're interested in enhancing your program, contact us today!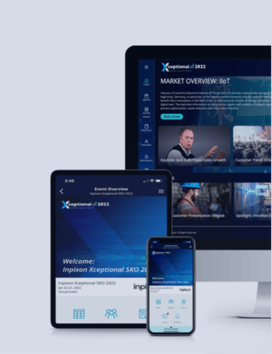 Why ABPM Chose Inpixon's Event Management Platform