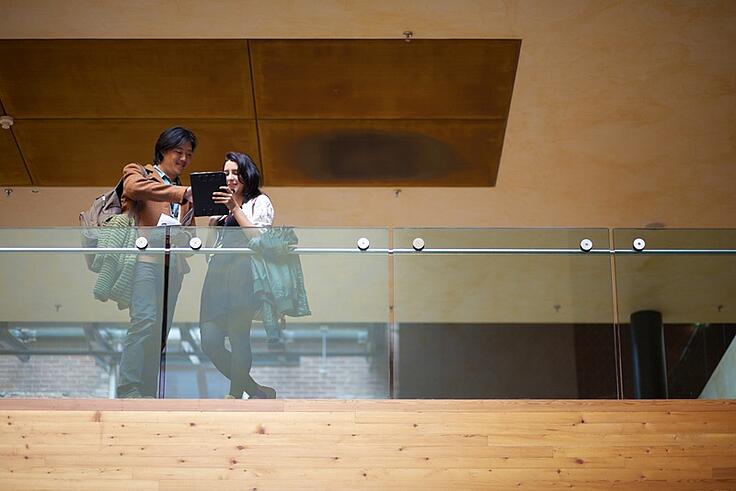 The first few weeks on the job can be overwhelming for employees - new colleagues, new tools, trainings and induction sessions, not to mention finding their way around campus. It's the little details that can really determine those first experiences in interacting with this new company.
As an HR manager, your job is to make sure that newcomers have all the information they need and are integrated into your company culture, in the easiest way possible, making this a pleasant experience for everyone. Luckily, technology advancements in integrated wayfinding systems for corporate campuses have connected all these little details into a single digital wayfinding experience.
The new employee digital wayfinding experience
Now you can welcome new employees with a wayfinding app that makes their first days, and weeks, on campus a less anxious experience. Having downloaded the app prior to their first day on campus, they have access to location-aware technologies and indoor navigation that will guide them from home to their first meeting, on their mobile device. Prior to their first day on the job, they get their daily schedule, complete with times and places, and how to get there, delivered directly to their mobile device.
This is a great way to make new employees feel in control of their experience, rather than being scared and confused about missing a meeting. The system makes sure to send essential data such as who they'll be working with or policies and procedures to follow.
One of the most difficult aspects of starting a new job is information overload. Everyone has their own learning curve and it's an immense help to be able to deliver the right information at the right time.
Your time is valuable, make sure you're being efficient
And you know who else benefits from this simple tech solution? HR managers, the people running around recruiting and managing talent. A lot of these onboarding details can take up a lot of their time, so having them automated greatly simplifies their time and task management.
Instead of spending time on administrative tasks: printing and delivering policies & procedures, running orientation training or fielding meeting location questions, they can invest that time in personal one-on-one sessions with new hires and ask them how their week went.
A smart onboarding solution
An integrated wayfinding system can help your company achieve some of the most important goals of the onboarding process:
Enable socialization (essential for new hires);

Eliminate the need for a buddy/mentor;

Manage resources in a smart way;

Automate administrative workflows and tasks so you can focus on creating an unforgettable first day for new hires.
A good onboarding can determine future performance. Onboarding new employees effectively can increase retention by 25% and improve employee performance by 11%. It can also lead to greater employee engagement.
Companies who are using the system are already seeing positive results. These integrated platforms are intuitive, collaborative and customizable, to reflect your business needs and your culture. Providing new hires with a coherent onboarding experience, they help get you started on the right foot to what will be a longterm relationship that can benefit both parties.
Image credit Sebastiaan ter Burg