The HPE Executive Briefing Center located in sunny Palo Alto is a solution for connecting senior company executives, IT professionals and potential clients in a "high-touch" space. It employs state-of-the-art tech solutions — such as the Inpixon's Executive Briefing Platform — to sync people before, during and after their visit to the center. It's customer experience creatively reimagined as an active, evolving service.
For instance, beacons placed throughout the property communicate with visitors through the mobile app to keep them informed about offers, the day's menu, and special installations across the center. This is just one way technology augments the EBC experience and helps transform the center into an integrated part of the customer journey, as opposed to a mere building.
Esteban Obando, Manager of the WW Executive Briefing Program, aims to unlock "new opportunities for disruption and change" through innovative technologies.
In a preview of HPE's cutting-edge briefing center configuration, Esteban walks us through how these solutions work.
Here are some of the prominent features available to briefing attendees at the EBC: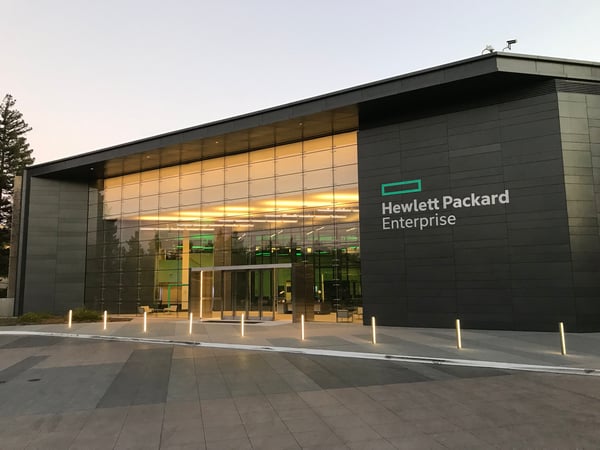 According to Esteban, the "clear value" of using a mobile platform is that the app provides a comprehensive communication channel for customers and clients. This two-way communication allows customers to engage with the company and leads to the development of strong, loyal relationships. The user experience is enhanced by personalizing interactions based on each individual's progress through the customer journey within the Executive Briefing Center.
"The EBC world is on the precipice of change, propelled forward thanks to the power of mobile, AI and machine learning, IoT and big data technologies. The average customer experience — be it business or consumer focused — is about to change for good @TheCXApp"
CLICK TO TWEET
Content
The beauty of mobile is that it's designed to be dynamic. This is beneficial for content consumption because materials are available on-demand and in bite-sized increments. Presentation materials can be viewed within the EBC without taking away from the day's experience; moreover, content can be accessed anytime, even after the meeting has ended.
Agenda
The calendar or agenda feature of the mobile app is always easily accessible. This is especially convenient for event and EBC managers who need to update information in the moment. Clear, timely agendas are a critical driver for effective meetings where time is money and money makes a deal. Room changes, topics, meeting attendees, they all change in an instant in the briefing world, and program managers need to be able to pivot and adjust.
The value of this feature — especially for discussion leaders — cannot be overstated.
Live Map
One remarkable feature of an immersive mobile platform is that it taps into location services data. This is expressly used by the CXApp for indoor mapping — a form of location-based interaction that provides a detailed overview of a property or area. Think of it as Google Maps for the inside of a venue.
Indoor mapping is ideal for large venues, and especially helpful to first-time visitors. It can be used to highlight important stops and reveal amenities, such as restrooms or waiting areas. It can also be used to track users in real-time and deliver targeted recommendations based on what's happening around them. In HPE's center, for instance, visitors entering the cafeteria will receive a real-time notification about that day's menu.
Proximity and location services help provide an additional "wow" factor to the experience, if only because it allows businesses and managers to anticipate client needs.
Virtual Presence
A central newsfeed and social media integration provide the necessary community and engagement features to carry relationships over into the digital sphere. These features encourage discussions and collaboration to continue, well after the in-person meeting occurs. From a business perspective, this allows managers to stay informed about what the audience is thinking.
Polls
As you might expect, polls and surveys can be leveraged to gather additional information from participants. These tools can be activated during a presentation to further augment the experience and involve audiences. It's more of an interactive, crowd-driven medium that works to include crowd-sourced sentiment and ongoing conversations.
Further support through voice dictation means that customers can give feedback to program managers without having to type dissertation-length reports. They can give feedback in a natural manner that translates to actionable insights for briefing program managers.
Technology Has Transformed the EBC
In the video, Esteban says it best. "The app becomes this asset that not only showcases the briefing, but also showcases the technology of HPE."
The partnership between the CXApp platform and Hewlett Packard Enterprise has created this culmination of modern customer experience, executed through one of the most relevant and forward-facing solutions available today: mobile.
This is just the beginning. The EBC world is on the precipice of change, propelled forward thanks to the power of mobile, AI and machine learning, IoT and big data technologies. The average customer experience — be it business or consumer focused — is about to change for good, if it hasn't already.