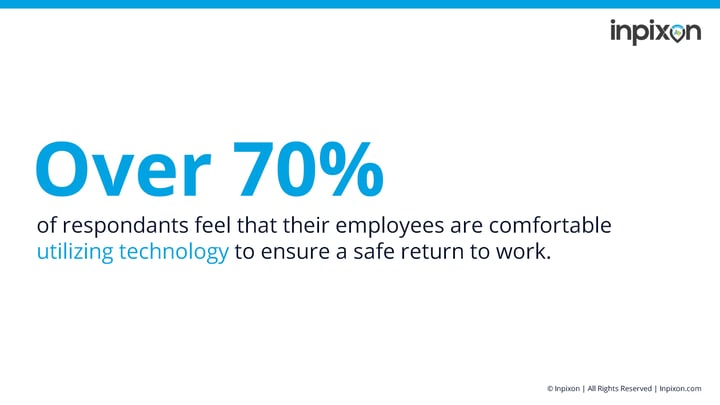 In the midst of the COVID-19 pandemic, organizations are assessing when and how employees will be able to return to the workplace safely. We recently hosted a virtual roundtable called Reclaim Your Workplace: Creating a Resilient Environment Post-Pandemic with leaders from CBRE Host and MSK LLP, moderated by CNN's Aditi Sangal.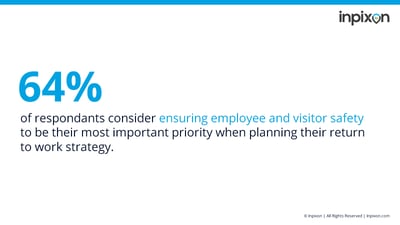 Throughout the event, we surveyed 183 of the attendees, with varying response rates, on their return-to-work plans, priorities, and attitudes towards workplace readiness technology.
The insights garnered from these polls provide a snapshot into the prevalent concerns and processes that business leaders are working with in the quest to create safe and resilient workplaces for employees to return to.
Employees are comfortable with contact tracing technology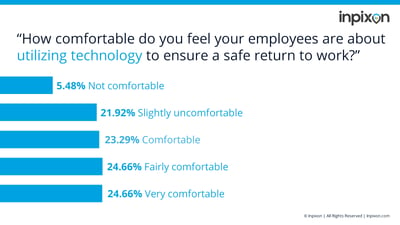 When surveyed, 94.52% of the virtual roundtable poll participants said that they felt their employees would feel comfortable with utilizing technology to ensure a safe return to the office.
Of those who responded favorably to return-to-work technology, 21.92% of them responded 'slightly comfortable,' 23.92% responded 'comfortable,' and 24.66% responded both 'fairly comfortable' and 'very comfortable.'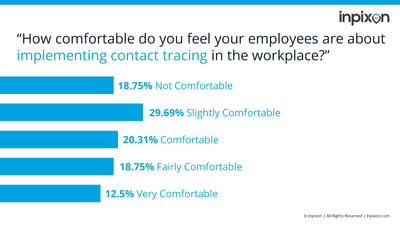 Similarly, when it comes to employee comfort around workplace contact tracing specifically, only 18.75% of respondents indicated that they thought their employees would feel 'not comfortable' about implementing it in their workplace.
The remaining 81.25% of respondents indicated positive feelings for contact tracing in the workplace with varying degrees of comfort levels.
Workplace readiness technology should be future-proof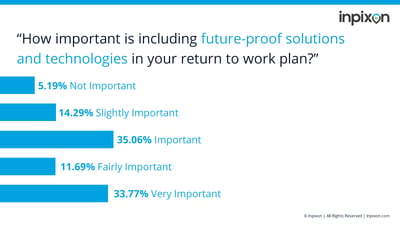 Our polling indicates that business leaders are treating this as an opportunity to implement lasting technological change within their workplaces. When asked how important including future-proof solutions and technologies in their return-to-work plans was, only 5.19% indicated that it was not important to them.
An overwhelming majority of respondents responded that future-proof solutions were an important part of their workplace plan. This would suggest that business leaders would prefer workplace readiness technology that supports overall workplace efficiency and facilities optimization in addition to contact tracing and physical distancing measures.
Ensuring employee safety comes first for organizations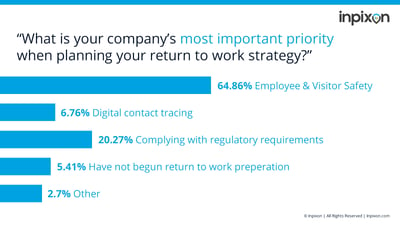 According to our polls, the number one priority for companies who are planning their return-to-work strategy is ensuring that employees and visitors are, and feel, safe within their buildings.
Tertiary priorities, in order of importance to respondents, were complying with regulatory requirements and recommendations and implementing digital contact tracing.
16.88% of organizations have not begun preparations to reopen offices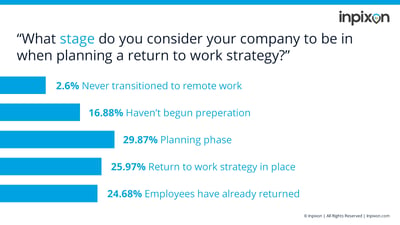 The results of our polling also provided clarity around the various stages that organizations are in with regards to their return-to-work strategies. While half of the respondents either have a strategy in place or their employees have already returned to the office in a full or part-time capacity, 29.87% are currently in the planning phase. Furthermore, 16.88% of respondents have not begun their return-to-work preparation at all.
While it may be a daunting task of great importance, planning for a safe return to the office doesn't need to be overwhelming. Book a consultation with our team to find the future-proof solution that makes the most sense for your spaces.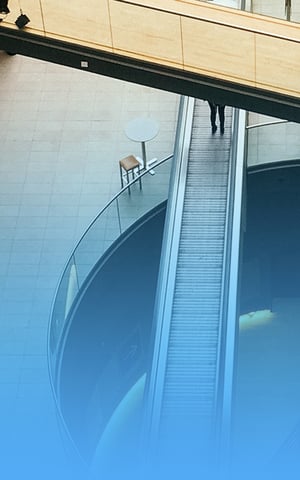 VIRTUAL ROUNDTABLE
Watch the CNN-moderated panel, Reclaim Your Workplace: Creating a Resilient Environment Post-Pandemic, today


This blog post contains forward looking statements which are subject to risks and uncertainties. Please click here to learn more.