As a key component of our platform for many years, indoor mapping is an instrumental pillar to indoor intelligence. Inpixon's indoor maps enable organizations to completely change the dynamic of their buildings; making indoor spaces smart, connected, and easy to navigate.
What is Indoor Mapping?
Indoor mapping is an innovative technology that allows static maps and building floor plans to be converted into digital, interactive maps of an indoor space. In addition to powering indoor navigation capabilities, indoor maps leverage business rules, indoor positioning and the Internet of Things (IoT), to enable users to visualize spatial data, improve indoor experiences and create real-time indoor location intelligence.
Indoor maps are a key component to creating smart spaces, and act as the starting point for all projects requiring location-awareness.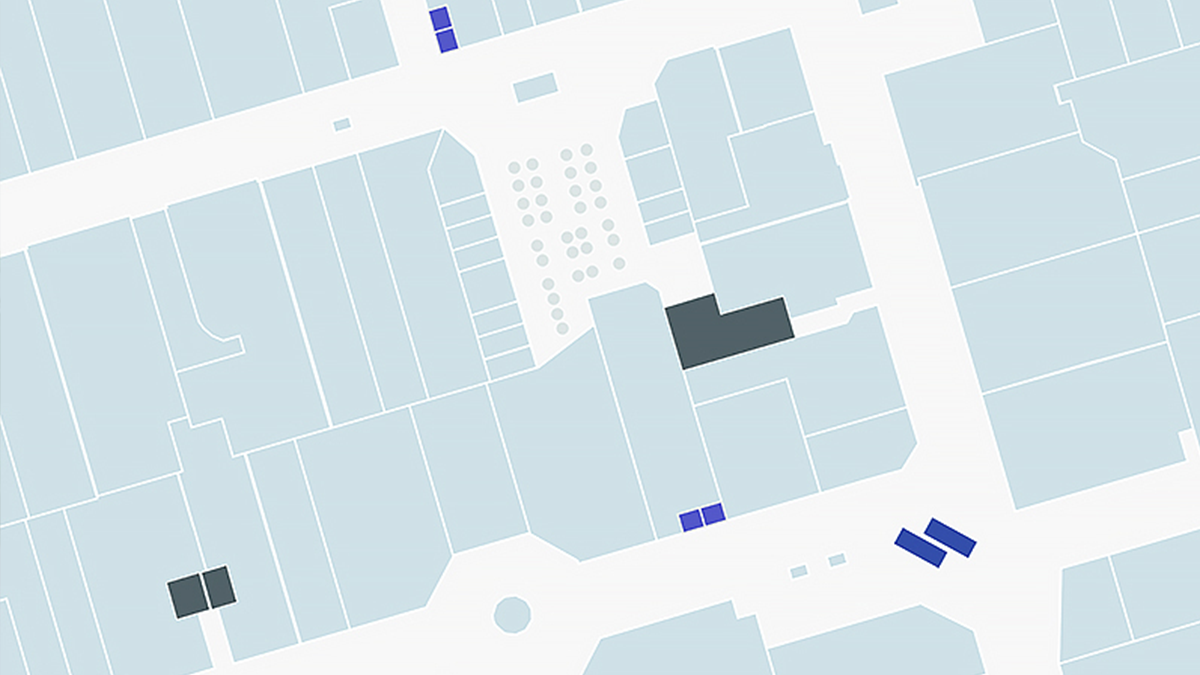 How does Inpixon Mapping work?
Inpixon Mapping is an extensible platform that scales to meet evolving enterprise indoor mapping needs. By integrating with existing (and future) data and systems, you can create location-aware map-enabled apps that power multiple use cases and can be extended not only to guests, but to other users as well (i.e.: facilities, security, business intelligence, etc.).
Our indoor mapping platform converts static maps (DWG, SVG, JPG, GeoJSON, PNG, PDF) into intelligent, multi-dimensional digital maps by overlaying multiple data layers to create scalable, location-aware applications. These maps are then integrated with various platforms and data sets (your business data, third-party systems and data) via SDKs and APIs enabling a wide range of map-enabled use cases.
SDKs
Our Software Development Kits control how maps are presented. Developers can use our SDKs to deliver maps that render at lightning speed, are interactive, and are easily stylized for consistent branding.
APIs
Inpixon's APIs easily link and synchronize external systems and data to your maps. This means you can build solutions that solve your problems without sacrificing features. With a library of secure APIs, Inpixon Mapping can be extended to support tailored solutions while managing all associated data with the web-based CMS.
CMS
The Inpixon Mapping Content Management System (CMS) enables you to create, view, manage, and edit all your maps in real time. This allows you to easily manage your venue data across a global portfolio of buildings and seamlessly configure associated map components.
What features can you expect to find in an Inpixon map?
Some common features in an Inpixon map include:
Wayfinding with or without landmarks

Accessibility routing

Indoor positioning

Zones/geofence notifications

Amenity/destination search

Sophisticated content management system (CMS)

Flexible APIs

User management system

Integrations with related systems (Analytics Kit / Google Maps / GeoJSON exports)
Industries that can benefit from indoor mapping technology
There are numerous industries that can benefit from the capabilities provided by indoor mapping. While some of these capabilities apply to multiple industries, there are unique and valuable key benefits for each one.
Corporate campuses benefit greatly from asset tracking and the ability to check room statuses and book meeting rooms. Additionally, organizations can gather analytical information from end user interactions with smart employee apps to continuously improve operations.
Hospitals and healthcare facilities benefit from using situational awareness to enhance patient and visitor experiences, uncover data patterns and trends, and gain real-time intelligence into operations through location data. Additionally, granting users access to different map views based on their profile means that healthcare facilities can create different, customized experiences for different types of users like patients, staff, and visitors.
There are multiple benefits for manufacturing and industrial facilities that use indoor mapping technology, some of which include safeguarding worker health and productivity, enforcing no-phone zones, preventing costly workplace accidents, and improving worker productivity and output quality.
What to look for when evaluating indoor mapping technologies?
When evaluating indoor mapping technologies, especially for enterprise use cases, you should look for certain key criteria including:
Interoperability
Our development tools and open architecture enable extensive interoperability. Some examples include RESTful APIs, support of extensions and external IDs, modular SDKs, and our modular, plug-in architecture.
Scalability
Our solution is designed from the ground up for large enterprises. With millions of square feet, hundreds of properties on multiple continents and support for multiple languages, our solution is built to grow with an organization. All utilizing a single instance of our multi-tenant SaaS platform.
Layer-based maps
Layer based maps can be associated with external data sources and used to address multiple use cases for different user types.
Permission-based profiles
Grant or restrict access to different map views based on a user's profile with a single set of maps, reducing administration time significantly.
Geospatial accuracy
Geospatial accuracy is necessary for your map to interoperate with other systems. It is an important factor in determining wayfinding routes, especially for multiple levels and entrances. Affixing your building's indoor maps to the map of the world also supports outdoor-indoor navigation.
When it comes down to it, maps are just the first step
There are endless possibilities to create exceptional, frictionless experiences with our indoor mapping engine. Some of these possibilities include indoor navigation and wayfinding, outdoor-indoor navigation, asset tracking and status, map profiles, proximity messaging and services, indoor geofencing, location sharing, business intelligence, physical security, and more!
Inpixon mapping gives you the tools to drive digital innovation, increase productivity, and optimize efficiencies through connected technologies.
Book a 20-minute call to find out how to make your space a connected, smart building with indoor location intelligence.