When we think about workplace experience, often we go to tools, technology, leadership and other facets first that we want to fix or improve upon. Its not necessarily a given to reflect on your internal communications strategy.
If it's the employee we are concerned about, then we need to think about outside of their job scope, the #1 way in which they receive and share information about the company - through communications.
Revealing stats draw focus on the trends that employee engagement teams are focusing on in 2020 and the years to come to improve overall workplace satisfaction.
When, why, and how we received information is nearly equally important as the message itself. Companies need to consider all of these elements as a part of their communication strategy to ensure the message is being received in the way it is intended.
Check these company communication stats out: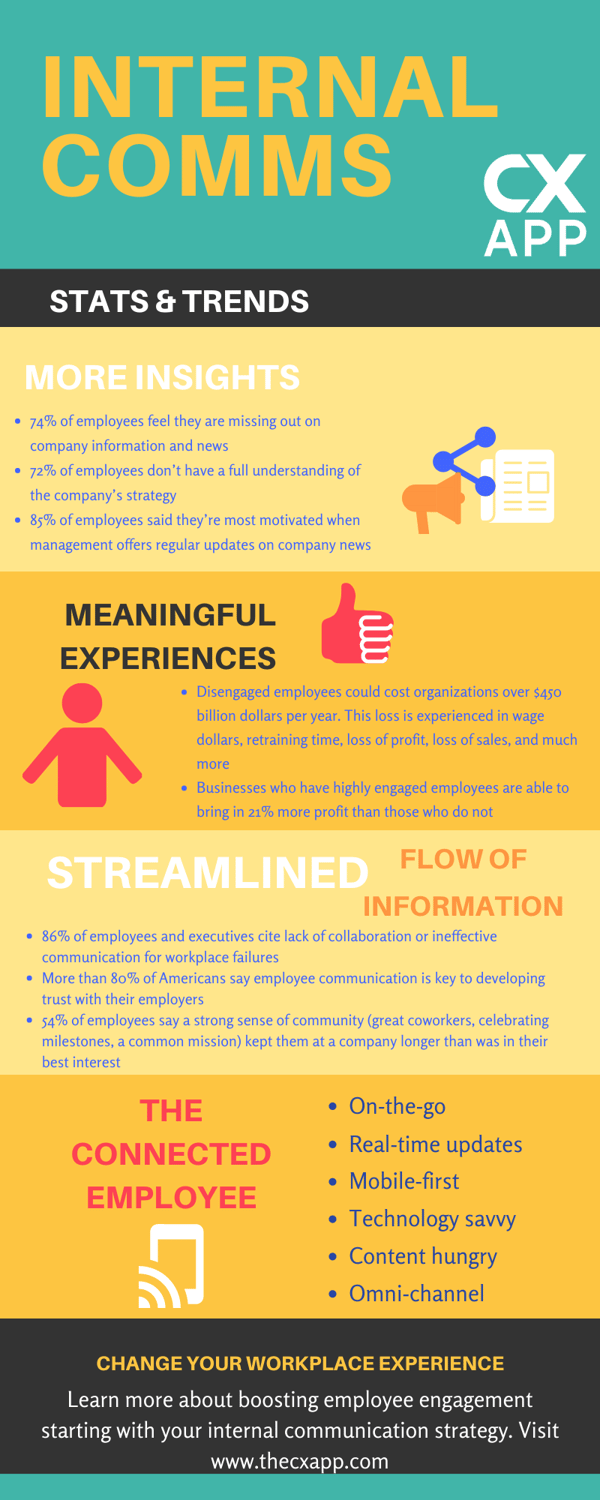 Top trends to consider when assessing your workplace experience program are:
MORE INSIGHTS An aligned strategy from top-to-bottom and the bottom up, makes employees feel more engaged in the overall business objectives and goals. This can come in news, company updates, product wins, employee blogs, leadership talks, and more. Just be sure your content is relevant and insightful and is easily consumed.
MEANINGFUL EXPERIENCES Employees want to be more than just a number. The way they interact with each other, their managers, their physical environments, their desk... it all factors into the overall workplace sentiment. Be sure the experiences you create have a flow that is omni-channel, consistent, and ups the ante of what an employee can gain from actually being 'on-site'.
STREAMLINED FLOW OF INFORMATION Inconsistent strategies and multiple workflows cause barriers to productivity. The modern employee likes to use technology, expects quick and efficient interfaces with communication and collaboration tools, and want a consistency most of all.