The return to work for large enterprises and organizations, with densely-populated public spaces, is a tricky process. It requires careful, mindful attention to detail. It's very clear why, too. While some people are ready to return, others are not.
Are we tired of working from home in uncomfortable chairs? Yes.
Are we tired of apologizing for dogs barking and kids yelling during Zoom calls? Yes.
But, we're also thankful for the time we've had back at home, and with our families. There are fewer commutes, fewer stressors, and our days have gotten infinitely better. How great is it to walk out of your office and be home, instantly?
It's A New World of Work
As many are considering the human interactions, and looking forward to them, as well as on-site collaboration, there is hesitancy and concern about returning to the office. Heavily occupied work environments and corporate campuses don't seem like the ideal place to be right now.
Let's look at some hard facts. The current vaccination rate in the U.S. is about 52% of the population, with larger discrepancies in metropolitan areas, which is typically where you see large offices and corporate headquarters.
The general sense is that we're nearing herd immunity, and while that's comforting, and serves as a positive sign for opening back up many businesses and the economy, many are averse to the idea.
There are a lot of people that aren't open to returning to a traditional workplace setting. The question is, does that actually mean it's not time to go back to work? Or, is there a proper way to deal with this sentiment?
Are We Ready To Return To Work?
A Harvard Business School survey, involving remote workers, found that 81% prefer either a hybrid schedule, post-pandemic, or they don't want to go back at all. Only 18% expressed a desire to go back to the office full-time. Comparatively, 70% of employers worried about company culture want people back in the workplace.
The infamous return to work. Is it time to go back? There are two arguments here: Yes and no. Let's consider both.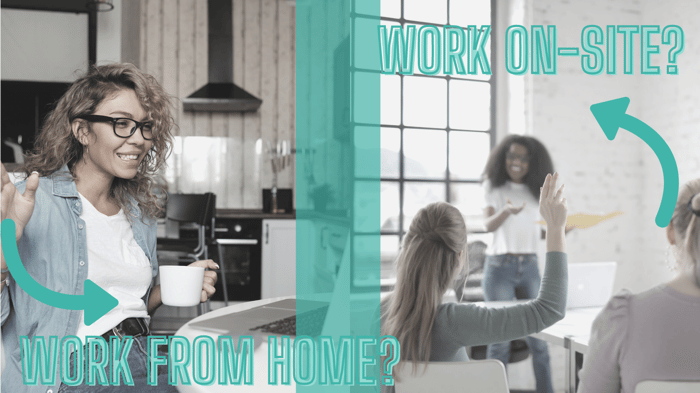 No. It's not time to return to the office
In an impressive act of unity, Apple Employees wrote a letter to the company's CEO, Tim Cook, explaining why they don't want to return to the office. This was even after he announced plans to have workers at the office for three days, and at home for two. You can read more about that event here, but the takeaway is that people don't want to go back to the old way of doing things.
It may be too soon to go back for some, but even when we do, we won't be returning to business as usual.
It's been a little over a year since the pandemic started and we've only seen these major strides over the last few months. There are many hurdles to overcome, whether we're talking about vaccinations, safe and healthy experiences in the workplace, or truly sanitized work environments.
It took us months to adjust to the 100% remote operations shift, so it will likely take us months to adjust to in-person and traditional work experiences. The shift may happen fast, but that doesn't mean everyone is going to adjust overnight.
A full return to work requires active communication, improved processes, and a boost in employee awareness, alongside significant value propositions. How do we do this and how can we safely address many of these concerns?
Yes. It's time to head back into the office
With the right strategies, technologies, and protocols in place, it is very much a good time to head back to work. Does that mean doors should be opening, with 100% of the workforce returning, and every business at full capacity? No.
It does mean that we can start allowing workers back into the office, at reduced capacities, to limit exposure and prioritize needs over wants. Just because people don't want to return to the office, doesn't mean it's not the better idea. But also, what does that mean for employee engagement?
Interestingly, surveys do point to employees' willingness to come back into the office, just not at 100% capacity and not 5 days a week, every week. That's because the workplace has been transformed, forever. People want an opportunity to work from home or work remotely, in addition to conventional practices.
In fact, companies are seeing value in offering continued remote work opportunities, especially when it comes to retaining top talent. A May survey of 1,000 U.S. adults shows that 39% would consider quitting if their employers aren't flexible about remote work opportunities.
Hybrid Work Is Here To Stay
Fortune 1,000 companies are committing to support hybrid workforces, including ServiceNow, Salesforce, Slack, Google, and many others. They're embracing office solutions, and technologies, that help support a distributed workforce.
Google actually expects a workforce where about 60% are coming together in the office, a few days per week. Another 20% are working in new office locations, while the final 20% are working from home. Company leaders believe the "future of work is flexibility" and that makes a lot of sense, considering how successful companies have been with remote operations. It also means that hybrid setups are here to stay, at least for the foreseeable future.
Even after the pandemic comes to a close, there are no guarantees that similar events won't happen again. People want to be safe, but they also want the freedom to choose where they work and what's most comfortable for them. Their workplace wellbeing is just as important as their personal wellbeing and health.
How To Create A Safer Return To Work
How do you future-proof the average workplace? Easy, by making a strong commitment to hybrid workplace setups.
Here are some strategies, and technologies, that must be implemented to make it happen:
You need tools to support on-the-go and day-to-day workstyles.
There must be a bridge between on-site and remote experiences.
Workplaces need to expand or contract the office footprint, to meet shifting demands.
Employee safety must be a priority, both mentally and physically.
Workplace wellness is critical, which means new opportunities and new perks, along with proper amenities to mirror the transformed workplace.
Technology must be put in place to support distributed teams.
There must be an increase in transparency, into people, places, and things at the workplace.
On-site capacity and population density insights are a must.
Tools must streamline collaboration between people, spaces, and even disparate locations.
The ultimate goal is to arm employees with the right information, and technologies, so they can make informed decisions about their day-to-day work lives. The smart office of tomorrow must empower the workforce. That's how we return to work happy, healthy, and safe. That's how we continue the momentum we've built up over the past few months.