I've been a customer experience strategist for over 17 years. I eat, breathe, sleep strategy for different clients across different industries. Over the last couple of years, fan engagement has gone from a concept to a buzz term in the industry. With the insurgence of technology integrations in stadiums across the world fan engagement is an evolving, ever-changing concept.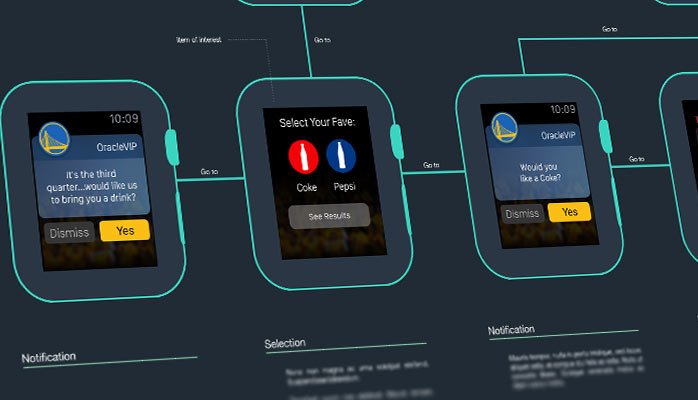 This week I'm at the 2015 S.E.A.T conference, a multi-day event focusing on technology and innovations in the sports & entertainment industry from professional teams down to the collegiate level. As a customer experience specialist and affiliate for Avaya fan engagement, this event has been a good opportunity to evangelize Avaya's solutions for the sports and entertainment market as well as network with peers on improvement and enhancements for the customer experience journey.
As we continue to become more nimble as a society, I'd like to share with you my vision of the future of fan engagement for anywhere from 3 days, to 3 months, to 1 year down the line.
On and Off-Season
I'm excited about sports all year-round. From the Golden State Warriors to Oregon Ducks football, I particularly am an avid basketball fan, but I keep tabs on all sports. I've been to a variety of stadiums both locally and across state lines, I've sat in bars, the nosebleeds, the front row, and club-level suites… and one consistent thread no matter where you sit, is what is the experience like for you as a fan before, during and after the game… and how can technology help to make each of these types of experiences better?
3 weeks before their next home game, "Swoosh!" - a new, intuitive, and powerful fan engagement app notifies me of available seats in the price range I had set within the app. I swoop up two tickets for my wife and I, thus beginning our journey to courtside.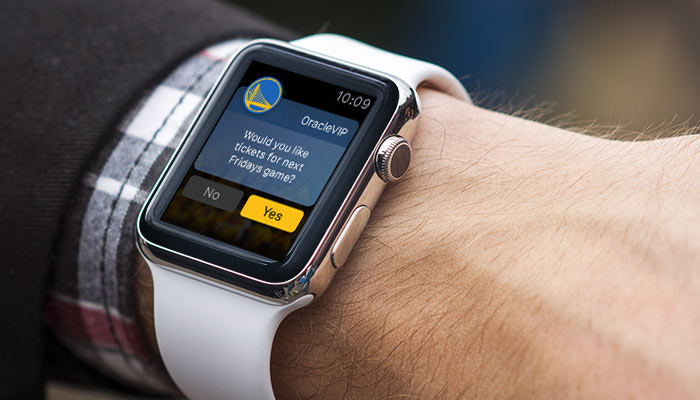 The Week Before
While getting ready to attend a live sporting event can be exciting, it can also be very consuming. From when we leave to how we get there, there is always a pre-event checklist all sports fans go through to prep for the big game. As a businessman in the tech industry, I'm almost always connected to work with a smartphone, tablet, etc. to stay as mobile as possible. So mobile apps are an integral part of my personal and professional life.
My wife and I love the Golden State Warriors, I am a 'Dubs' fan tried and true. Without traffic, we live about 35 minutes from Oracle Arena in the east of the San Francisco Bay Area. So planning for the Warriors game 'next week', we have our standard routine down pat utilizing "Sports Fate" mobile app.
Tickets? Check. Stowed in the billfold of the app.
Parking pass? Check.Purchased and stowed in the digital billfold of the app.
Travel plans and departure times? Undecided. Typically we drive, but there is planned road construction this weekend so we may take a train. I will use the app day-of to find the best route.
Team Gear? I have my jersey, pressed and ready to go, but my wife wanted to get a new hat, so using the 'Sports Fate' app, she shops women's hats in online store, pays for it, and has it reserved for on-site pickup.
We're all set.
Day-of
4:00pm From couch to car, we load up! I open my 'Sports Fate' app and check route and transit times to the the arena. Traffic looks good so we decide to drive in.
4:15pm An accident pops up en-route and Swoosh! my app notifies us of the incident and suggests an alternate route the remainder of the way.
5:00pm Swoosh! my app filters in directions to the best gate entry for the parking passess in my digital billfold. We park the car, grab our stuff and head to the entry.
5:15pm I switch over to my Apple Watch, synced to my 'Sports Fate' app and use it to guide us through the parking lot. We reach the gates and scan my watch for instant, wireless, paperless access into the arena.
5:16pm Swoosh! my Apple Watch blinks with a green arrow directing us which way to turn to find our seats. We navigate the maze of Dub nation fans with the flick of my wrist and geo-location and beaconing technology.
5:24pm Swoosh! we made it to our seats and sit down.
5:30pm Swoosh! the app sends an alert to my phone suggesting I connect straight to the arena's wifi.
5:45pm A service rep arrives at our seats with my wife's new hat! They scan her app to confirm and hand-off the purchase.
6:00pm Tip Off!
6:15pm There is a timeout after Steph Curry makes a depth defying 3-pointer, my wife and take a selfie and instantly send it to our social networks over the wifi and the arena's fan engagement wall.
6:39pm The 2nd period just ended, and based on in-app analytics, my app 'knows' that I typically order beverages in the 2nd period. Derived from previous purchases, the in-app notification asks if I'd like to go ahead and order my standard Heineken (light-beer for myself) and red wine (for my wife).
7:15pm It's half-time, and Swoosh! my iPhone alerts me, based on my app configurations, about highlights and replays from the first ½ of the game.
7:18pm I get up to use the restroom and wash my hands. I check my watch and 'Swoosh!' the arrow navigation controls begin guiding me to the location with the shortest wait and closest to my seat.
7:21pm As I leave the restroom 'Swoosh!' I'm notified that my Instagram photo is now live on the fan engagement wall… so I cruise by and sure enough there we are, scrolling across the display.
7:25pm Aggregated data based on my previous purchase behavior triggers my app to ask if I want my usual mid-game snack, a hot dog with onions and relish (for me) and a hot dog with ketchup and mustard (for my wife). I confirm the order. My wife asks for a soda, so I scan the concessions list and order her a Diet Cola and send the order in.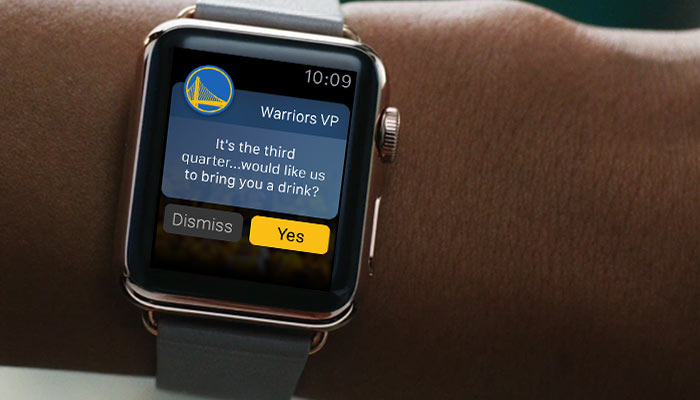 7:35pm A service rep arrives at our seats with our food tray complete with hot dogs, soda, and napkins - bon appetit!
8:26 Game Over! Warriors win and we head out...
Post-Game
10:25pm We're getting ready for bed, turning the house down, and Swoosh! my app aggregated content based on my settings and preferences and sends me player stats, post-game interviews, and social feeds from the game so I can unwind and ready this evening or tomorrow morning.

A week later, 'Swoosh!' my app notifies me that of tickets matching my criteria that are available for a game that following weekend, and thus repeats the cycle. A true Warriors fan and and sports and tech enthusiast, I make sure that I am connected in as many or as little ways as possible through smart in-app analytics.

Technology is an enabler, and instant notifications based on my user behavior and preferences really allows me to experience the ultimate fan engagement experience. Some of these technologies are in currently in development, some we haven't even uncovered yet, and some of these technologies are on the cusp of being realized through fan engagement solutions.

Think about it, what's your ideal fan engagement experience? Who knows what the future holds…
*You might be thinking these types of notifications can be bothersome, but if they're carefully conceived and executed, for a person like me, the engine knows who 'I am' as a sports fan and event attendee because of my pattern of behavior from previous games. Think of it as your personal event butler.*