Brand Loyalty in the Digital Age
Thanks to modern technology, companies and brands are being forced to make a significant change when it comes to how they deploy and deliver customer service experiences. Today's experiences are wholly different from those of the past, as they must be connected, personalized, transparent and - most importantly - immediate.
This often manifests itself full circle to mobile, rightly so, because nearly everyone has shifted their focus to the platform with almost 75% of US adults actively using a smartphone in 2017. Furthermore, smartphone users spend an average of 20% of their time - about 20 minutes per day - on mobile-based social media and a very impressive 3 hours and 23 minutes per day within mobile apps.
That is why companies are scrambling to shift into the digital realm. Without a digital or online presence, customers just aren't going to pay attention to you.
This entire process of shifting roles to a digital strategy is called Digitization, or a Digital Transformation. In short, it is the refocus or realignment of business models to fit into the digital space, so that customer experiences are more robust and engaged at every point in a lifecycle. In particular, because more customers are going digital, brands are changing priorities too.
In the construction industry, it involves translating modern information and stats to digital form through sensors, controllers, and more. In retail, it's all about translating a customer journey to digital through social media, native apps, and online experiences. In marketing, it's about taking the information that would usually make up your conventional "paper trail" and converting it to online and digital data - largely through analytics tools.
These are just a few examples but they illustrate the borderless, pan-industry significance of digitization that is important for all companies.
Digitization is essentially a "buzz word," seemingly adopted by the business and marketing world to describe this widespread shift.
Making a digital transformation is about so much more than deploying a native app, or providing an interactive online platform and service. It's more than a catalyst. It's a "vehicle," if you will, to transport your business models into a faster, smarter, and more efficient realm.
Digitization of Customer Service: Be Present, Stay Alert
As a whole, a digital presence is more demanding and requires more from you and your team. You must invest not only time and money but also a wide variety of resources. Thanks to the internet, mobile apps, and various tools like social media, customers are now more empowered than they've ever been. They have the upper hand.
That's because the buyer's journey of today is remarkably different than the journey of yesterday. After a brand experience or interaction, they can share what happened on social, blogs, email, and SMS with friends, family, colleagues, and even strangers. They communicate, interact, and engage constantly. To be more specific, they do it instantly.
This has brought about a couple changes.
First, customers expect a more convenient and immediate experience from nearly every brand, especially the major ones. If they have a problem they want to be in touch with a representative and have the issue remedied as soon as possible - like within the hour "soon as possible".
Second, if an experience is not convenient or streamlined not only will they move on, but they will also share with others, which can have a severely positive - or negative - impact on your brand and products. This has disrupted many industries, again calling for a "digitization" of most brands. It's essentially what drives the move into a more digital market. Everyone must now strive to account for experience-driven objectives.
Consider for a moment, the number of major brands that currently use Twitter for customer service, they teach us that silence online and on social is deadline. Make sure you pay attention to what brands are "doing it right" and which brands are falling short, too.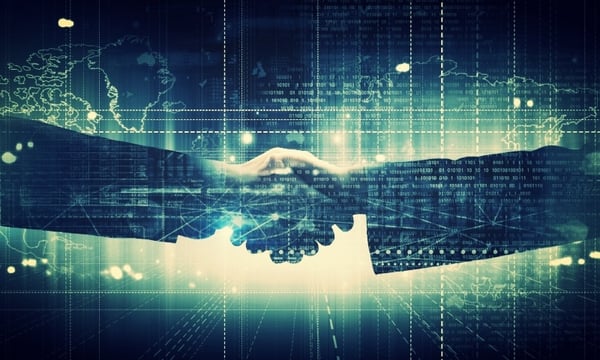 Digitization of Customer Experience: Be Efficient, Be Smart
Keep in mind, the impact of a digital transformation will differ depending on the brand and industry in which it is deployed.
But mostly broadly, digitization means increasing customer engagement, boosting acquisitions, and really honing in on efficient ROI strategies. All of that can be digitally tracked and proven, of course, with modern technology and digitized touchpoints that communicate to produce insights and data that business units can iterate from.
For our customers, this translates to a positive and enjoyable customer journey from the first interaction through the sales cycle, and beyond.
This philosophy filters down through your organization in different shapes and sizes:
For the enterprise, digitization means a more direct and personal relationship with customers without wasting loads of money to get there.

For teams, digitization means a more cohesive experience across the board that facilitates collaboration and cooperation.

For customers, digitization means better, more convenient experiences that are tailored to their needs.
Starting with A Mobile App: Be Fast, Be Helpful, Be On-Demand
For some organizations, mobile apps can be considered the cornerstone of this entire transformation.
It's not enough to just build and offer a customized website or mobile site variant. You need to offer a personalized experience made possible through a mobile customer experience journey as seen in apps.
Advances in the modern business landscape, mobile technology, and social media have transformed the customer journey and created a constraint-free amalgamation of physical, proximity, and time opportunities, giving rise to other themes like phygital, SoLoMo, real-time engagement, and so on.
Even traditional content (news, eContent, collaborative documents, etc.) have been transformed into digital assets, creating a space where a mobile app is the primary channel for those experiences to live. Through the power of digital we can now ask questions/get answers to information like: Where are you? What do you want? What can we sell you?
A positive digital transformation means transcending normal platforms and moving into the mobile space. This may soon evolve to include other platforms like handsets, headsets, or even wearables - such as smartwatches. But for now, the focus is mobile and extensions of therein.
That explains why the bottom line of digitization - or the foundation - is about providing on-demand access to information, products, goods, services, and experiences instantaneously. Also, it's important not to forget the importance of perpetual engagement. If you give your customers incentives and reasons to download, use, and come back to your mobile app for stellar content, social threads, or community experiences, you're increasing necessity and giving them their own 'takeaway' 24/7.
When it comes to the digitization of the customer journey… it's not just an app, it's an experience.