In person job fairs and career fairs may be a bit archaic. With so many online tools for finding jobs and preparing for your future exist, and "who you know" seems to give you a bit of a competitive edge, it's no wonder that this older form of finding a job needs new meaning.
Most colleges or universities hold 1 to 2 job fairs per year, mostly occurring in the middle to latter part of the school year to account for graduates and summer time opportunities for students. Schools serve as a transitional institution to prepare our youth for what comes next... the real world. Over the 4 - 6 years a student is enrolled, they are constantly learning about industries, jobs, and opportunities that will be available to them once their time at school has ended.
It's a student and a recruiters one chance to stand out amongst a sea of candidates. But how are institutions pushing the envelope to get more students and recruiters to attend these events and upping the numbers game? Immersive engagement!
Inherent Value of In-Person Job Hunting
Job fairs can help you build confidence. From college on, networking will be a constant part of your life's journey and an important factor in growing your career, no matter what you choose to do. Taking this in-person opportunity to introduce yourself to new people is simply a step in the right direction.
Face to face conversations are the best way for students to 'show' themselves and for recruiters to meet strong candidates.

Attendance and showing up is strengthening a student's commitment to starting their career off strong.

Students have the opportunity to package themselves up and introduce their 'work' persona.

Students can ask thoughtful questions and display their intent.
Essentially job fairs are a critical tool for the overall job search, but indeed have seemed to suffer in conjunction with the growing online tools available in our digitally-driven world.
But that's ok! Because now job fairs can be digitally, or at least driven through a mobile-first mindset, reinvigorating an old school style of landing a job... bringing it back to life!
The Similarities Between Events and Job Fairs
Before we get into specific features and use cases, it's important to acknowledge the similarities between events and career fairs. So maybe it's time we start thinking of a career fair as a mini event...
91% of event planners say that adopting a mobile event app has provided a positive ROI. This is because with events (like career fairs), you're trying to improve or increase the overall attendee or event experience. Mobile apps help this by providing ongoing and on-demand access to pivotal touchpoints that occur before, during, and after the event. Yes, you can maintain contact via email at these same intervals, but email is not as effective as mobile communications.
And with mobile, you're un-tapping several other technologically advanced use cases such as instant access, real-time updates, location-awareness, IoT and more!
Events in a nutshell:
Have a niche audience

Provide custom tailored content and experiences

Span 1 to several days of educational or experiential opportunities

Need to share overall event info, logistics, etc.

Have speakers, subject matter experts, or agenda items that the audience is interested in and must attend to

Empower connections and networking
Sound familiar?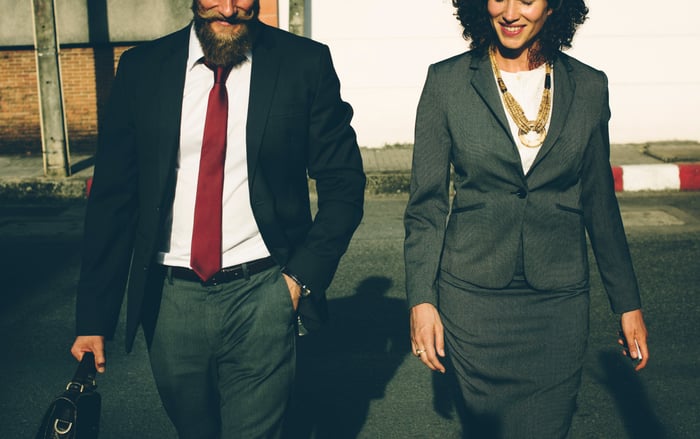 Mobile Capabilities That Are Changing the Career Fair Game
So, like an event, that has a specific purpose and outcome for 20 - 20,000 people, here are some features that students can gain leverage from when it comes to the good ole' career fair game:
Agendas and Info. This is an easy one, students and recruiters alike need to have a basic understanding of when and where things are happening. A list of prospective recruiters or companies help students plan out their attendance to gain maximum exposure in a short period of time.
Maps and Guidance. Static maps are a thing of the past. I'm sure students know where the 'Main Hall' is, but integrated beaconing options can help students navigate directly to specific booths or locations across the fair with turn-by-turn directions. This is super helpful when time is of the essence or a meeting is on the table.
1:1 Messaging. An important aspect of networking is communication, and with direct messaging from within the app, students and recruiters can have a conversation in real-time before, during, and after, taking engagement to the next level.
Social. Recruiters and schools can use social to market their brands, and students can use social to monitor or engage. The iGeneration is the next to come out into the job market and this is exactly how they currently run their lives. Social. New. Now. Next!
Notifications. Things can change in an instant. With stagnant career fairs, students or recruiters may not show up or their booth may change. But with real-time notifications, updates to the overall event or specific details can be shared instantly across groups or individuals.
In-App Registration. Sometimes students just miss out, forget, or aren't inspired, so they just don't turn up to these types of events. With in-app registration, the entire process to sign up for and attend a career fair is streamlined. Let's say there was low awareness beforehand, but a student walks by on the day of and wants to participate. They can simply download the app and register in one flow to quickly gain access to a pivotal part of their post-college adventures.
These types of capabilities are what is making the year-end career fair more exciting to attend. Students will no longer rely on online website or job hunting tools (though they may still have to), but it's not a default or the only path they can take.
The most powerful piece that can be garnered through mobile for a career fair is the ongoing benefits to student and recruiter alike after the event has concluded. The possibilities to continue a conversations, share collateral or resumes, and continue that touchpoint of engagement is invaluable.
Also, this is an easy preparation for students before they enter the workforce, because a lot of companies are using these types of collaboration models to manage the workplace experience.
The same goes for job fairs at any level. Continuing education and job changes are a normal part of our economy, so the opportunity for these types of experiences for job seekers at any level in their career is still a key component for improving the overall experience.