All virtual experiences need a controller. It allows users to interact with the technology in more natural ways. Think of a video game or console controller that players use to control their in-game avatars. VR platforms also use controllers, and they work the same way.
On a smart campus, riddled with digital and virtual experiences - a mobile app is that controller. It borrows the same ideas and functions, allowing employees to interact and control various experiences in the workplace.
A synchronized mobile app is crucial for supporting, implementing, and maintaining the digital workplace experiences of tomorrow.
Digitization In the Workplace
By 2024, an estimated 24 million U.S. dollars will be spent on digital transformation initiatives.
Many organizations were in the process of either minor or major workplace overhauls to incorporate digital touchpoints pre-pandemic. Then, as the crisis exploded, we all saw many different aspects of business rapidly move towards digital transformation, faster than ever before.
While things were not ideal at first, companies have learned to better support their remote workforces and aid employee productivity from off-site locations. It has transformed the future of business, for all. Until now, only 15% of companies prioritized digital transformation efforts, but next year, every company will be moving technology into every part of its business.
The new focus is moving back towards the workplace, or traditional work environments, albeit with new technologies and experiences in place. How can workplaces benefit from the digital experience initiatives that have been so important over the past year and a half?
There's no employee experience without IoT
Unsurprisingly, companies are leaning toward IoT platforms to create an intelligent digital workplace. That includes smart building devices, sensors, location beacons, equipment management tools, asset tracking solutions, digital content management platforms, smart environmental controls, and beyond.
To create an IoT-rich and connected workplace, there must be something to unify all of these devices, platforms, and experiences. There must be a controller.
Mobile apps are the only solution capable of 2-way communication that is also available on-demand, and on the go. A smart office app is the key to an extremely dynamic workforce.
An office app built specifically to support the digital employee experience can quickly become an organization's mobile command center - operating as a controller for employees, support staff, management and up to the C-suite.
Smart Office Apps & the Connected Workplace
The future of work is all about connecting employees with devices, physical spaces, and each other. All from within the same app, employees can reserve desks for a day at the office, order lunch and have it delivered — or pick it up — check in for the daily meeting, communicate with colleagues about a collaborative project, and also browse corporate news and announcements. Similarly, an executive can plan their day on-site, find parking, order food, communicate with other managers and employees, and also engage with potential clients or partners, directly from within the same interface.
No more jumping between separate and siloed experiences, and no more exclusive services for various levels of the organization. Everyone is connected through the same experiences, the same platform, and tapped in at all times — even remote workers or those at home have access.
Moreover, smart office solutions enable advanced and reliable automation. Do you have the same routine every day? There's no reason why you can't set up the app to carry out various actions, reservations, or communications for you.
Since everyone has been working from home, average mobile app session times jumped up 192%, and active users for April increased by 60%.
We're truly talking about employee experience technology of the future, except it's available today.
>> Learn about our Smart Campus offering
Building an employee engagement ecosystem with a mobile app
Here are just some of the many integration points that a mobile office app can aid in:
Smart desking through advanced reservations like desk hoteling and in-the-moment hot-desking
Conference room controls to adjust lighting, media volume, temperature, TVs or projectors, and other devices in the room
Conference room relay to instantly start, join, or check-in to a scheduled meeting and have it accessible remotely, streamed from a tablet or computer already in the space
Mobile food ordering and deliveries to a person, desk, conference room, or assigned for pick-up
Parking information to indicate what spaces are available, and turn-by-turn nav to where they are
Space management that taps into occupancy sensors and indicates current capacity and usage statistics
Digital locker access to store personal belongings and either open or secure the locker from within the app
Authentication with digital badge access using an in-app QR code for events, entryways, doors, and beyond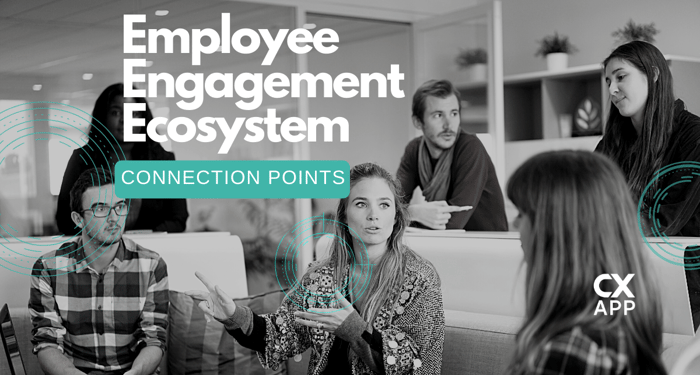 It's important to point out that this is not a comprehensive list, but instead it includes some of the more common uses for an office and workplace experience mobile app inclusive of integration touchpoints with other devices and systems to make the whole experience - smarter! There are many other possibilities, and many more will be developed with time.
Workplace On-the-Go
We are seeing a massive transformation, which will decide the future of work. Smarter, more automated experiences are being adopted in the workplace, which will enable employees to be more remote, and more productive. The idea is to take some of the lessons and experiences we've gained during this wide-scale remote-access experiment, if you can call it that, and apply many of those benefits to the traditional workplace.
At the same time, a hybrid workforce will be a critical component of building a thriving business going forward. Office mobile apps are the best, and only way really, to ensure the innovative digital experiences are available to everyone, whether on-site or off.
Some of these functions may seem unrelated, but they do, in fact, work together to give modern employees precisely what they need. They require access to the workplace on the go, with in-office experiences that mirror how they interact in their personal lives. What's more, the experience must borrow directly from the types of apps people are used to, inspired by mobile apps like Uber, Doordash, Amazon Alexa, Smart Home hubs, Facebook, Instagram, Slack, and beyond.
Many of the aforementioned apps are smart, location-aware, able to communicate with other physical devices via cross-platform sync, have streamlined interfaces, and provide stellar experiences, which is why they're so popular. If office apps and workplace experiences can tap into that energy and the same design principles, there's no reason why employees wouldn't love them too.