What the future of work looks like for workplace operations and facilities management.
Workplace Operations: A Mobile Command Center For Communications and Experiences
Did you know 81 percent of millennials think 'state of the art technology' is paramount to an ideal working environment over perks or amenities.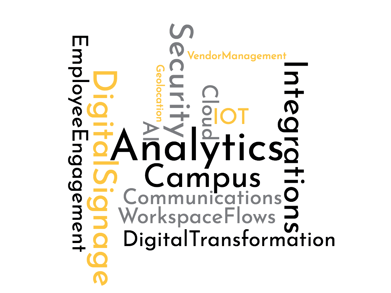 WHAT: Workplace operations are streamlined thanks to interactive, location-aware technology that enables instant communications and in-depth data analysis. A unified mobile system allows for monitoring of traffic flows, space usage, security threats, employee engagement and even vendor relations. This means all employees benefit from a richer, more seamless on-campus experience.
WHY: Employee engagement is more important than ever as businesses compete to attract and retain the most talented, productive individuals. In the digital age, employee needs have evolved: tech-savvy workers expect their employer to interact with them using omni-channel, mobile touchpoints through a singular mobile command center.
These new expectations have added significant complexity to workplace operations, as the corporate campus comes to life with workplace technologies that connect physical spaces and multiple digital systems. A mobile platform that offers real-time insights into campus life ensures nothing gets overlooked and the campus experience wows employees, visitors and vendors.
Ready To Build A Campus Experience That Wows?