While remote work opportunities are still more prevalent in the world of business, many companies are planning the eventual return of their workers. Some have started to bring employees back to work on-site, and they're doing it in waves.
Most offices and workplaces have either already been upgraded, or are going to be, to meet social distancing and similar health and safety guidelines. Visual and digital touchpoints have become a priority, as well as contactless arrangements and experiences. These virtual platforms help create a more connected workplace, even though people have to stay farther apart than ever before. They will also help to maintain employee engagement levels.
An excellent example of this new virtual-oriented world has already been seen at live events, professional or otherwise. Many conferences and events have gone digital, operating via virtual event platforms with a decrease in face-to-face interactions.
Webinars, video chats, virtual briefings, and many other online and virtual platforms have become the norm. However, they're not just shoehorned in. These are mediums and channels that must improve the attendee experience, while still allowing for natural interactions. Also leading to a rise in virtual briefings or customer experience platforms to account for nurturing the customer relationship in this new way as well.
More than 80% of event marketing professionals have had to move their in-person events to virtual form, or they've had to reschedule or postpone them. A further 50% believe it will be another 6 to 12 months before they can start hosting live events again. Only 27% are optimistic, and believe it will take 3 to 6 months. Less than 2% say they will never host in-person events again.
It's not just the live events industry that has had to grapple with these quandaries. Workplaces will need to operate in the same manner for quite some time, with hybrid models dominating operations.
Planning for Reentry
Something positive has come from the current state of the world and all this turmoil. It's that people have begun to realize they crave and need human connections. As people return to work, they are eager to reengage and connect with their colleagues and peers.
Collaborative work environments and responsibilities will benefit the most, as they've been separated by distance, scheduling, and other similar conflicts. It will be particularly interesting to see how industries that are based on "live" networking events fare, such as marketing, consumer electronics, and others. How will these markets adhere to health and safety requirements, while retaining high workplace productivity?
The same questions are relevant for traditional workplaces. Many jobs fare better with in-person and direct engagement experiences. Sales, for example, always seems to do better when workers and customers can socialize and have that human connection.
How 'the Return' Is Going to Work
As time passes, there is a growing need to return to the office and get back to work for many industries and businesses. It's not just about things returning to normal, but more so about keeping forward momentum. Eventually, organizations will have to make a push if they want to continue thriving and seeing success. While some opportunities are conducive to remote work and at-home employees, that's not true of every industry or business.
Unfortunately, once people do start to return, it's going to have to be in phases or waves, leading to a distributed workforce. On-site operations will be running at a reduced capacity just to follow proper health and safety guidelines. That doesn't even take into account the employees that will be wary or uncomfortable about returning, and yet still the employees that quit or move on.
To meet the demands of today's predicament, companies will have to evolve, by adopting hybrid experience models that account for remote accessibility and in-person interactions simultaneously. Almost a 'choose your own journey' sort of approach.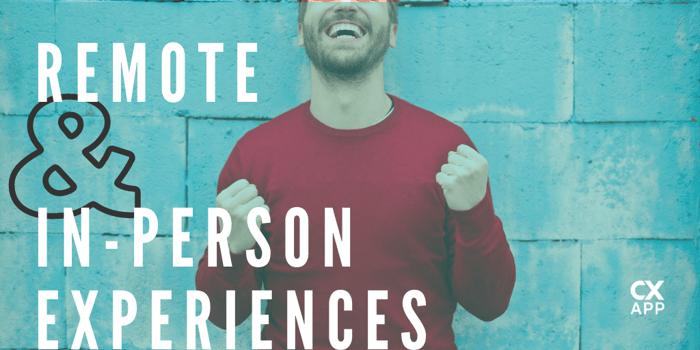 What Are Hybrid Experience Models?
So, what does hybrid look like? Well, for starters, many people either can't, shouldn't, or won't want to go into the office everyday for a variety of reasons. This means that the experiences they have need to be shaped and available in a way that allows them to access remote content, live videos/chats, company related information, help booths etc.
Certainly for the short-term, but even quite possibly for the long term, the at-home or remote experience will need to be as good and mirror the same experience that person would have otherwise.
Accessibility is the same.
Level of information is the same.
Speed and dependability is the same.
The use cases may be different for how and why they are engaging depending on their location, but the model that is being set into place will dictate those experiences.
This can be via desktop, laptop, mobile app etc., but the key components are that it needs to be repeatable, scalable, and omni-channel so that the 'person' can pick up that experience in the way that best suits their current work environment (i.e. desk, tram, cubicle, home office etc.)
Events:
The best hybrid event examples include assemblies that are both available to off-site users and happening simultaneously in a central location. Some participants might be in-person and on-site, while others might connect virtually. In most cases, in-person and virtual attendees are participating and engaging together, in the same session concurrently.
Viewing keynotes and sessions are active an available for everyone at the same time
Networking in between events is made easy via in person opportunities or in a virtual forum
Visiting sponsor booths or information kiosks have the same look and feel or provide an equivalent level of knowledge to the event attendee
Watching entertainment (dj, band, magician) is equally stimulating and used the same in either scenario
Customer Meetings:
This one is a bit tricky. Obviously the sales process is deeply rooted in a personal connection or experience the customer has working with your team or visiting your site. The modern handshake - too will need to evolve. But one of the most important ways you can attract and retain customers is to continue to provide any level of customer experience that suits their needs, be it virtual or in-person. So the virtual component needs to rise.
Learning more about your company's solutions or offerings needs to be strategically accessible
Incorporating pre, during, and post meeting action items keep the customer journey at the heart of the full process
Viewing detailed agendas in advance of meeting keep everyone in the know regardless of where they are or how they're 'attending'
Accessing on-demand content or receiving post-meeting updates related content and collateral are vitally important too
Interested In A Virtual Briefing Platform? >> See What We've Created In The Space
Workplace:
The digital workplace has certainly seen an accelerated phase in the first 1/2 of 2020. If not already supported, many business had to quickly adopt and fine-tune their remote work capabilities. And now that technology quirks and at-home setups have been settled out, it's time to put the focus on the experiences each employee feels. Large venues with dense populations will likely run at limited capacity - forcing if not offering for employees to continue to work from home. But are they missing out on that 'connected' workplace experience? No, they shouldn't be.
Sending notifications with timely updates related to company information keeps the workforce informed
Offering various types of content that impacts both types of work styles help boost employee satisfaction (thought leadership blogs, weekly round-ups, tips for exercising or healthy cooking)
And if you do need to come into the office that day, make it easy to transition from remote to in-person with real-time bookable workstations, especially in flex and shared areas.
Hybrid Business Models Are Here to Stay
Hybrid experience models are those that incorporate both an in-person or face-to-face style of experience and a virtual one. In other words, they operate on a middle ground between on-site and remote experiences.
To establish the best hybrid business models, omni-channel touchpoints as well as mobile software and virtual tools, must be accessible from anywhere, and they must provide a consistent and productive experience whether on-site or off. Experiential engagement is still incredibly important, but the focus has shifted away from traditional face-to-face interactions and more towards inclusive and innovative virtual opportunities.
>> Get The Connected Workplace Playbook For More Insights