Today we wanted to dive in a little bit and discuss what companies are doing physically and digitally to re-open offices and what we can expect in the short term plans and long term strategies.
A lot has changed in the past year, and it's been quite a whirlwind for many of us. But when it comes to the workplace - as it stands today and what we're looking for tomorrow - what shifts have you seen take place since March of 2020?
What is the current state of work?
We've gone through a cultural shift in what it means and what it looks like to 'go to work'. Expectations have changed. Employees realize that they *can be productive at home and companies have accepted that. Managers have also transformed the way they think about daily workday schedules and routines and have embraced, by default, managing remote work teams.
Employees and teams were forced to use different types of technologies, which sped up digital transformation timelines. Something that may have naturally taken 3 years to adopt (video collaboration, virtual meeting platforms, remote employee engagement tools etc.), was accomplished in just mere months. Now granted, there is/was some fine-tuning to take place around processes and tools, but digital transformation for most companies was accelerated, which ultimately has completely pivoted the way we think about the future of work.
How will back to work timelines progress now that offices are re-opening?
For certain, widespread vaccine availability has aided in brining realistic back-to-work timelines to the forefront for most enterprise organizations. Employees will feel slightly more comfortable coming back into densely populated offices, and in fact are looking forward to it.
There is still caution to be heeded and everyone's comfort level will vary by personal, demographic, and even geographic needs.
But we're seeing is offices now will be used as a hub for collaboration, creativity, and networking. Employees still want to work remotely and have the option to do so.
Companies like Service Now, Salesforce, and Spotify have made public commitments to maintaining a hybrid workforce, where employees can work with their managers to decide on a in-office/remote work balance. Even Google has noted that 60% of Googlers will come together a few days a week in the office, 20% will be working for other office locations, and 20% will be working from home.
The one thing we've noticed however, during this time of transformation, is that the experiences and connection points for employees are weak. And that is the main area of focus for many organizations - improved and consistent employee experiences regardless of where they are working from.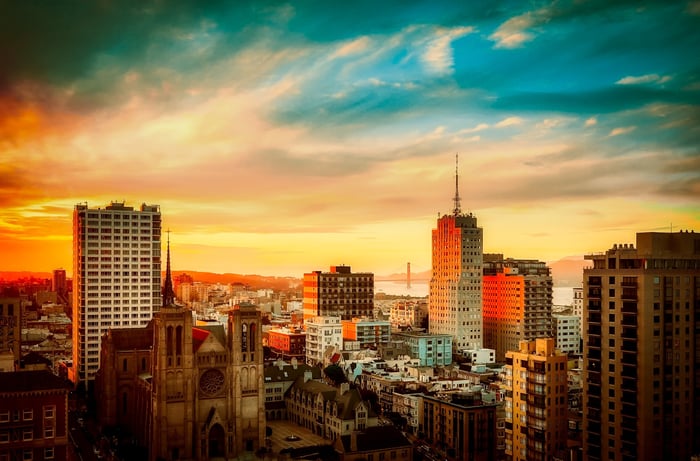 So, if less people are going into the office, what will happen to all of the corporate real estate?
Will we even need assigned seats or desks in the new workplace?
Offices are re-opening, that's for sure. There are only a handful of major organizations that have fully committed to remote work, and even still they will have job duties/roles that do in fact need to be on-site. But that is an edge case.
What we're really looking for the bulk of companies adjusting to this new world of work is in fact, having the same space but less desks. Keeping health and safety top of mind, desks are being removed, rearranged and reconfigured. This is to allow for more activity-driven workstations and also accommodate less dense workplaces and more spread out spaces for on-site workers.

So, what we're really seeing is a rise in flexible seating and a flexible workforce that comes and goes with purpose.
If there are less desks available, how will companies allocate seats for employees that do come in?
At first, we'll be looking at phased re-entry protocols. The Facebooks and Apples of the world aren't just opening their doors and saying everybody come in for an all-hands today.
We're seeing most companies, now as vaccinations go up, we're seeing companies look at a 50% on-site capacity - where 50% of the total available space is available to employees to use. This helps with crowd control and keeping physical distancing a thing in the workplace. It's more than just plastic partitions, hand sanitizer and face masks.
As things begin to smooth out, we'll likely see capacities increase to 75% and I doubt that we'll see 100% capacities for quite some time. In addition to reduce occupancies in the workplace, we'll also see re-entry mitigated by location, building, floor, and even your team or department.
This is where things, as you can see, get a bit more complex. Technology will need to help both managers and employees know when and where they can sit and what work spaces are available.
So, how does desk booking technology help with phased re-entry?
Desk booking technology is one of the primary tools that will enable companies to control office space and set capacities for on-site workers and room usage. There are different ways you can approach this through terminal or iPad kiosks, with sensors, with near-field communication badges, and reservation software.
But the most powerful tool you can use for desk and conference room scheduling is a mobile app. Apps are the only device that can provide real-time communication to employees and operations to see what is available, when, and for how long. Even when you're on-the-go. This is a critical factor for the hybrid workforces we're all managing. You have to be able to control these types of functionalities from a mobile command center as occupancies and availabilities can fluctuate throughout the work week and even the work day.
What are the biggest advantages desk booking software can bring to the post-COVID workplace?
My top too are advanced reservation rules and indoor navigation and wayfinding. Both of these capabilities point back to one common denominator - managing distributed teams and a hybrid workforce.
Advanced reservation rules are a backend functionality that any good desk management software should have baked into their software. Managing seats can be quite complex. But with a sophisticated rules engine - seat allocation becomes easier to manage across variable criteria that is necessary for phased scheduling, managing flow, limiting capacities, and maintaining physical distancing.
Using location-aware technology like bluetooth, beacons, and sensors - users can navigate directly to their desk when they arrive on campus, automatically reserve, release, and validate desk usage based on their activity. This makes d

esk booking easily accessible in-app regardless of where you're located.
The future of work is extremely mobile and agile but also smart and connected. The right tools and technologies can help shape
the way we organize, occupy and manage spaces.

Workplace ecosystems are bringing more devices and tools together to create better employee experiences and smarter workplace journeys.