With the launch of the CXApp Live! podcast we sat down with host Darby Mason-Werner and asked her what it's been like getting the show off the ground.
Q. Why a podcast?
It was funny. As soon as I started at working at The CXApp, Leon approached me almost at the same time I started thinking about it as well. I had just heard about the Oprah's Master Class podcast and I was instantly hooked. I listened to almost 2 years of episodes in 3 days. And what I really like as that I could listen to it in short bursts, like 10 minutes at a time. I could listen in the car, pop in to the grocery store, and pick it back up again. I couldn't wait to get back to it.
The thought that I could actually be a person to do that, well, that's cool.
Tune in to The CXApp Live! podcast here.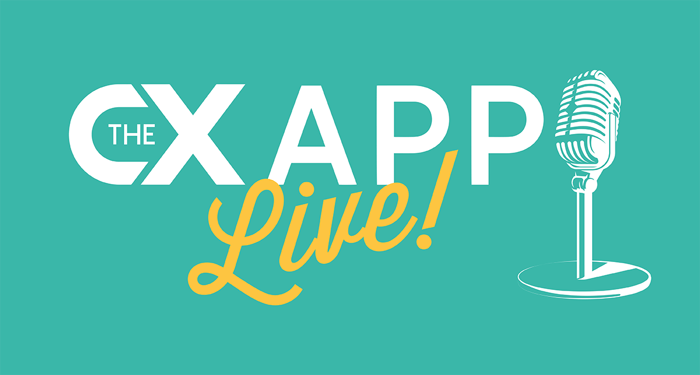 Q. So, who is the audience?
Briefing and meeting planners, practitioners, organizers. All of all these briefing program professionals who don't have time to do these things for themselves might find this content interesting.
Especially for members of the Association of Briefing Program Managers, we're going to share the podcast series directly in their community feed so they get instant updates anytime a new episode drops. Fun right?!
For the newer people in the program who are more tech savvy, and grew up using different types of app technology, it's more familiar to them to subscribe to a podcast. But helping to bring helpful content to people in a new way and have it as an option gives them something to look forward to.
Thought leaders in this space have been really receptive to this idea and think it's a great niche podcast for our industry.
Q. What topics are you covering and who are your guests?
People in these roles are wearing 5 hats at any given time. They may even be a one person program, like I was, so anytime you can provide insight and give useful information they can hold on to is how you can help people succeed.
There's the briefing program managers who want to not only listen and learn, but also share. There are also suppliers who have really interesting ideas on trends in the industry. This show is technology and vendor agnostic with the goal of covering a broad range of topics related to customer experience programs and the briefing world where we talk about lessons we've learned and ideas going forward to prevent others from making the same mistakes we made or even encourage them to take positive steps forward.
I tell everyone guest I talk to, it's just a conversation. You don't have to prepare anything. There's no slides. It's not edited. You get the questions ahead of time and can bring up your own topics as well.
A few guests we've had on the show already include Pamela Evans from Palo Alto Networks (Episode 01) talking about 'Getting Executive Buy-In' and Russ Fowler from Derse (Episode 02) talking about 'Executive Center Build-Outs'.
Know someone who would make a great guest? Let us know!
Q. What has it been like starring in your new role as a podcast host?
Since I ran a briefing program for so long, there's my experience I can throw in to the conversation. It puts it into context for me too. I've been there. I've done that. I've wanted these answers. I know what we're talking about. Hopefully that background makes the show a little more relatable.
Have you learned anything podcast related or other?
There have been points from each and every guest on the podcast, where I checked myself and realized I'd never thought about it that way. Or I didn't position things in the same way.
For example, the way that Russ addresses the process around creating a proposal for a new center and brining in certain stakeholders to aid in the effort; I wish that I had included team members earlier on in my process when I was doing a renovation to mitigate some of the obstacles I had to overcome. That's helpful information.
There also have been areas of interest I've wanted to prod into a bit more - as if I were in still in a similar role and want to get our guests to dig deeper and give more detail for those listening.
Q. Do you have any short-term goals for the podcast given your experience so far and getting this thing launched?
I'm trying to expand on episodes topics. I want to diversify what we talk about. I've seen a snowball effect on what future guests want to talk about or what they think the audience might be interested in.
For example, in an upcoming show topic we're going to cover is executive amusement parks. What?! John Kolesar from Sutherland Labs, is coming on to talk about what they as an organization have learned from building - yep, amusement parks - and how you can apply it to executive and customer experience centers. What parallels you can draw to create these exciting experiences. It's fun, it's fresh.
Making sure that we stay relevant. Provide a good mix for everyone. Certain topics are important to everyone and some may be a bit more quirky and appear to niche practitioners that are looking for different ideas. Or at least fun to listen in.
But, I want to provide a nice broad mix so there's something for everyone. Certain topics, like facilitation and executive buy-in, are important to every program. But then there may be some topics that are a little quirky.
If you have ideas for upcoming podcast show topics, we'd love to hear from you. Drop us a note!
Q. What about an ongoing or overarching goal?
Regardless of location, size, or industry, everybody is trying to do the best thing for their program, their customers, their business. That's the thread that goes through it all.
Everybody that's doing this, everyone that's in this job, we want to make a difference for other people. We're 1/2 hospitality and 1/2 tactical. The minute the curtain goes up, the show is on! That's for the thrill of it. As a team we're going to handle this no matter what. Knowing that everybody is playing their part put on the show.
See how we're approaching the briefing and meeting world with our executive briefing solution.
---
Fun Facts
Ok, podcast aside. Let's let our audience know a little more about you and have a little fun. Consider this our lightening round.
What's your favorite book (personally)? The Celestine Prophecy
What's your favorite book (professionally)? Simplify
What podcasts are you listening to? Sunday Sitdown with Willie Geist.
What are some of your favorite apps? Word Stacks and Wordscape. I use these apps with my daughter.
What's up next on your travel bucket list? Switzerland. I've been there before, but I'd really like to go back with my husband.