Take a moment and think. What happened to your meetings? Did they change? What happened to your customer experience? Did they change? Did they get put on-hold?
While there may have been some extension for taking customer experience into the virtual world and digital space, for most companies, capturing the power of in-person and on-site customer experience journeys and briefing programs has greatly declined.
In reality, companies have migrated to a virtual setup, but are still handling everything the same way as always, without much finesse or engagement. As the current state of social isolation shifts from being a temporary event, to a hybrid something more long-term, more and more teams are realizing the limitations of existing collaboration tools for their customer experience programs. After all, customer experience is more than just a meeting.
The Decline of Customer Experience In 2020
When business went virtual — and everyone swapped to home operations — nearly all customer experience programs had to be restructured. Companies and teams were forced to rethink their strategies, oftentimes not knowing what kind of strategy to put in place and for how long.
There are several reasons why:
Many customers were postponing in-person visits or canceling them entirely because the timing was up in the air, but also for safety and health concerns
Professionals didn't want a quick fix to problems they were uncertain about
No one had any idea how long the current state of the market would remain in place
Close contact and social distancing became the priority
As a result, many companies hastily moved to video collaboration tools as a necessary-but temporary solution. They were never meant to be permanent or long-term. Unfortunately, long-term has become the reality, which has customer experience teams and briefing professionals looking to more capable engagement and collaboration platforms - that can go beyond us at the meeting.
Welcome to the Wild West of Customer Experience
The shuffle to remote customer experience processes and tools has led to a free-for-all, nearly eliminating what traditional standards might have existed.
For many briefing professionals and customer experience practitioners, the best option is the platform, technology, or collaboration tool that a customer already uses or owns. It's quick to jump to new briefing tools, platforms, or solutions, to be where the customer is.
But collectively, it's led to a bigger problem: fragmentation. As teams now must manage several tools - responsibility and workflow inconsistencies have compounded. Successful briefing managers must learn to challenge this newfound way of life, to keep control and move business objectives along.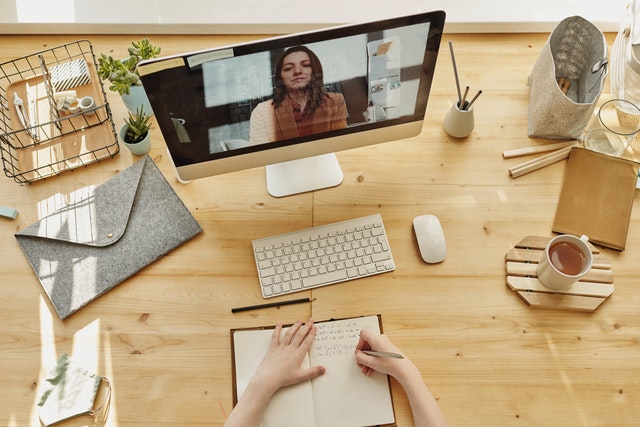 Regaining Control of the Customer Journey
When there is a lack of process and structure, that's when team members begin to go rogue in the hopes they can find answers.
The only way to fix the leaks and get everyone moving on the same course, is to recapture control. What does that mean? It means briefing managers must take action to control the customer journey, just as they did in the past with traditional programs.
Here's how to make that happen:
Take a moment and ask yourself, what are your company standards? What tools do you use for collaboration and communication? How do you conduct customer-facing meetings?
Establish definitions and standards. Assess how briefings are requested, and what communications go out when. Consider the tools used, video and collaboration oriented, and develop a general agenda.
What types of engagement can be incorporated to move beyond the simple event or meeting? What methods and tools can be used to engage before, during, and after the digital interactions?
Get everyone involved, including subject matter experts, executive management, sales teams, facilitators, and even stakeholders.
Take the entire system, and mold it so that it's repeatable.
Once that control is back in your hands, and the journey is truly yours to mold, it's time to put a wrapper on it. Seal it up with a stunning bow.
Take the virtual space, and develop it into an extension of your physical environment. Borrow elements from your past workspaces and culture, and inject them into the new digital system.
>> Learn About Our Omni-Channel Approach
Where Do Customer Experience Programs Go From Here?
Make sure that any new rules of engagement and customer experience opportunities have been thoroughly assessed and planned. Be sure to provide opportunities for strategic engagement, like the option to view content ahead of time, or even a dedicated channel to learn more about your company.
Even though we're talking about a virtual briefing platform, don't forget about the human touch. It's especially important, now more than ever, to include some semblance of human interaction. The more we isolate as a community, the more we long for meaningful contact.
PwC research found that 59% of global consumers believe companies have lost touch with the human element of customer experience, while 75% prefer to interact with humans over an automated machine.
Most importantly, be sure to consider long-term goals and solutions. Once implemented, these programs are going to be in place for quite some time. The world is a very different place now.
There should be a hybrid model for in-person and virtual engagements when people eventually return to a semi-normal life. The platforms that offer in-room, virtual, BYOD, and tablet options will help further the experience as the world slowly opens back up.
See How The CXApp Is Creating Virtual Briefing Experiences For Silicon Valley's Finest