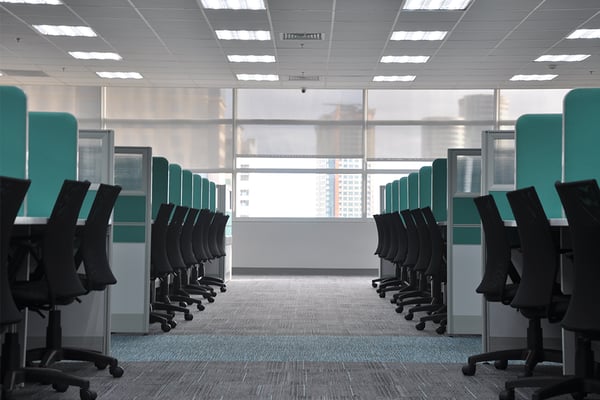 As workplaces around the world prepare to reopen to employees, it is important to recognize that the world of work has been changed drastically. The nature of workplace interactions has been irreversibly altered in ways we could not have imagined. Office buildings and high-density workplaces must now find ways to become facilities that not only promote productivity, but also support public health initiatives in keeping employees safe and healthy.
In the last six months, social distancing has been embraced and promoted by the CDC as a means by which we can slow the spread of illness. As we move forward, social distancing in the workplace will be key to mitigating future flare ups.
Social Distancing at Work
What is social distancing? Social distancing, also called physical distancing, is a measure that can be taken to prevent the spread of a contagious disease by maintaining a physical distance between people and reducing the number of times people come into close contact with each other. By coming into contact with less people and maintaining a distance of at least six feet (or two meters), diseases are less likely to transfer among people. Some other considerations of social distancing include not gathering in groups, staying away from crowded places, and avoiding mass gatherings.
For many people, social distancing away from the workplace has been hard, so it is difficult for some to imagine what social distancing in the workplace will look like. Experts are speculating that the need for social distancing measures to be adopted in the workplace means that our office layouts are likely to change as we shift away from open floor plans. Indoor intelligence is key to successful social distancing in the workplace. In order to redesign the modern workplace and adopt healthy distancing in offices, it's important to know how office spaces are being used, where people are congregating, and which rooms are being used.
By analyzing the movement of people throughout the office, organizations can gain insights into patterns and trends of where and how people are flowing through buildings, and then harness this data to dynamically manage the configuration of your workspace. Organizational leaders need to be equipped with the tools and information to be able to visualize and analyze building data including visitor type, peak times, dwell times, paths taken, crowding, and space usage projections.
Prepare for Tomorrow, Today
Understanding how people interact with your indoor space has never mattered more. Indoor intelligence can be key to equipping your organization with the necessary infrastructure to support an array of safety and productivity use cases as you transition back into the workplace. Contact our team today to learn how to effectively establish social distancing measures in your workplace.
This blog post contains forward looking statements which are subject to risks and uncertainties. Please click here to learn more