Physical distancing is here to stay for the foreseeable future. Even after things begin to return to a sense of 'normalcy', as much as they can anyway, people will be a lot more conscientious about their work health and the environment. Keeping a safe distance from co-workers can go a long way towards improving one's general health these days, and that fact is more omnipotent than it's ever been.
Before they return — or even if they've begun the process already — workers are certainly going to have a few questions about how it's going to work. Just a few that come to mind are:
Will there be social distancing guidelines in every room? Will labels tell you where to stand?
How can employees make sure they don't get one another sick?
Will colleagues be more serious and careful, or will they be cavalier?
Social distancing may be a simple concept, but it brings a lot of new challenges to the table for employers. It's easy to stay 6 or more feet apart in a queue at the local coffee shop while browsing products in a store, or even while visiting family and friends. But when it comes to working collaboratively with others in a large, open space, social distancing is a bit more difficult.
So, how will we see social distancing manifest within the average workplace? What's it going to look like in the office?
Augmenting The Workspace
Without social distancing, a single infected person can spread the virus to 2.5 people within 5 days. After 30 days, it will have spread to a massive 406 people. With proper distancing, even at a 50% reduction, the 30-day infection rate will drop to just 15 people. With a 75% change, it's only 2.5 new infections over the same period. Social distancing makes a huge difference.
In general, personal workspaces, desks, shared spaces, and offices are going to look a whole lot different going forward. Not only are they going to be planned out and structured differently, but how employees utilize spaces will also be changing.
There will be fewer desks and workspaces spread evenly throughout open areas
Social areas will see the same distancing mechanics where seating will be sparse
Communal areas will have pointed sanitation stations, with distancing warnings and guidelines posted
Occupant-centric guidelines will be implemented to keep work areas free from large and dangerous crowds
We will also see a slow, methodical approach to how employees are directed to return to work. There will be incremental shifts in capacity — 30% to start, then to 50%, next to 70%, etc. — with ongoing remote work and hybrid opportunities. It's not a stretch to claim that remote work will be a permanent opportunity for many workplaces going forward. Some teams may never be at full on-site capacity again.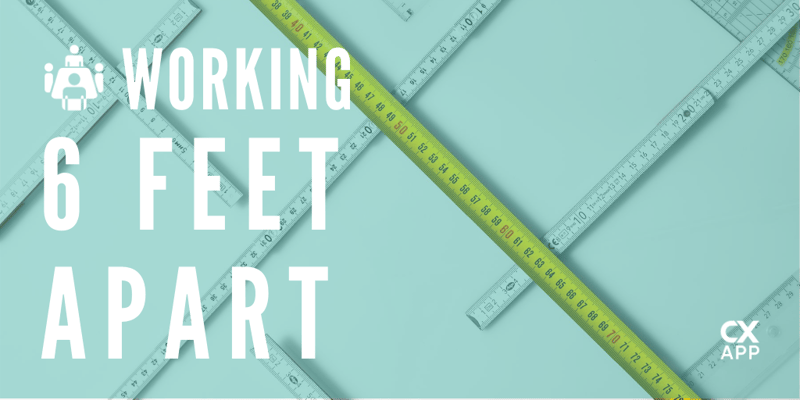 Technology will also be implemented, if it hasn't already, to help facilitate these changes. Technology will be developed from the ground up to be both proactive and reactive, delivering alerts, information, and tools to help honor social distancing guidelines. The tech will also help alleviate some nervousness and anxiety about returning to work, for many.
Employees have made it clear, they would like organizations to continue being transparent through open communication from leadership (44%), remote work flexibility and opportunities (42%), and employee wellness efforts (41%).
Drivers For A Safer Employee Experience
Beyond just environment and workplace changes, the employee experience is going to be different, as well. The way companies engage and inform their workers will influence the workplace.
Some examples of EX changes include:
Employees will receive real-time alerts when they're within 6ft of one another
Plexiglass will be installed between workstations and desks
Virtual desk booking services will be implemented
Foot traffic and congestion alerts will tell everyone what areas to avoid
Directional and dynamic signage will be used to direct the flow of foot traffic
Floor markers will be installed for queues and densely populated areas
Workforce segmentation may be implemented based on arrival times, floor, departments, and more
Live-mapping and wayfinding services will help people avoid crowded areas
There will be a cap placed on group sizes and in-person meetings
The type of work done on-site will be prioritized based on collaborative and proprietary needs
A virtual host or concierge service will be installed to deliver contactless guidance to workers
The CXApp workplace platform addresses many of these use cases... find out more!
Welcome To The Distanced, Yet connected World of Business
Not only will the current and existing workplaces be restructured, going forward we will see a rise in new environments that have been purposely built to promote healthier habits and experiences. Facilities management will become a priority early on in the development process, and throughout the retrofitting of existing workplaces. It will create a level of workplace readiness never seen before. More specifically, one that addresses occupant-centric challenges, social distancing opportunities, and healthier environments, overall.
Beyond that, it's up to each one of us to do our part. It will be a collective effort that truly heals the average workplace.
It will be up to the employers and organizations to aid in the effort, by providing healthy buildings and promoting employee wellness as much as possible. One of the most important strategies any company can and should implement is to accommodate social distancing protocols, even if only partially upgrading existing workplaces and offices.
Every company should lead with a wide open communication channel, to allow for healthy discussions about what is working, what isn't, and how people feel in regards to their safety.
As an aside, masks are also highly-beneficial in preventing the spread of illness and it's why many places now require people, wear them, especially those in the epicenter of COVID spread. Not only should masks become a priority, but they offer an excellent opportunity to promote your brand and bring people together. Put your company logo and tagline on a mask, and start providing them to employees now! Just a thought...
>> Have more questions about the return to work? See our answers to the biggest questions here!