The event industry was heavily impacted by COVID-19, not unlike many others, with a sudden and somewhat unexpected need to pivot entirely to virtual experiences - posing many challenges.
It changed the game because hosting a virtual event requires several unique considerations:
Attendees must remain engaged in new ways
Organizers must be able to provide value to sponsors
Virtual platforms needed to mirror and create networking opportunities similar to in-person events
There still needed to be a "wow" factor
Numerous platforms stepped up to the challenge by providing base capabilities to support many of these requirements. They offered a solid value proposition, innovative solutions, and an acceptable answer to many problems, but unfortunately, no single platform was able to achieve everything. There was no comprehensive solution because the missing factor was a real-time, face-to-face vibrancy that you'd get from a conventional in-person event. Providing this type of attendee experience was nigh impossible without the right technologies or solutions in place.
Is there an answer?
Taking A Pulse on the Event Industry
Slowly but surely many events are coming back. Yet, they are not returning exactly as they were before. According to EventMBs latest research, 67% of respondents agree hybrid is the future of events, while 71% say they will continue to employ a digital strategy even after conventional live events are back in full swing.
For example, we're registered to attend and participate in 8 events this fall in a very short window from mid-October to mid-November. Out of all those events, 6 are physical.
Throughout these events, we'll be crossing paths with over 10,000 industry professionals, engaging directly and sparking discussions about the future of work. It's important to point out that our team members have all opted-in and we are eager to get back to in-person networking and learning experiences. We believe there is still a place for corporate events and physical in-person conferences.
Beyond the above list, there are even more industry events and technology showcases happening this fall, which is a huge net. As it stands, it's good news to be back to the traditional way of doing things, even if the experiences themselves and protocols are all fairly new.
Looking forward to 2022, event organizations are asking themselves whether they should return to live events, continue to do virtual-only shows to save on costs and uphold safety, or offer a hybrid experience so that attendees can choose how they participate. It's an event management conundrum.
Spending on virtual events and trade shows will continue to be incredibly high, at 37% and 30% respectively — well above planned spending on product launch events.
What is the best approach? How can teams decide between a hybrid event or another type of experience?
Many events are remaining virtual solely out of caution and safety, particularly regarding the unclear path forward on managing hybrid event experiences.
Our

virtual event platform

will continue to support both live and on-demand virtual event styles - to give attendees and event programmers a choice.
We have a string of customers planning in-person events for spring 2022. They will feature a combination of mobile event app and virtual event platform experiences to address the hybrid conundrum.
Ultimately, it's about putting the tools and technologies in place to facilitate hybrid experiences and events. How do you serve your virtual attendees in the same ways you're serving your on-site participants?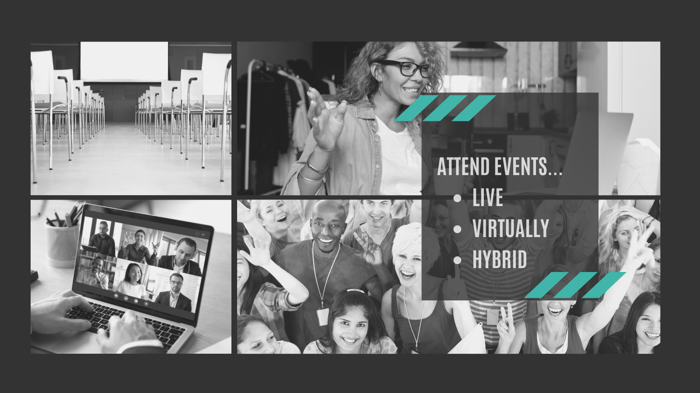 Deploying the Best Hybrid Event Experience
There must be parity through a seamless design no matter where attendees are, whether that's on or off-site. It's an incredibly challenging process not just to develop, but also to maintain throughout the scope of an event.
It's also important to make in-person events attractive again, which can be done by providing a more contextual experience that also delivers a personalized approach. Every event must be offering virtual content or experiences that are forward-thinking. It involves establishing memorable event venues with a core focus around great digital content. High event engagement levels should be a central focus for all attendees.
At the same time, automated and contactless interactions must be carried out across all channels, just like in the workplace. It reduces the number of things an attendee has to touch, physically, and vastly improves their journey by creating those "wow moments". Technologies that help with this include location beacons, smart sensors, and data-driven devices — IoT too.
Attendees have to be given a choice and a voice, and the feedback they're providing must be incorporated into the overall experience. It must be cyclical, to let attendees know they matter and that they have a say, but also so they know what to expect. If suggestions or concerns cannot be alleviated during the current event, it should be made known that they will be addressed for future engagements.
Live chat with Q&A sessions help bridge the gap and keep those voices alive, and they must be hosted across locations, including virtual attendees in the mix. They must also support each audience's goals, whatever those may be. Virtual attendees and on-site attendees may have different goals, despite wanting near-identical experiences. But ultimately, no one should be forgotten or left to fend on their own.
Building Event Experience Cohesion
At every stage, we have to be thinking about what it is that attendees want as part of their event experiences? What kind of journey do they want to embark upon?
Some critical elements of planning are:
Safety, sanitation, and social-distancing
Reimagined engagement
All-inclusive and seamless experiences
Options for small scale and macro experiences
Cohesion between platforms, although essential, is challenging and should not be taken lightly. Event apps and virtual event platforms must be able to talk to each other, via data and beyond, to create a consistent experience. If you're using two different systems, each with a proprietary focus, the experience is going to be fragmented, by default. That's not where the future of events should be, and it's certainly not what you want your attendees to deal with.
Schedule a no-obligation call to learn how an event app and virtual event platform work better together for hybrid events.