For most organizations, work no longer takes place primarily 'in the office', at least not in a traditional sense. Home and remote work is now a permanent staple of the modern enterprise. Not everyone will be positioned, assigned, or will regularly visit the headquarters.
Thanks to the acceleration of digitization and smart experiences in the workplace, employees now have better access and resources to choose their preferred work configuration. They can do this using hardware, software, and digital workplace tools all of which connect and sync between various touchpoints, such as a work terminal to a home computer, and vice versa.
The digital workplace market is bustling, and expected to reach a total revenue of $44.9 billion by 2026. Digital platforms help answer one of the biggest problems of having a remote and hybrid workforce, locational synchronization.
This has redefined managerial expectations regarding communication, outreach, and output. Ultimately, the average workplace has been overhauled and replaced with what is essentially a distributed workforce. Employees tend to work from 3 types of locations: At headquarter (on-site), at home, or off-site — which could be a coffee shop, lobby, passenger seat, customer's office, etc.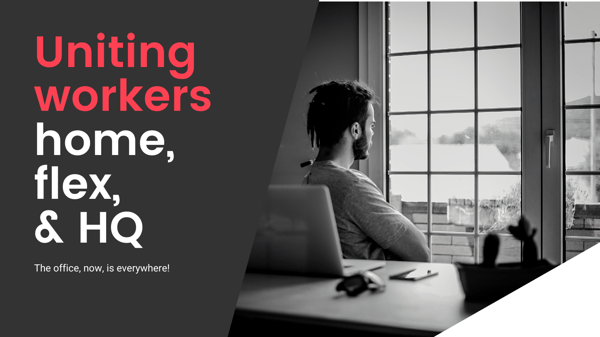 The New World of Work: Unique Distributed Workforce Scenarios
Today's workforce is spread across various locations, instead of remaining confined to a single facility or property. Technology is the link connecting all experiences and all people together from employees to partners to vendors, clients and so on. It is difficult to normalize and coordinate all of those fragmented experiences. The 3 main types of work scenarios are:
At Home (Remote)
The option to work from home creates extreme flexibility and control in regards to work hours, experiences, and more. A commute, for instance, may be eliminated or shortened. Remote operations also provide more control over the workspace, allowing people to better personalize a desktop setup.
Employees also have much safer experiences related to health and wellness, especially in the throes of the current pandemic.
Flex (Remote or On-site)
Flex operations or experiences allow workers to choose precisely where they want to be, whether that's at home or in an office. Most importantly, they're provided tools and resources to swap between the locations seamlessly through a connected workplace approach.
They can be on-the-go and still have full control over their "office scenarios" and experiences, and also synchronize what happens across all touchpoints.
HQ (Strictly On-site)
Headquarter or even remote offices provides exclusive facility-based opportunities. On-site values tend to be greater when employees are face-to-face, as it stimulates collaboration and community. People feel a sense of connectedness to colleagues, location, and culture as well as more immersive workplace experiences.
How to Manage a Fragmented Workplace?
It's easier to manage, collaborate, and organize people, tools, and experiences when they remain within a set of boundaries - and when resources are not spread out or spread thin.
With the current state of work, however, it's precisely the opposite. People, tools, devices, all remain spread out no matter how connected they are through online and networking platforms.
How do you manage such a disparate workforce?
People still need to be able to collaborate even across distances. Moreover, workers still want to engage face to face, with each other, partners, clients, and even their managers. In fact, a CoreNet survey found that 51% of workers would continue leveraging remote work opportunities, but only if they had an in-person "hub" to visit regularly.
The Ultimate Workplace IoT and Digital Workplace Solution
The 'tech' thread that seems to connect everything in this day and age is mobile, or rather mobile applications and experiences. Workers, managers, partners, clients, everyone carries their mobile with them at all times whether on or off-site. Mobile is truly one of the best-distributed workforce tools out there.
The best solutions are those that consider this, providing a seamless and dynamic experience across the full employee journey lifecycle.
Seamless experiences allow employees to transfer between locations, across devices, and platforms, supporting an agile workforce
On-site experiences provide added value through digital touchpoints, encapsulating the best of immersive technology like sensors, beacons, and real-time location services
Everyone remains connected and in-touch at all times no matter where they are located with the appropriate alerts and notifications
Work content such as documents, resources, and instructions can all be shared and leveraged to improve productivity from a single interface
Desk booking and hoteling can help control the flow of people and the distribution of spaces when employees are on-site
Planning for the Now
Many new and innovative solutions are being put to the test not just because of COVID-19, but also because workers demand a more dynamic, connected workplace.
We need solutions and experiences that bridge the gap between all the disparate and fragmented scenarios of today's average operation. It's about time to admit that most work environments no longer need or utilize all of the traditional trappings. Not everyone is working out of a headquarters, office building, or company-owned property, and that's okay. But it also means that organizations need to evolve to match modern demands.
Mobile is the new flexible office.