Why Merging Physical Spaces and Digital Tech is a Winning Strategy
Whether you're ready or not, digital-friendly physical spaces such as "smart" campuses are the future of the modern business workplace.
As many organizations look to improve their digital footprint by offering more advanced - often mobile - experiences, a highly connected corporate campus is the next logical step in that process. Making such an effort toward company-wide digital transformation can pay off with a boost in convenience and efficiency, not just for clients and customers, but employees and executives as well.
Digitization is a game-changer, especially when coupled with the rising popularity of innovative technologies like IoT hardware and Bluetooth beacons. It's not surprising that businesses are taking notice and pushing for more aware and interactive facilities.
How The Smart Campus Is Making A Splash
The modern emphasis on digital transformation for businesses is powering a lot of change, but it's not the only element contributing to the rise in smart venues:
"As many organizations look to improve their digital footprint by offering more advanced - often mobile - experiences, a highly connected corporate campus is the next logical step in that process. #DigitalTransformation @TheCXApp"
Location Services
Location services such as indoor mapping provide real-time navigation and location-aware support within the confines of a venue. It's similar to what Google Maps can accomplish for users outdoors, but actually inside a property.
In just three years — from 2015 to 2018 — the number of location-based service users in the U.S. jumped from 175 million to 242 million. That's an increase of over 20% on average, year after year, and the trend will certainly continue.
This technology is ideal for a dynamic, constantly-evolving corporate campus. A sprawling campus is difficult enough for newcomers and visitors to navigate, before factoring in frequent changes, construction projects and more.
Location-aware experiences such as indoor mapping and contextual notifications help facility managers and employees be more efficient. For instance, property managers and security teams have better control over on-site crowds because they can see what's happening in real-time. Mobile updates can be sent out to employees about areas where they might be needed in order to boost available support staff.
Smart campus apps with location services can also help direct visitors and employees across large venues in an effort to provide a more user-friendly experience such as navigating from one conference room to another, locating restrooms, cafeterias or even on-campus transport stops. Better yet, location-aware workplace apps can help visitors find a parking spot or check-in as soon as they are on property — eliminating lengthy check-in procedures and get to where they need to be with turn-by-turn directions.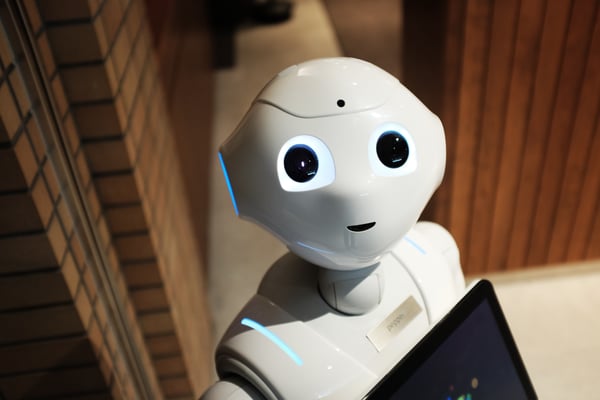 IoT Has Arrived
The Internet of Things is both popular and convenient. This type of technology has become so rampant, there are only a handful of devices left that do not have a connected, Internet-enabled version.
McKinsey predicts that the IoT market will be worth $581B for ICT-based spending alone by 2020, and it will grow at a Compound Annual Growth Rate (CAGR) between 7 and 15%. Meanwhile, the Industrial Internet of Things (IIoT) market is predicted to reach $123B in 2021, attaining a CAGR of 7.3% through 2020. And now we're seeing this trickle into other places like our homes, transportation centers, entertainment venues, and even our workplace.
IoT links up people and devices to deliver a smarter, more connected experience. Whether you're talking about smart home technology, wearables and smartwatches, or even smart campus hardware — it alls acts as a medium to sync up digital and physical ecosystems. Each device serves as an access point to connect another device, so your applications can connect with your audience and your applications can connect with other applications for a connected workplace ecosystem with commercial IoT.
Smart speakers can tell visitors where to go and what to do, especially when paired with Bluetooth beacons. Digital signs can provide real-time updates of events happening around campus. Mobile alerts and contextual notifications can be used to engage and interact with visitors or employees.
Security and Safety
Safety and security for employees has been and should always be a priority for businesses, but this concern becomes even more pressing in an open workplace. The reality is that open spaces are far more difficult to protect because of how much accessibility they offer.
How do you keep everyone safe or lock the property down when the venue is comprised of a multitude of open areas?
In response to these concerns, there's been an increase in comprehensive, smart campus solutions with built-in security integrations. These systems are designed to provide all the necessary information so that security teams can respond immediately to threats. More importantly, this technology can be used to send out real-time alerts to everyone that is visiting or on-campus, including first-responders. A connected workplace with smart safety integrations give venue operators greater real-time understanding of what's happening in order to better mitigate risk.
Making Space Productive
Resource consumption management as well as space allocation have taken on a new significance in the modern workplace. It's not about the amount of new space you need to acquire, it's about what you can do with the space you have. Corporate campus managers are now forced to consider how real estate planning impacts both ROI and productivity.
This focus is driven largely by cost savings, as organizations look to make their existing spaces increasingly productive. Creating an ideal employee experience is about building collaborative spaces that foster efficient communication, teamwork and unity. Additionally, the spaces themselves contribute to the sales process by wowing the guests with innovative experiences.
Obtaining data and analytics about your company's property offers a great competitive edge. Tools and workplace solutions ecosystems have cropped up to help managers make sense of such data and better the use of open space, real estate, and day-to-day operations.
Local Impact
For starters, many discussions about local, environmental and socioeconomic influence are starting to take place with respect to the reach of big organizations.
Amazon's entry into two new areas (Queens, NY and Crystal City, VA) has sparked discourse on the kind of impact the arrival of a large company can have on a respective community. In Amazon's case, there are already many concerns regarding working-class neighborhood displacement and strain on each city's infrastructure.
But there's just as much focus on the concept of larger "company towns," which many organizations seem to be constructing in Silicon Valley. These developments incorporate not just conventional campus setups but also nearby urban centers. For instance, Facebook's Menlo Park development will soon be complimented by residential housing units. Work. Eat. Exercise. Play. Sleep. Repeat.
Whether a company's overall impact is positive or negative, the surrounding community will reach in a public way. Negative reactions and press can affect a brand's overall image, which is why company representatives must be prepared to meet social changes in the surrounding community. Proper planning and expectation management are necessary to shape healthy, positive discourse.
As the smart campus technology trend picks up steam, it highlights how being "connected" doesn't just refer to the company and its customers anymore - it includes employees, partners, vendors and neighbors as well.
Innovative Spaces
Of course, new technologies and developments also lead to a vast array of opportunity. There's so much more that a smart campus or venue can be used for, and many applications won't even be discovered for years.
Several innovative companies, for example, have introduced "Persona-based Conference Rooms" which deliver a cutting-edge corporate space. The idea is that they are personalized and outfitted with the latest technologies and solutions, so they can be adapted to meet the needs of users.
The conference "rooms" actually have customizable flooring, ceiling, and seating designs. They can be altered to meet various applications, depending on what customers need. It is a way to provide the ultimate customer experience, and it highlights exactly where the modern world of business is headed — with the aid of smart, connected technologies, of course.
All Trends Lead to Smarter, More Capable Spaces
When you think about it, digital transformation has led to this point - a merger between digital and physical spaces - technology for the built world. It was always going to come down to digital experiences delivered in the real world, especially with the emergence of mobile devices. So many of the trends we're seeing in the corporate space relate to the concept of smarter, more aware, and more capable spaces.
Setting up a 'smart' campus is just the next logical step in a company's digital transformation story. Once again, mobile is the bread and butter, connecting all the disparate systems and technologies through a central communication hub: uniting people, places, and things.
In the end, one thing is certain. The smart, connected corporate campus is on the rise and if you don't get involved soon, you'll be left in the dust.
Our CEO, Leon Papkoff, Discusses New Smart Campus Tech.
Listen Here: