The idea of a prosumer, or the prosumer effect has been around for a long time now. To ensure we're on the same page, we'll cover the basics real quick. A prosumer is a person or individual that both consumes and produces media, content, or even goods. Think of them as a consumer that has a direct impact on the market, regarding both consumption and development; they are both a producer and a consumer.
How can this be so? The term was first coined by American futurist Alvin Toffler, and was later adopted by the greater press and tech pundits because it fits so well. The concept of "prosumption" came about during the dot-com era, where businesses were forced to make a significant shift in operations and development. Consumers were, for lack of a better phrase, no longer simply consuming, they were more involved and required a lot more engagement, input, and attention.
The ideas of the prosumer and prosumption in general have changed quite a bit over the years, but the core concepts are still very much the same. And it's still an emerging dialogue even today, about the ways in which technology serves people particularly across domains and platforms. What a consumer may get out of a digital product or good, may be completely different then the experience received by a professional.
In general, consumers are more of a passive recipient of a technology or good. Because of this, they may help to shape or redefine the use of a toolset, simply by getting involved with the products they care about.
What Does This Mean for Modern Business?
Regardless of whether or not you're in the B2C or B2B markets, modern customers are a huge part of how their specific journey plays out. They are now equipped with the tools, resources, and skills to determine what their journey is, will be, and even how long it will last. Brands today are more focused on providing their customer base with the tools to navigate and achieve their goals; the rest is up to the consumer.
Since the time the phrase first appeared society and customers have come full circle. We started out unplugged then shifted to plugged-in. Now we're shifting again to more a hybrid approach. Customers still value in-person and face-to-face experiences. At the same time, they spend a lot of time in the digital realm, as well, where human interactions and conventional engagements are less important. It's almost like the digital and human experiences we've valued over the years converged to become something different, something more.
Brands are making a huge leap to the world of digital, hence why there's so much focus and discussion going on in regards to digital transformation. This is largely brought on by mobile, which again, is not like conventional technologies used in the past. Unlike say, a desktop computer, mobile devices remain on your person at all times, can be used anywhere, and encourage a more active, more engaged lifestyle.
You, as a business, need to be prepared to not only deliver the kinds of experiences that prosumers are now looking for, but also to meet them where they spend most of their time. Even in the B2B and corporate space, mobile is a huge proponent of the market today. A whopping 83% of B2B marketers claim that mobile apps are important to their content marketing strategies—and that was almost three years ago.
Want an even better look at the modern prosumer? 91% of mobile users say that access to content is incredibly important to them. Your mobile site—B2B or otherwise—should provide and make it easy to access brand content that is relevant to your audience.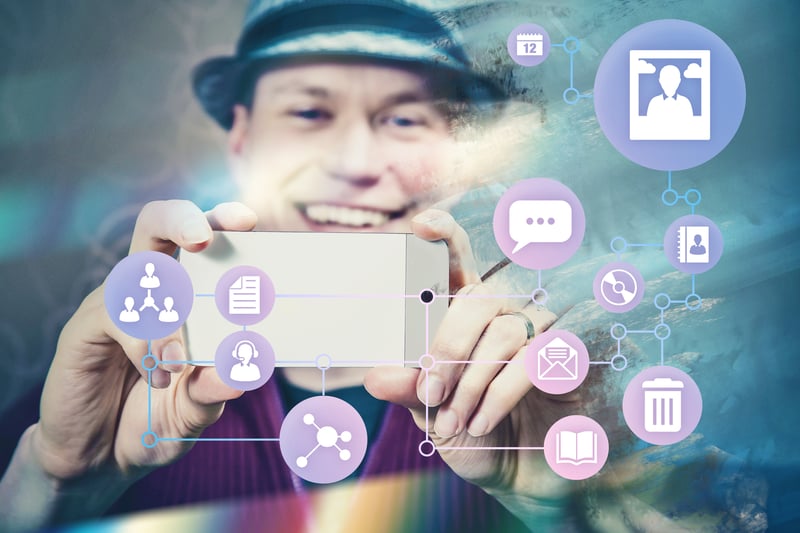 Let's See How It Works In the Real World
All this talk is great but one still needs a few real-world examples. Here are some of the most unique we've found:
1. Fitbit:
Customers can tailor their devices to meet fitness goals, and get a healthier lifestyle up and running. More importantly, when you purchase or own a Fitbit device you become a part of a wider community. Through the mobile apps and digital portals, customers gain access to constant health and lifestyle insights, which breeds an incredible amount of engagement.
Fitbit, the brand, delivers a pile of content, health insights, and informative content to keep their audiences tuned in and in turn the customer can then 'create' their own experience for what Fitbit means to them.
2. Nespresso
Nespresso products and goods are a great example of tailoring experiences to prosumers. What's really interesting about the brand, however, is how they interact with audiences in retail stores.
In select retail stores you'll find mini service stations where customers can experience what it's like to own a product. Anyone can create their own coffee combinations and see the brewing process happen, right in front of them.
There is also a companion app for mobile that allows customers who do own Nespresso's products to re-order supplies, request services, update the firmware for their machines, and essentially make a custom-blend of their Nespresso drinking and lifestyle experience.
3. Red Bull
But it's just an enhanced energy drink right? With the rise of multi-media social networks, Red Bull has made significant strides in the prosumer world. Red Bull not only creates content for their 'brand' of drinker, but also encourages and in fact built a platform around their drinkers' creating content and showing, sharing the Red Bull lifestyle.
They've essentially created their own culture and community of devout drinkers, athletes, stars etc. and back it up with portals for consumers to engage with the brand in all forms of life and important times in life.
How Does This Factor Into B2B?
In the B2B and corporate space, the definition of a prosumer is slightly altered and for good reason. After all, you're already targeting and marketing to other businesses. It's more about the shift in your operations and strategies to meet a modern, digitized movement. The customer experience journey is different for these markets anyway.
The goal is to deliver experience-driven and purely engaging touchpoints for both your potential audience and loyal ones too. You can do this through a unique mobile or app-based ecosystem, delivering relevant, consistent content. Of course, that's just one example but it's an important one.
The prosumer effect is relevant to all markets in the modern landscape, including corporate. Customers are a part of the journey earlier, and for longer, and that makes a huge difference in how you should be delivering your own goods, services, and products. You must provide them the tools and resources they need, and then take a step back. You don't disappear completely, you must always be ready to maintain and provide additional support, but the power is all in the hands of your customers and audience, so… ask yourself, do they have everything they need to 'produce' their own experience?