Almost shockingly, we saw a handful of companies jump feet first and announce their commitment to remote-only work environments in the middle of 2020. Many companies in the tech and software space were already equipped with remote work tools and capabilities so it wasn't a big stretch to get employees and teams up and running at the start of the pandemic.
However, as time has worn on, we've found that although employees are still very much productive at home and innovation hasn't been thwarted, employees are however interested in a return to work and in-office life similar to - but no the same as before. Offices will wholeheartedly remain hubs for collaboration, networking, and innovation. In as much, people crave to be around other people and not constantly staring at their 'home office walls'.
Big companies have built a culture around the workplace, rightfully so, that just can't be fulfilled from 100% remote work.
Careful and Calculated Reoccupancy of the Workplace
Back to work planning strategies must now include people, processes, and technology that clearly communicate expectations and capabilities for employees. This includes considerations for:
How often you can work remotely
Where to work when you do come to the office
How to maintain culture in a dispersed workforce
How to keep opportunities the same for at-home and in-office workers
How to navigate the new work landscape
What types of in-office experience have/need to change
Are some processes, like badging in, becoming more automated
Are you going to include a daily health check or virtual health passport
These are a lot of questions that companies have had a year to work on, but some of the answers to these questions may not yet be solved for or not solved for holistically.
For those companies looking to bring in technology to aid in this effort, such as a smart campus or desk scheduling software, they'll need to consider back to work timelines. Many tech companies have a 10 -16 week rollout for their solutions. What that equates to, is choosing a vendor and beginning the work by May at the latest if you're targeting a fall 2021 workplace reentry timeline.
A Back To Work Timeline For Big Companies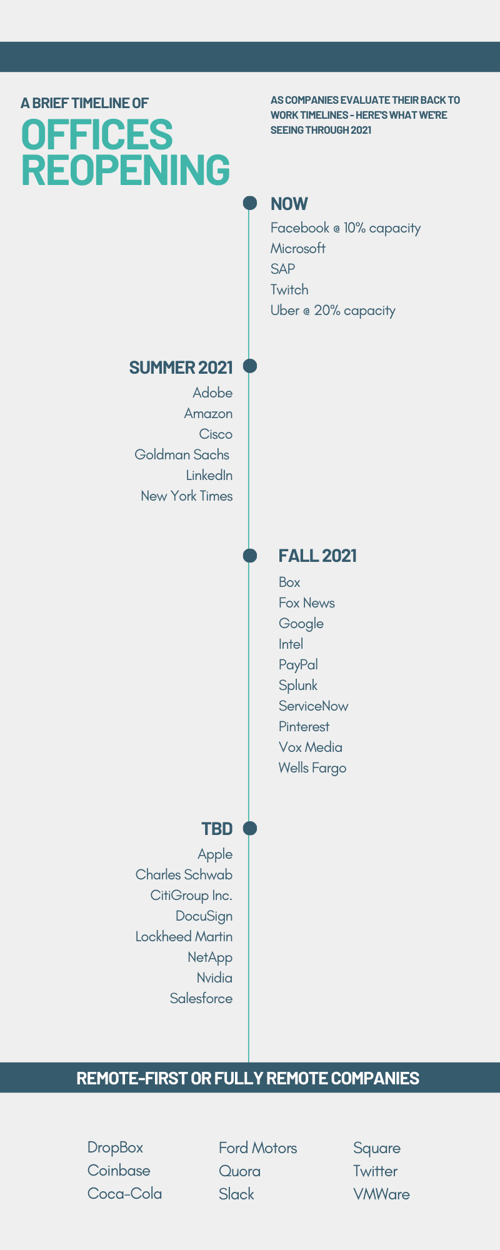 What we're seeing here is a concentrated effort on getting offices fully reopened by the end of this year. Even with those still in the 'to be determined' camp, we will likely see an incremental roll-out and announcement this summer as more information becomes widely available regarding vaccination numbers, local and regional tiered and health considerations, and overall employee comfort with the concept of going back into a densely populated work environment.
Fully reopening the office doesn't necessarily mean everyone back in the office 100% of the time. In fact, most companies if not all, are starting with reduced capacities for on-site staff, even further determined by job function, department, work needs etc. And on top off all that, companies are still offering the opportunity to work remotely by choice for as many as 3 - 4 days a week.