Many companies are preparing for the big return, with discussions centered around new policies and practices that value health and safety. One of the biggest problems with re-opening workplaces stems from the number of people that will be in proximity to one another.
Social distancing is a relatively new requirement post lockdown, but it is still a very important one. A survey from JLL on global organizations found that 87% are planning to have a phased workforce re-entry, with 93% honoring a social-distancing floor plan.
Another concern is the general cleanliness of the workplace, as proper sanitization protocols need to be in place as a preventative measure.
When these problems are addressed, workers will be more willing and will feel more comfortable going back into the office. Returning to any facility, especially densely populated ones, still carries a weight of hesitation. A Mercer report reveals that 735 U.S. employers are dealing with 45% of their workforce or more, that are reluctant to return for fear of getting sick.
So, how can large corporations and enterprises begin to plan for the big workforce re-entry? What should be done in anticipation and leading up to the event? What is an effective workplace wellness solution that will create these new, safer environments?
Workspace Planning Done Right
To truly map out workplace re-openings, organizations will need to address the following go-forward tactics for efficiently managing spaces and the workforce upon re-entry:
Setting workplace thresholds on a local, building by building, or floor by floor basis
Controlling capacity based on these thresholds and offering alternatives
Sending real-time updates to communicate openly and instantly on any topic
It's not just about finding a solution to these challenges, but also coming up with a reliable system that can facilitate the related actions, resulting in a complete workplace solution. Low-touch environments and contactless interactions will reign supreme going forward, but it's not an easy platform to establish, especially across expansive and varied properties. The result is safer, more stringent controls over dense on-site employee areas that would otherwise see a high visitor turnover.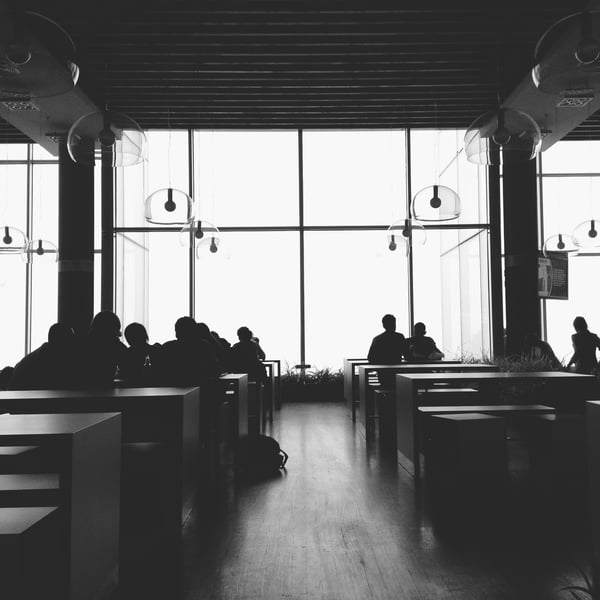 New Workplace Necessities
These are the features we're seeing rise to the top when it comes to addressing unique re-entry challenges.
CONTACT TRACING Technology that allows operations or a task-force to identify office locations, employees and workspaces that may be contaminated.
DENSITY MONITORING Real-time tracking tools through beacons or sensors placed throughout a large venue or high traffic area that monitor hot spots and flow with capabilities to make resource or physical allocation decisions.
WORKSTATION ANALYTICS Analytics devoted specifically to measuring designated spaces, workstations, desks etc. allow operations to plan for traffic, capacity, and enhanced cleaning protocols.
It's Time to Come Together Again
It's human nature to want to connect and be amongst peers, especially when it comes to professional settings. There's no replacement to in-person interaction, which is why many of our virtual tools mimic face-to-face engagements.
It's only natural that there is a growing sentiment across the global workforce where people demand normalcy in their daily work lives. Many people are looking forward to their eventual return.
However, one important factor that will play a role in the workplace of the future, is the ability to foresee changing conditions for a given day or period. People are likely going to avoid congested areas to not only keep themselves safe but also the safety of others. They'll need tools to keep track of all that.