For any business, serving their customers is one of the most important parts of the operation. This is especially the case for executive briefing programs, which are designed to introduce and demonstrate the value of a company's products and services to select decision-makers in order to build a relationship with them and generate revenue. But the question remains – what is the most effective way to analyze, understand and improve the customer journey at your organization?
A useful framework to do this is to break down their experiences into a series of customer touchpoints – which encompasses every interaction, exchange or communication that takes place between the briefing program and its customers. In this article, we'll explore how you can identify and capitalize on customer touchpoints to elevate the experience by creating a more memorable journey.
What are Key Customer Touchpoints for an Executive Briefing Program?
Before an Engagement
In advance of customers and visitors attending an engagement at the briefing center, there are some excellent ways to engage with them.
Invitation Emails - To build excitement about the visit, and prepare everyone for an upcoming briefing, invitations are a great way to kickstart communications. You can use them to share credentials, allowing access to the briefing platform or mobile app(s) which provide key briefing details. Other interactions might reveal the agenda, VIP attendees, additional content, corporate solutions, and 3D experiences, to name a few.
Pre-Briefing Surveys and Polls - Learn more about your visitors, gauge interest, and build engagement through early participation. You can discern a customer's sentiment about the company or learn info about prior dealings. You can confirm key objectives in advance of the briefing or gain additional input that can be used to build a more effective briefing agenda or inform various activities.
Welcome Notifications - The day before the engagement, or even the morning of, you can send welcome notifications with important details and reminders. This makes it easy for customers to join the briefing by linking to the briefing agenda, or the facility map, right within the application.
During an Engagement
While the experience is taking place, you can secure higher participation rates by designing exclusive interactions for attendees.
In-Person: Direct interactions with customers can happen at different points along their journey, but here, they take place in your space. Some examples include:
In-center proximity notifications to share details about a demo or display, or to encourage visitors to take an action. This allows them to learn more about your company, products, services, and teams.

Allowing people to unlock content using NFC tags via the mobile app. This helps to provide key takeaways of interest, which can be reviewed later.

Encouraging customer and audience-curated content. First, this tells customers that you care about their opinions, and you also want to know what is important to them. Crucially, it also makes them feel as if they've created part of their own experience, and that what they have to share is valuable.

You can offer self-guided tours with landmarks around the center or facility and create well-informed digital or audio presentations about each. Customers can self-select areas of interest and learn at their own pace.
Virtual: Whether in-person or not, virtual briefing solutions offer personalized platform experiences, coupled with on-demand information. Everything attendees may want or need is at their fingertips. Examples of customer touchpoints at a virtual engagement include:
Quick and easy access to virtual meeting links, with an option to connect anywhere, even while off-site.

Having briefing details accessible throughout the experience, but more importantly, makes them available right when people need them.

Delivering demonstrations through embedded 3D experiences.

Chat communications, and virtual social interactions that keep everyone clued in as to what's happening — seeing exactly what other attendees are experiencing, for example.

Connecting people outside of the engagement, allowing you to view LinkedIn profiles, or other social networks, or even by allowing you to send emails to their business account(s).
After an Engagement
After an engagement has concluded, weeks or months later, it's a prime opportunity to engage further with participants and attendees. Here are some examples of important customer touchpoints to capitalize on post-engagement:
Shortly after the briefing, a best practice is to send a notification to thank attendees for coming and ask them for feedback about their experience (we recommend 2 hours after they depart.) Make it easy for your guests by linking your notification directly to the briefing survey, in the app and/or virtual platform.

Sending notifications soon after the engagement can inform users that briefing content is available, including content that was not accessible during the live experience. Linking them directly to the content page reminds attendees to review content or re-watch certain presentations.

Weeks or months later, you can send follow-up notifications sharing additional content like statistics, facts, new collateral, and other notable details. This supports the after-briefing sales process but also continues to keep people engaged, especially when engagements are held annually — you might remind them to schedule their next visit.
How Can Companies Make the Most Out of Each Customer Touchpoint?
The true goal of planning these customer touchpoints is to provide customers with an enjoyable and memorable experience, but, of course, the motives here are clear — you're trying to onboard the customer by making a sale or confirming an upsell opportunity.
With customer touchpoints goals, it's crucial to remember:
Companies must strive to strengthen relationships and build trust.
Customers and guests must feel the company understands their goals and challenges.
You must ensure customers have their expectations met and ideally exceeded.
You must make customers and guests feel special and valued by the company.
Your company must differentiate itself from any competitors the customers may visit.
Experiences must demonstrate and convey what it's like to do business with your company.
Making the most of customer touchpoints requires involvement. That is, don't neglect the related interactions and responsibilities. Designate part of your team to the following efforts:
Collect feedback to gain insights from customers directly, potentially more than once. Delayed surveys can be informative especially when customers have had the opportunity to reflect on their experiences.

Leverage insights and data to build personalized experiences.

Choreograph the appropriate touchpoints before, during, and after the briefing based on customer sentiment.

Pre-schedule notifications that encourage interactions such as polls or surveys.

Ensure that all post-briefing touchpoints provide value to customers, serving as added content and extending the experience.

Keep briefings and related content accessible for customers to reference at any time.

Doing so allows customers to remember details of their previous engagement and help prepare for future briefings.
Collectively, all of these actions help optimize briefings by maximizing impact, which leads to more successful outcomes from your customer touchpoints.
To learn more on how you can leverage customer touchpoints in order to nurture stronger relationships and engagement, head over to our CX Briefings page to discover a platform that helps you do exactly that.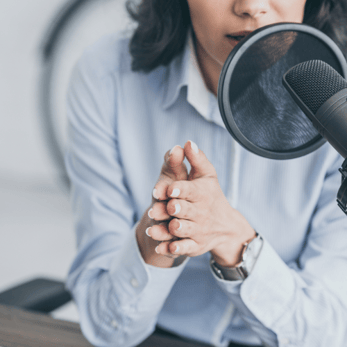 Customer Experiences that Inspire Action
Listen in to learn how to build stories that are rooted in truth, making people connect emotionally and inspiring them to take action at your engagements.