Virtual briefing and customer experience managers have it harder than ever. It's almost impossible, or incredibly rare, to conduct face-to-face interactions in the wake of COVID-19. But even without considering current events, the landscape has changed irrevocably.
Any virtual briefing program running, right now, that aims to be successful, must take into account the virtual customer journeys and even EX journeys playing out. The program must include the different touchpoints that each contact has remotely. Moreover, they must do all of this through a hybrid structure, including online and digital opportunities, alongside in-person and on-site experiences.
A solid, reliable program must be able to engage with customers specifically at different points in the timeline, whether that includes before, during, or after a meeting. It needs to be more than just a teleconference that plays out during a certain point in time.
According to Microsoft reports, a new daily record of 2.7 billion meeting minutes per day has been set, which is a 200% increase from 900 million on March 16. Also, the total number of video calls in Teams has grown by over 1,000%, just in March. They're happening at an alarming rate, that much is true, but one has to wonder, how many of these experiences are effective, realistically?
Zoom meetings and virtual conferences are fine, but we've come to a point where we need to move beyond just the start/end of a meeting. It's what takes place before and after those meetings, through real relationships, interactions, and perpetual engagement that can truly define a brand.
Are You Building a Successful Remote CX Strategy?
Briefing program managers don't have it easy. Trying to re-build what was in-person and experiential before - into something almost all virtual or at least predominantly so is a major hurdle.
The reality of establishing something successful, and the intent to do so, are two far reaching points at opposite ends of the road we're on. Whether it's incorporating more experiential components into your existing meeting-based CX program or leveraging something a little bit more robust like a Virtual Briefing Platform, there are definitely things you'll want to add to your checklist.
Here are just a few things you should consider incorporating as part of your CX strategy if you haven't already:
Personalize invitations to your meetings and briefings
Incorporate fully-fledged agendas, including speakers, topics, and much more. Keep any expectations and deliveries consistent with how in-person meetings would play out.
Include solution highlights and solution demos in your communications, and keep them accessible.
Target and personalize greetings when users enter a virtual environment, portal, or website.
Distribute custom content enmeshed by vertical, industry, interests, user history, and more.
Package presentations that can be shared seamlessly or downloaded post-briefing for continued access.
Provide supplementary content and/or a resource center where other types of interesting and relatable material exist, including videos, case studies, group communications, etc.
Maintain a proper, dedicated channel for feedback with always-on access.
Create a unique landing page for customers complete with notifications, regular updates, and a content feed.
Support an omnichannel and responsive experience that offer cross-platform functionality, for seamless interactions. Customers should be able to start on one platform and pick up where they left off on another, such as mobile to desktop or anything in between.
Offer a stellar support model that's managed by a dedicated and positive team.
Plan out ongoing engagement touchpoints ingrained with before, during, and after meeting events.
Consider a virtual tour, or immersive experience, that takes anyone not there in-person and provides them with the relevant information, interactions, and sensory participation.
Most importantly, ensure everything, including the meeting itself, is

easy to attend, no matter the location

, with hybrid experiences taking priority.
It's a lot to take in, plan for, and establish, but every single one of these customer experience examples is something that you should either have in place already or have an established strategy sussed out. Around 78% of frontline employees report their leaders have made customer experience a top priority, while 60% believe their shared ideas for improving CX often go unheard.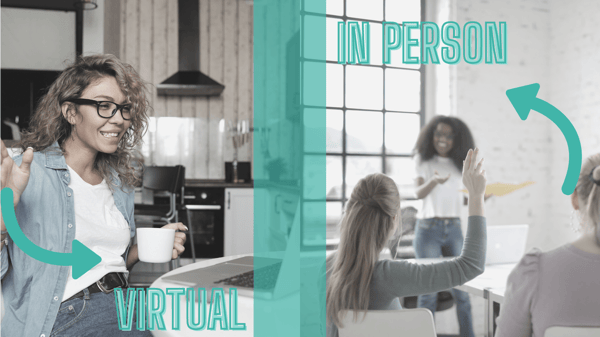 Addressing the Hybrid Customer Experience
As it was done in the past, customer meetings must continue to engage, with carefully plotted details, and highly-specific yet functional touchpoints. In-person, you need people to feel what they are seeing, or rather to come away from an event or meeting with first-hand knowledge and understanding, as well as a grasp on the future. The same is true today, and it's more important than ever, except maybe a little more challenging to achieve.
The answer is to create virtual and hybrid programs with hand-held interactions that invoke the kind of seamless and customer-oriented experiences you might have only seen in-person, in the past. PWC research shows that the number of companies investing in omnichannel experiences has ballooned from 20% to over 80% since 2020.
In other words, if you want to know how to improve customer experience in the modern age, the answer is to create a white-glove, hybrid model that provides a top-notch virtual customer experience on par with the physical and in-person experiences from the days of old.