Workplace leaders, operations, real estate, and HR are all examples of groups facing tough challenges and complex issues related to ushering the workplace back into the office.
And many are at different stages of planning or even starting to execute their return to work strategy. Each decision needs to be carefully considered and analyzed as to short-term and long-term impact on the workplace.
What's in your plan?
Opportunities around workplace experience technology was already gaining steam across corporate campuses and global organizations, but now the gas pedal is fully pressed down for many organizations to speed up their digital acceleration and plan for the future.
Is it a mobile app you're considering? Is it AI?
Regardless of where you're at in your back to the office journey, there are several advantages that can be gained when a workplace ecosystem comes into the conversation. Many features and use cases can be solved for, while introducing industry standard foundation for workplace experience.
Here are the top 3 key areas to focus on when laying the foundation:
Real-time Communications
Increased communication, transparency, and in-the-moment awareness are crucial to keeping the workforce engaged and informed. Considerations for different types of communication approaches and formats that can help a return to work include: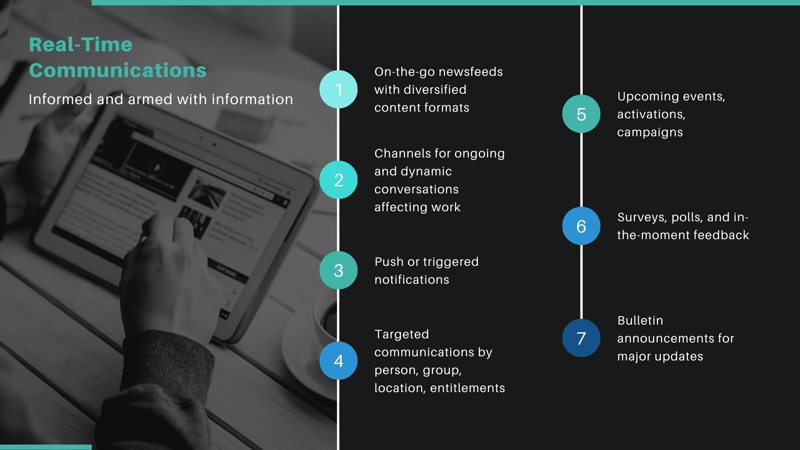 Active Monitoring
Increased insights will be needed to guide decision making across the global workforce that encompasses spread out locations, different buildings, and multiple floors. Considerations for ways to measure workplace wellness that can help a return to work include: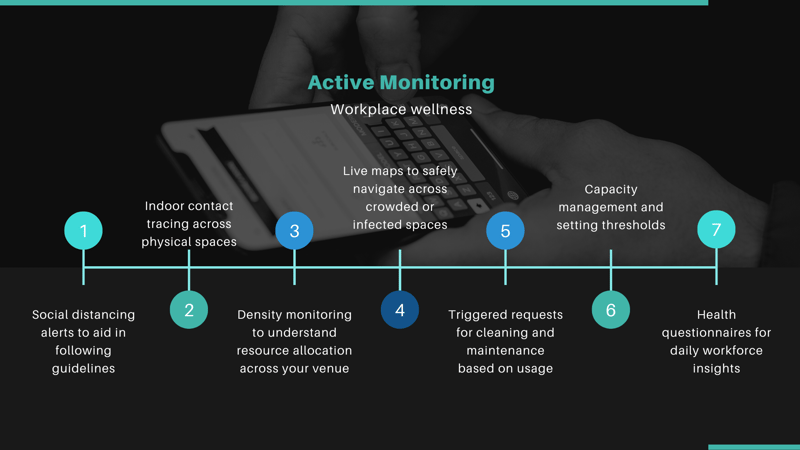 Contactless Interactions
One of the biggest ways you can make an immediate impact is to create low-touch environments in an effort to minimize contact, exposure, and spread. Considerations for interactions that can be automated and help a return to work include: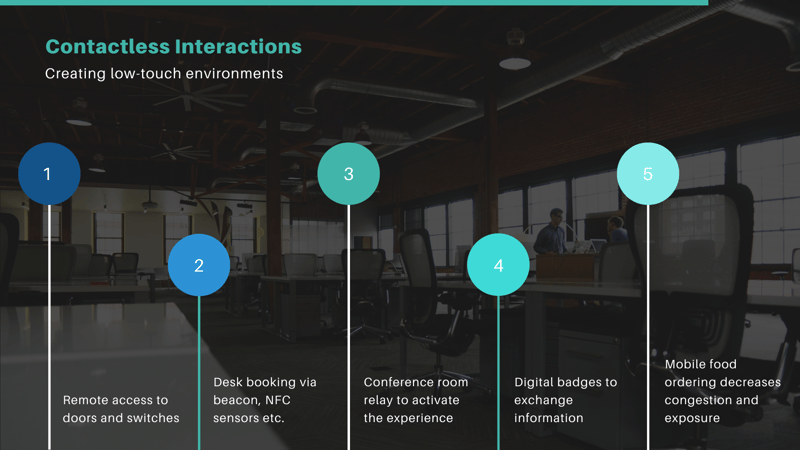 A Workplace Ecosystem
Rather than trying to solve for one singular use case, think more holistically about what advantages you can gain by introducing workplace technology that has staying power, opportunities for high levels of engagement across the workforce, and scalability for multiple locations.
Get our Connected Workplace Playbook to learn more about these capabilities.