Today's Events Need To Be More Engaging and Interactive than Ever - That's Achieved With the Help of the Mobile-Friendly Smart Venue
Many of today's live events are great, but they could be better. How? Through mobile-friendly solutions and modern smart technologies.
When considering live events, large public venues or LPVs come to mind; these include stadiums, convention centers, hotels and similar expansive facilities. They offer a variety of amenities for hosting events, one of the most important being the ability to accommodate thousands of visitors at a time.
These special venues are home to the most impactful type of event in the business world. In North America alone, during 2018, conferences and trade shows were the most common type of meeting activity, at 23 percent of the market.
The point is that large in-person events are not only hugely popular but incredibly successful as well. And they are becoming even more effective thanks to modern technology. In fact, many LPVs are being transformed into interactive, location-aware, user-friendly destinations.
These facilities are being upgraded to so-called "smart venues", which are more connected, not just to property managers and vendors but also to guests.
"When the conference center acts as a provider, top-notch mobile #CX is no longer siloed to just a handful of tech-savvy event planners. @TheCXApp"
CLICK TO TWEET
What Are Smart Venues?
A smart venue uses technology to provide interactive, location-aware experiences that combine physical and digital interactions through one channel or medium. For instance, a mobile event app allows attendees to check in to certain engagements and reserve seating. When they arrive to the designated event space they are presented with explicit details about where they are sitting, who's nearby and maybe even what's going to happen — such as who's presenting or what documents they'll be sharing.
These types of experiences have become increasingly common in the enterprise and corporate world, and are used heavily on the tech-savvy corporate campus. Other notable applications have cropped up in the retail, entertainment, transportation, and healthcare industries.
Where Do Mobile App Experiences Come Into Play?
The short answer is that consumers are increasingly becoming mobile-first. A telling 37 percent of Americans now go online using only their smartphone, with this channel cited as the number one reason why people don't have an additional high-speed internet connection at home. Consumers always have their smartphones or mobile devices at their side.
This extends into the wider corporate world for consumers and personnel alike. People love mobile and it has really become the ultimate way they experience and interact with the digital world. Thanks to newer technologies like Bluetooth geolocation, IoT and much more, they can take those digital experiences into the real world with immersive contextual experiences.
Event tech is evolving to be both more mobile-friendly and more involved in the physical world, with the help of wearables, AR, proximity marketing and experiential techniques.
Given all these different factors, it makes perfect sense that large public venues — responsible for hosting multiple events throughout the year — are being converted to smart venues equipped with a mobile app offering. After all, in person events are shown to be the most effective form of marketing for B2B marketers.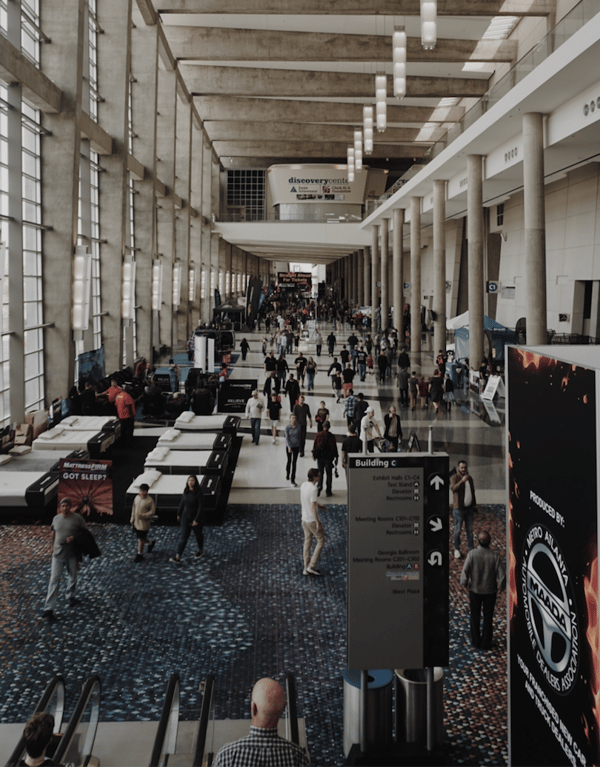 What About A Convention or Event Center?
The convention center is becoming an ideal reseller of the experiential solutions powered by a mobile app, offering this service to the many guests that use the space as part of an event package. Mobile offers many benefits for events management, including the simplification of the planning process. It offers peace of mind, especially since selecting an event app without guidance or prior experience can be overwhelming. Not to mention, nearly everyone already owns a compatible mobile device, so there's no need to distribute proprietary tech.
That widespread compatibility is important because of how effective in-person events are. More will attend and more participants will actively engage. In the United States, 53 percent of attendees participate in corporate and business meetings. A further 18 percent participate in conventions, conferences and conferences without an exhibition floor while 16 percent participate in trade shows or conferences with an exhibition component.
During the events that are hosted at a smart convention center, there are lots of moving pieces. For instance, ordering food and beverages, electrical planning, customer services and coordinating speakers and entertainment are all things that can be facilitated through a mobile app. Where once these systems were tracked and monitored separately, they are now synchronized and streamlined — no silos present anywhere.
Now, planners have the option to buy a pre-existing package from a venue that's already state-of-the-art and allows them to host more modern, and immersive events.
Let's take a look at what mobile app solutions entail for attendees and vendors alike:
Digital Signage: Dynamic signs can be placed throughout the property and can be altered in real-time to accommodate changing activities. Touch screens are more interactive kiosks that actively engage viewers.
Indoor Mapping and Wayfinding: Bluetooth technology enables turn-by-turn navigation support for guests as they move about a large venue in search of their next meeting, point of interest or even colleague.
Mobile Alerts and In-app Communications: Push notifications are sent directly to attendees devices, and they're more likely to be read than email. This helps keep everyone in the know. Moreover, in-app communications allow attendees to converse with the new connections they're making on site.
Wearable Tech: Wearables can be used to build immersive game experiences where attendees have to find each other or find different vendor booths. They can also be used to engage attendees more openly by using things like haptic feedback, real-time stats and alerts, and more.
Personalized Proximity Messaging: Event planners can better engage attendees with personalized messages triggered in response to real-time actions or locations. That way, event communication is contextual to what a specific attendee is doing at the time or it's even based on where they are standing.
Today's Events Must Be Top-Notch
At one point in time, the technologies and mobile solutions discussed here were considered to be "extra" or optional. That's no longer the case, as today's event attendees expect a much higher standard when they visit a venue. Their expectations are much more sophisticated and that includes the opportunity to interact and engage using their mobile devices.
Being a mobile-friendly, agile host is now the norm, especially if you want to remain competitive in the market. A smart venue is already equipped with the tools and solutions that are necessary to provide these kinds of immersive experiences. When the conference center acts as a provider, top-notch mobile CX is no longer siloed to just a handful of tech-savvy event planners.