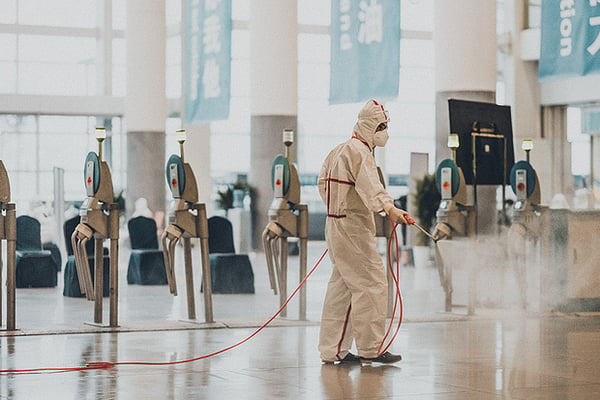 As employees make their way back into the office, it's more important than ever before to keep workplaces safe and sanitized. One way that workplaces and office buildings can prevent future flare ups and incidental virus transmission is to disinfect shared spaces. The question is, how do operations and facilities teams know which rooms or surfaces to clean and when?
Identifying Where to Clean
It's important to be able to identify the high-traffic areas of the workplace. By visualizing the movement of people throughout the buildings, it's possible to dispatch cleaning teams directly to the areas that require servicing. An indoor intelligence platform can empower facilities teams by providing insights into patterns and trends of where and how people are flowing through your buildings. This data can then be used to dynamically manage the cleaning of your offices. This has an additional benefit in that it enables teams to clean more effectively, saving money on cleaning products that might have been used unnecessarily.
When to Sanitize Your Offices
Depending on your organization's policies, you may aim to clean certain spaces in between usage. For example, an organization may want to dispatch teams to clean boardrooms or meeting spaces in between meeting groups. By using an indoor intelligence platform, you can see when people enter and exit a space, and sanitize the space after a team leaves the room. You could apply similar processes to other spaces, like cafeterias and other communal eating areas. Once you've identified your organization's cleaning thresholds, you can use indoor data visualizations to be more effective and efficient with cleaning your space.
The CDC also recommends cleaning your facilities if someone gets sick. They recommend closing off areas that were used by the person in question, noting that "companies do not necessarily need to close operations, if they can close off affected areas." In this case, it becomes extremely beneficial to be able to visualize the movement of devices within a building to see the employee's movements. The CDC goes on to recommend waiting 24 hours before you clean or disinfect, then cleaning all areas used by the person who is sick, including spaces like offices, bathrooms, common areas, and shared electronic equipment.
Prepare for Tomorrow, Today
Indoor intelligence is integral to keeping workplaces safe moving forward. The insights garnered from indoor data can be used to identify the specific areas or assets that require cleaning due to high traffic or virus exposure. It's also possible to automate reports for facilities teams directing them where to focus their cleaning efforts and attention. Contact our team today to learn how technology can be leveraged to help establish intelligent cleaning processes and other workplace readiness measures in your workplace.
This blog post contains forward looking statements which are subject to risks and uncertainties. Please click here to learn more.