What the future of work looks like for facilities using a mobile app to streamline maintenance requests and procedures across physical spaces, equipment, and people across the workplace.
Facilities: Wants a central command center for managing operations across the entire smart campus through one portal.
In 2020, 38% of facilities management employees report being responsible for cleaning/maintaining more than 20 buildings.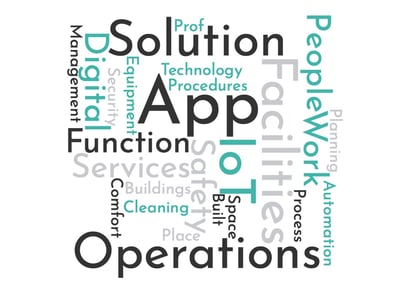 WHAT: Facility directors directly influence the company's business strategy and bottom line by having real-time control over multiple facilities management tools in one app: with space planning, desk management, wayfinding, real-time communications, safety alerts, ticket management, personnel information. This helps facility directors bridge the gap between the workforce and their work environments while ensuring they are safe, comfortable, compliant and productive.
WHY: Facilities directors have a lot of things to track across an organizations properties, buildings, equipment, assets and other environments that house personnel, inventory and productivity.
While there may not, yet, be a one-stop shop for everything, a mobile command center can get you pretty close - where existing tools and protocols are streamlined through one gateway so you can easily monitor control facilities requests and operations on-the-go, especially when it comes to back to work planning for large organizations.
As a facilities manager, you can use a smart campus app to manage and support your company's reopening plans for your facilities and ongoing workplace journey for remote and on-site employee experiences.
Ready to provide facilities with the tools necessary to improve workplace experience and manage day-to-day tasks?
Download the Facilities Brochure