Inpixon has been a leader in wireless detection for over a decade, thanks in large part to our continuing investment in R&D as new technologies launch. We actively monitor industry standards as they are being developed and address them in our product development plans. As 5G is formally introduced to the mass market, you can continue to count on Inpixon to address the challenges and opportunities that are presented by these emerging technologies.
Current 4G LTE networks are just about tapped out with more and more devices accessing 4G towers and wanting faster and faster speeds. As a solution, 5G is quickly becoming more of a reality globally as trials complete and manufacturers announce new 5G-compatible phones.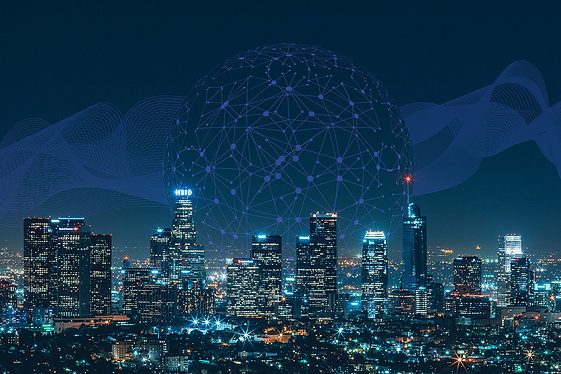 What exactly is 5G?
5G is the fifth generation of cellular network technology, currently being rolled out. It promises to increase speeds immensely for users and allow cell towers to handle substantially more devices. This is particularly important due to both the increase in the number of devices that are trying to connect to the internet daily and our thirst for better download speeds.
It is anticipated that 5G will be able to handle one thousand times the traffic of today's networks and it will be 10-100 times faster than 4G LTE. To give you an idea of how much faster that is, at those speeds, users will be able to download a full-length HD movie in under a second!
How 5G is different
Millimeter Waves - These transmissions will enable 5G to communicate on frequencies that 4G LTE could not access.
Small Cells - These will work along with traditional cell towers and will allow more processing and lower latency issues. Small cells and 5G will also lead to private 5G networks that are not dependent on carriers.
Massive Multiple-Input, Multiple-Output (MIMO) - MIMO is an antenna technology which increases the efficiency and speed through multiple antennas that allow for interference potential, which is something that requires beamforming.
Beamforming - Beamforming is a radio frequency management technique in which multiple antennas send out the same signal.
Full-Duplex - Full-duplex data transmission means that data can be transmitted in both directions on a signal carrier simultaneously. This allows double the speeds on wireless communication by processing more signals and data.
5G standards and trials
The industry body that develops 5G standards is a group known as 3GPP. The first agreed upon standard was announced in 2018 where 5G-NR ("new radio") was defined. An additional standard was announced in June 2019 and more standards are expected to be rolled out over the next few years.
5G trials have been taking place globally for several years now. Notably, Verizon has been trialing 5G is select cities across the United States since 2017, and South Korea has been rolling out 5G with substantial deployments made in April 2019. T-Mobile recently announced it was rolling out its national 5G service, which will cover 200 million customers in one day. T-Mobile alone expects to have basic coverage in 5,000 cities and towns by the end of the year. Similarly, Australian telecommunication companies Optus and Telstra have already started distributing 5G devices and rolling out lower band 5G networks across the country.
As 5G coverage expands around the world, manufacturers are moving quickly to bring 5G enabled phones to the market. Some of the leading manufacturers that are currently selling 5G phones include LG, OnePlus, Samsung, ZTE, and Huawei. While practical access to 5G networks by the average consumer is still uncommon, as the trials conclude and are expanded beyond major metropolitan areas, I anticipate that public adoption will follow quickly.
How will 5G affect positioning accuracy?
In addition to improved energy savings, reduced latency and significantly higher capacity, 5G's increase in communication speeds means more accurate up-to-date location information. 5G technology, at a high level, aims to offer a variety of positioning services that deliver both relative and absolute positioning, depending on the use case being addressed. Its new spectrum allocation is especially helpful for cellular-based positioning, due to the availability of larger bandwidths that are located at higher frequencies, as larger bandwidths offer improved ability to resolve multipath effects, mitigating the the main source of issues in cluttered urban or indoor settings.

Inpixon's preparations for 5G
Inpixon's flagship 4000 series sensor is a passive device that monitors RF spectrum for LTE, Wi-Fi and Bluetooth Low Energy (BLE) signals and passes that information to our data platform for visualization on a high fidelity map or customizable charts. With both on-premise and cloud-based offerings, we are able to offer more security and analytics to our customers with our rich feature implementations to meet our customers' business objectives.
New standards such as 802.11mc for Wi-Fi indoor positioning, Bluetooth 5.1 featuring TDOA within the bluetooth spectrum, as well as improvements in UWB, are all expected in the coming months.
At Inpixon, we consistently add functionality to our hardware and software to enhance our solutions related to indoor positioning and indoor intelligence. Our customers can count on Inpixon to continue its leadership position in the market even as standards evolve and new networks emerge.
Inpixon's commitment to privacy
We employ "privacy by design," whereby we build privacy protection in at the very beginning of our product development. Privacy is also a strong part of our everyday practices.
We are:
Committed to being open about what our ideals are and what our stance is in regards to protecting privacy;

Developing our Inpixon Academy to provide our employees with privacy training, which we will also be extending to our partners and customers who seek Inpixon product certification;

Accounting for privacy concerns at the early stages of innovation, including privacy as the default setting on our products.
The overall goal of 5G is to reach higher data rates, minimize latency, and improve capacity, all while accommodating many, many devices. It is hoped that 5G will enable greater connectivity for our growing Internet of Things (IoT), self-driving cars, virtual gaming, and virtual work worlds (such as virtual surgery). The next few years should be very interesting as 5G networks and compatible devices are rolled out.
If you would like to learn more about Inpixon's approach to emerging technologies and R&D, please don't hesitate to reach out to our team.

This blog post contains forward looking statements which are subject to risks and uncertainties. Please click here to learn more.