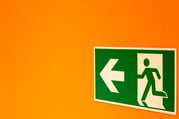 'Situational awareness' is essentially knowing what's going on around you, understanding what's happening, and projecting the future status. In the context of indoor intelligence, this means that an organization can have visibility into the status of a building, what and who is in it, and where those things and people were, are, and may be going.
As you can imagine, there are many contexts in which this kind of information can be highly valuable to an organization. While improving situational awareness indoors can help drive operational efficiencies, ROI and security, it is especially powerful when it comes to emergency preparedness and disaster response. In an emergency, being able to locate people within a building quickly, and identify the safest or fastest route to get to them, could make an immense difference to personal safety, and could potentially save lives.
As a foundational layer, having indoor maps of the buildings is key. It's imperative that occupants, employees and visitors know where a building's exits and muster stations are located when evacuations are necessary, as in the case of fires or earthquakes. "Having up-to-date floor plans is a critical piece of any facility Emergency Plan, including accurate evacuation routes and assembly places," explains Emergency Management Specialist, Sarah Thompson. "They are always a vital component of Fire Safety Plans, which are often required by local fire codes, but are vital for preparedness for any hazard."
Furthermore, by having employee or guest services apps with accurate maps in them, people can quickly use their own personal devices to guide themselves out of a building by the quickest available route. As is always the case with indoor maps, accuracy is key. If the building's maps aren't up-to-date, it not only presents an inconvenience in terms of day-to-day user interactions, it also becomes extremely problematic in emergency situations.
The next important step is to have visibility into the devices that are transmitting within a building, which can be achieved with a wireless device detection system. In case of an emergency, being able to visualize transmitting devices like smart watches and mobile phones can help emergency responders find people faster and prioritize which parts of the building to search.
Location-aware technologies are frequently innovating to create and enhance digital emergency response services. The increasing collaboration and integration between indoor intelligence providers with emergency and physical security companies is empowering organizations to use real-time location services to address emergency scenarios in large scale buildings like hospitals, corporate campuses, and more.
Contact our team today to find out how indoor intelligence can keep your facilities, and the people inside them, safe in an emergency.
This blog post contains forward looking statements which are subject to risks and uncertainties. Please click here to learn more.