Throughout the pandemic, we've witnessed firsthand the intense impact that external factors can have on supply chains and logistics. Supply shortages have impacted industry after industry due to delays and confusion en route, followed by an overstock of products that can't be sold once they finally arrive.
As a result, many organizational leaders found themselves helpless to their processes due to a lack of visibility within their operation and have since turned to supply chain tracking. Supply chain tracking can minimize risk from external factors and optimize your supply chain in general, making it a considerable asset in any industry.
Supply Chain Tracking Looks Different for Everyone
Having a real-time view of supply chain tracking helps companies predict when things are slowing down or speeding up, as well as maintain quality control by reporting damages en route. No matter the particular supply chain impact in your industry, IIoT monitoring helps maintain two processes: incoming goods and outgoing goods. For example-
Retail: Food suppliers sending goods to warehouses and supermarkets can ensure quality control through transport and up until the recipient accepts them.
Manufacturing: Tracking technology can begin once the goods leave the supplier, providing real-time location and condition updates until they reach you. Alternatively, goods shipped from your warehouse to a distribution center or reseller can be tracked until they arrive safely at their destination.
Every industry has vital timelines to maintain so the goods can be sold, the construction can continue, and the services rendered. Supply chain tracking makes ensuring those timelines possible.
How To Track Your Supply Chain
The supply chain process can be tracked from the supplier, then the manufacturer, and finally the customer through specialized IIoT devices.
What is IIoT?
The industrial internet of things (IIoT) uses smart sensors and actuators to enhance the manufacturing and transportation process. IIoT uses the power of smart machines and real-time location to capture and analyze data in real-time. That data contains essential information that can be used to drive faster business decisions with cutting-edge accuracy.
Supply chain tracking is enabled by adding transmitter tags to everything needed to be monitored, whether individual parts, crates, or vehicles. The location data is then sent to an IoT platform where information about their whereabouts, estimated arrival times, expected delays, charts, etc., are organized on a dashboard
This kind of IIoT and positioning technology:
Generates visibility for transportation jobs and displays a predicted arrival time using real-time location tracking.

Provides notification of delays immediately, allowing for quicker planning and problem resolution.
Monitors the condition of goods being transported and reports any potential damage to ensure quality control.

Depicts all information on a dashboard, providing complete visibility into the status of your products or goods at a single glance.
Why Is It Important to Monitor the Supply Chain?
1. Inventory Management
You know better than anyone how important your particular chain of supply is. When there's a disruption in that supply, it disrupts the entire chain. With supply chain tracking, predictability helps minimize the disruption, if not eliminate it altogether.
Predictability in monitoring may look like expecting a holiday coming up or detecting an anomaly in other parts of the supply chain. In this case, your dashboard may suggest shipping earlier by two days to maintain delivery times.
2. Reduce Costs
The cost of shipping rose 22% last year, so while time has always been money, now it's 22% more money. Not to mention, shipment delays can mean your goods are worth less upon arrival than when you shipped them out. When you can forecast anomalies in the supply chain, it's easier to avoid your shipments sitting in transit for longer than anticipated. If there's a delay, you're better prepared to work around it.
3. Loss or Damage Prevention
Loss and damage prevention is a hurdle for transport in every industry. Unfortunately, it's not uncommon for cargo to get lost or damaged during transportation, even in the best of circumstances. But supply chain tracking helps provide real-time location updates, which can help eliminate missing cargo and, thus, the cost of replacing it.
Additionally, it pays off to understand the condition of the goods you're shipping — whether perishable goods or sensitive items such as lithium batteries, having peace of mind that the cargo is arriving intact is vital to your operations and profitability.
4. Manage External Disruptions
While no one could've predicted COVID-19, its impact on the supply chain was notable from the beginning. As the supply chain still hasn't fully recovered, it's easy to see how important it is to identify these anomalies early and make adjustments immediately. From weather conditions to the standstill at the Suez Canal, major disruptions are a constant threat to the processes we all depend on. Supply chain tracking helps account for these disruptions and enables you to adjust as needed to meet them.
5. Provide Exceptional Customer Service
While tracking the supply chain helps immensely with internal planning, the insights you can provide to your clients also help to secure your reputation and provide impressive customer service. Real-time tracking puts the power back in your hands by allowing you to communicate information as it happens and ensure the information you're providing is accurate.
Supply Chain Tracking with INTRANAV, an Inpixion Company
Tracking supply chains is the way of the future, especially to compete in Industry 4.0. The data you gain from IIoT and positioning technology empowers you to make decisions that optimize processes, increase efficiency, and protect your bottom line.
Create an intelligent warehouse and supply chain process with INTRANAV, an Inpixon company. Sign up for our free webinar to learn more.
For more information on how IIoT supply chain tracking can improve your operations, contact Inpixon today.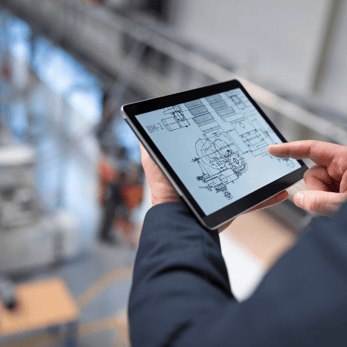 Creating an Intelligent Warehouse with Inpixon & SAP EWM

Explore how to harness locational intelligence to make supply chains more resilient.