Bluetooth Low Energy (BLE) beacons are a relatively new technology, but a demand is already growing for them. With applications across industries such as healthcare, retail, and corporate campuses, along with the ability to improve the accuracy and benefits of wayfinding applications, the demand for BLE beacons will only increase.
BLE beacons work by broadcasting a short-range signal up to 50 meters that has the ability to signal compatible devices, such as a bluetooth-enabled smartphone or tablet. Because the signal is short, simple and usually unchanging, the beacons do not require connectivity, and often have battery lives that last months to years. Further, the technology itself is inexpensive to produce, resulting in small, inexpensive, low maintenance beacons with substantial benefits.
Navigation and location are two of the main benefits associated with BLE beacons. Because they function indoors, BLE beacon technology provides users with precise indoor location and navigation, something lacking in many other technologies such as Wi-Fi or cell tower triangulation. Combined with wayfinding software, BLE beacon technology allows for accurate and detailed indoor navigation - something necessary for staff, clients, patients and more in buildings such as hospitals, corporate campuses, shopping malls, airports and beyond.
Proximity based notifications are another benefit of BLE beacon technology. Because of their range, the beacons have the ability to trigger a message or present a relevant offer when a shopper enters a store, for example.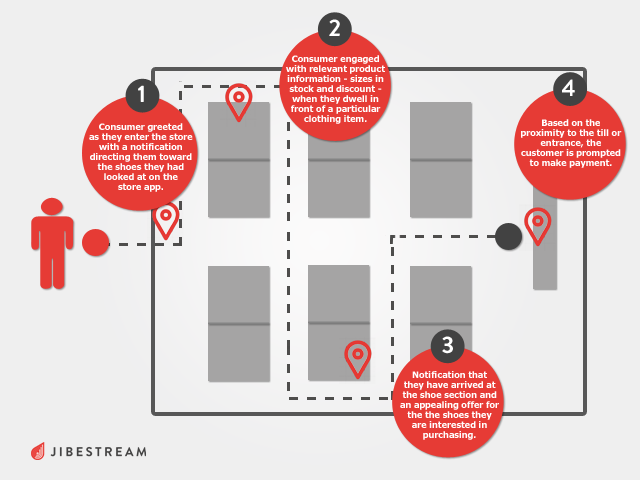 This has applications beyond retail, such as surfacing tickets when approaching the boarding gate at an airport, enabling hospital check-in, or even tracking an item. BLE beacons can deliver relevant content, such as documents, videos, apps, and more, or offer guidance concerning the time or location of the user, keeping users informed and engaged.
While most beacons only work one-way, distributing information or triggering messages in other devices, PayPal has developed a two-way beacon in order to support in-store purchases, allowing beacons to receive as well as transmit information.
The combination of wayfinding software and BLE beacons has uses across several industries, from healthcare, to corporate campuses, to shopping malls. Together these technologies provide navigation, location and communication benefits to users that not only create ease, but are coming to be expected and will set organizations apart from the competition. Valuable to users, retailers, customers, staff and management alike, BLE beacons are an inexpensive, easy-to-use technology that, when combined with digital wayfinding applications, provides numerous benefits across several industries.