High levels of CO2 can displace oxygen and nitrogen, potentially causing health problems. Fortunately, using sensors to capture indoor CO2 measurements holds promise for mass monitoring of indoor aerosol transmission risks for COVID-19 and other respiratory diseases.
By utilizing CO2 sensing technology, such as incorporating Inpixon's C02 sensor module as part of a solution to identify stale air and trigger on-demand ventilation to supply cleaner air, organizations can reduce the risk of transmission within their premises. This proactive approach allows organizations to take advantage of location technologies to enhance the health and safety of their employees, and ultimately their families and communities.
What is a CO2 Sensor?
The Inpixon CO2 sensor is a compact, dual channel non-dispersive infrared (NDIR) sensor module with digital interfaces for measuring CO2 in ambient air.
With an autonomous self-calibration function, the sensor offers dependable performance by eliminating sensor signal drifts caused by environmental changes and component ageing.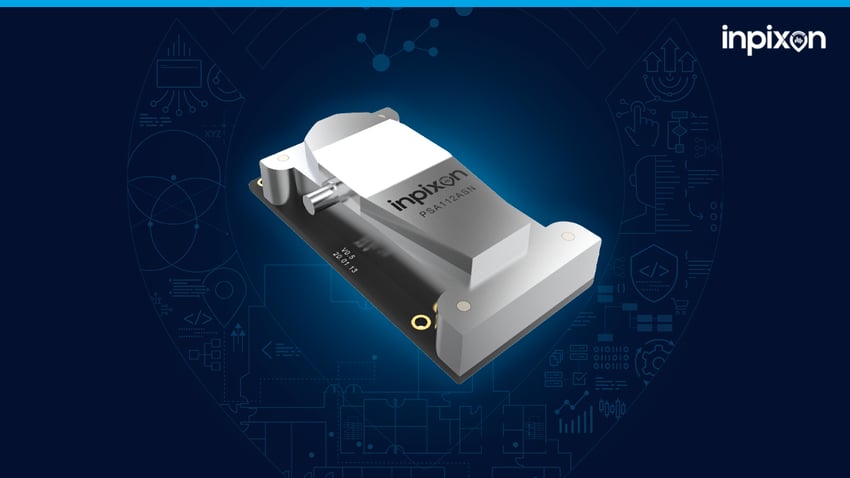 The sensor has multiple digital interfaces for customers to seamlessly integrate with other hardware systems. The sensor module is individually pre-calibrated, doesn't require calibrations in the field, and can measure CO2 concentrations up to 5,000 ppm.
For reference, the amount of carbon dioxide in a building is usually related to how much fresh air is being brought into that building. In general, the higher the CO2 level in the building, the lower the amount of fresh air exchange. Therefore, examining levels of CO2 in indoor air can reveal important insights such as if HVAC systems are operating within OSHA guidelines. CO2 levels are usually measured in percent (%) of air or parts per million (ppm). High CO2 levels, generally over 1,000 ppm, indicate a potential problem with air circulation and fresh air in a room or building.
What are the features of the Inpixon CO2 sensor?
Inpixon C02 sensor features automatic calibration and provides a range of gas readings, rather than simply above or below-threshold readings. These sensors can be included in environment control units, building automation systems, or ventilation-on-demand solutions that can help ensure a clean air supply within commercial and public buildings.
Additional features of Inpixon's C02 sensor module which make it unique include:
It's small size – among the smallest in the market
Low power
High accuracy and excellent long-term stability
Absolute measurement with dual-channel self-calibration NDIR technology
Pre-calibrated and ready-to-use
Digital outputs for high level of CO2 warning
What are the applications of the Inpixon CO2 sensor?
The Inpixon CO2 sensor module for indoor air quality measurement is an important indicator of SARS-CoV-2 and other pathogen transmission risk.
Some of the other applications include:
Indoor air quality (IAQ) controls: Set alarms and notifications based on CO2 levels in specified locations without the need for handheld devices or worker presence during testing
Automatic air ventilation systems: Increase or decrease air flow to specific areas based on CO2 values without the need for human intervention
HVAC (heating, ventilation, air conditioning): CO2 levels present danger to occupants and highly accurate sensor data guarantees safe air
Smart farms and agriculture: CO2 levels are used in air quality estimates and sensor data allows for smart applications to reduce farm worker's load
Environment monitoring/management systems: Systems rely on a multitude of sensors with CO2 values playing an important role in monitoring and managing overall environmental conditions
Having a gas sensor with CO2 values would allow systems to automatically adjust air flow when higher concentrations of CO2 are detected. Additionally, systems could shut down to save power when CO2 values are low.
Exposure to CO2 can produce a variety of negative health effects including headaches, dizziness, restlessness, difficulty breathing, and more. To ensure the health and safety of your employees, it's crucial to implement and have healthy precautions and tools in place.
This blog post contains forward looking statements which are subject to risks and uncertainties. Please click here to learn more.