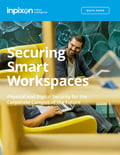 Workplaces around the world are more connected than ever before, and with the increasing presence of wireless networks and devices, they are now more exposed to risk than ever before as well. This change in the nature of building security means that organizations need to break down silos and explore novel approaches to security that address all forms of vulnerabilities.
Download the white paper for details on:
The role of new technologies in securing smart offices
The different types of building vulnerabilities to prepare for
The steps to take to secure smart workplaces
And more!